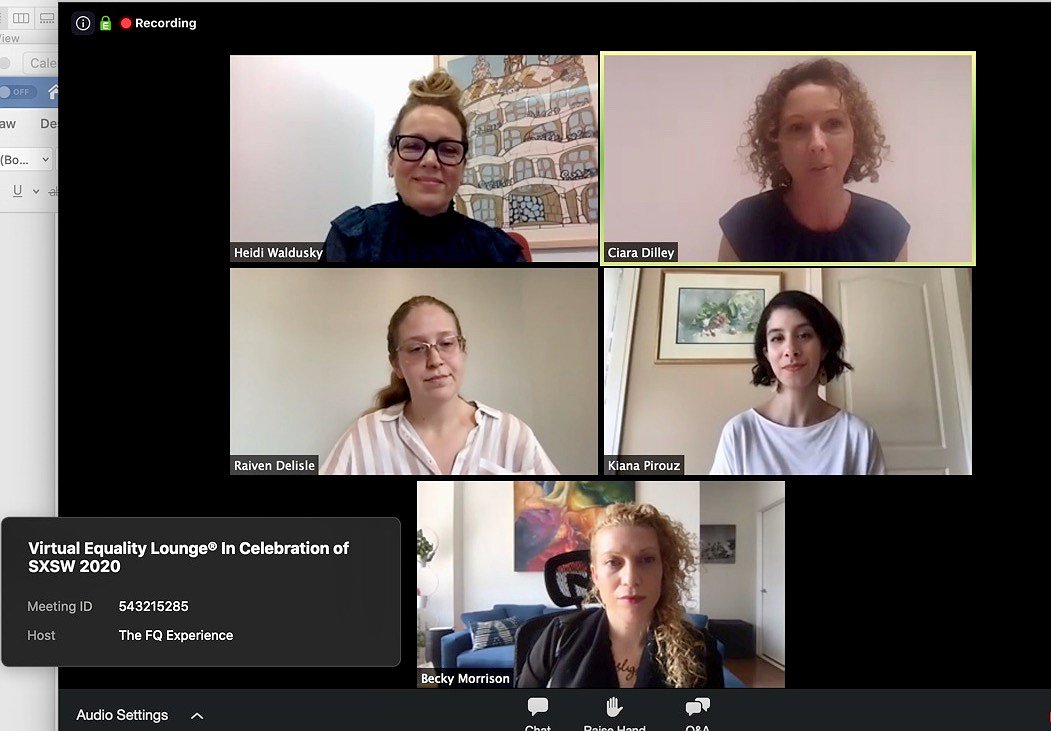 By E.B. Moss for MediaVillage
Our new normal may be shaped by a pandemic, but our reality is shaped by media. And the media has been struggling to be inclusive and fairly reflect all demographics and cultures. So, when it became apparent that the coronavirus (COVID-19) would impact important conversations that Shelley Zalis' Female Quotient (FQ) had scheduled for SXSW around diversity, the FQ Lounge team did what women do well: They pivoted. Fast.
The FQ Lounge — now a fixture at conferences from Davos and Cannes to CES and SXSW, and a resource for women who are notoriously underrepresented at such shows — was ready to go virtual even before the official announcement was made that the physical event in Austin would be canceled. "We had to get out in front of this and be where the people are, and be able to bring the conversation to them in a different way," said Ronda Carnegie, recently named FQ's chief innovation officer. "Events coming to a halt don't mean conversations around equality should stop."
And so, a full slate of nine presentations continued across several days last week, conducted from — and into — living rooms and offices across the country, via Zoom meetings with online chats and social media extensions. Sessions spanned Zalis's "Up Leveling You: How a Strong Personal Brand Leads to Professional Success," "Building a Movement to Recruit Female Technologists" and "What Women in the Workplace Really Want."
One interesting aspect of virtual meetings is the humanness imparted by surroundings: Each panelist dialed in from her own turf — some with family photos visible behind them in their living rooms. More important, there was generally ease and authenticity, as if the speakers forgot that this was a one-to-many discussion. As such, panelists candidly shared many powerful opinions and strong perspectives, especially during a session that addressed the need for authenticity in storytelling by and about women, "How Women Storytellers Are Crafting Culture."
Several panelists representing different facets of the industry helped illustrate how women are impacting culture through greater diversity in media. Kiana Pirouz, head of marketing at We Are Rosie, shared her "lightbulb moment," which happened around the 2016 election. As an Iranian American woman, she realized that "it's incredibly important to own your own narrative and for the other side to listen, because so often in media the stories are told about marginalized people — and women." In other words, it's the adage that if you don't tell your story, someone else will. Inclusive storytelling starts with the creators in the writers' room to the production team on the set to the ad messaging in the supporting campaigns.
Pirouz said that creative directors will often hire from within their own circles, limiting perspectives and fresh voices: "Our community is open to anyone regardless of gender and [identity]…, so even before coronavirus, we encouraged our clients to embrace remote talent," as it vastly widens the circle.
Becky Morrison, producer and founder of production company, The Light, noted that the history of film production was influenced by how combat was mechanized in World War I, and heavily tied to men creating violent movies — right down to the use of words such as shoot or shotgun mics. "So, as we're entering this new phase…, how can we have a process where there are different kinds of people telling stories that are different by design?" she posited, adding that "when we're not telling diverse stories, we're more often than not lacking diverse and inclusive sets."
Living up to her division's name, the Transform Brands portfolio — comprised of the healthier Frito-Lay snacks such as Smart Food Popcorn and Sun Chips, and support for women-run businesses and purpose-led efforts — marketing vice president Ciara Dilley said that their goal is to "tell stories in a real and genuine way." This means speaking to women in an authentic way.
Since women influence 80 percent of consumer goods purchases, it makes good business sense. "We know consumers … don't trust traditional institutions or politicians and are saying, 'I'm looking at brands to make a difference in society and show up in a better way,'" Dilley added. "So, there's a real opportunity for a brand to step in…. We need women on the agency team and on the brand team, so we can harness those perspectives."
Morrison promoted "using your voice," which Zalis often encourages. "It's important to be comfortable with being uncomfortable," Morrison said. "Saying something in front of the whole crew and getting dirty looks is OK. We're creating something new and we're pushing the envelope forward."
We Are Rosie's Pirouz provided a parting tip for agencies and brands: "Happy people do better work. Are you encouraging growth and development? Allowing people with non-traditional experience to come in and provide their point of view? Being more flexible with hiring means bringing fresh perspectives to the table."
The result of FQ Lounge's flexible path to carrying on conversations throughout the week? FQ's Carnegie said the impact was clear from the hundreds of emails received and awareness built by virtual means. "It feels different but additive," she said. "Even when we're back [to normal], this kind of conversation will continue; it's already led us to more ideas … and more products [that] we'll be announcing soon. For us, it's a constant pivot."
_____
E.B. Moss pens the column E.B. Moss Reports and hosts the podcasts Insider InSites with E.B. Moss and Advancing Diversity Podcasts. She also runs Moss Appeal, an award-winning brand and marketing agency that provided promotion and affiliate marketing services to clients ranging from AMC to YES Network, DIRECTV to Comcast.
_____
Original article published by MediaVillage, March 18, 2020. Article republished here with permission by MediaVillage.
MediaVillage is the media and advertising community's leading site for search, original journalism, thought-leadership and native content serving the media, advertising, marketing and entertainment communities.
_____
Source: MediaVillage