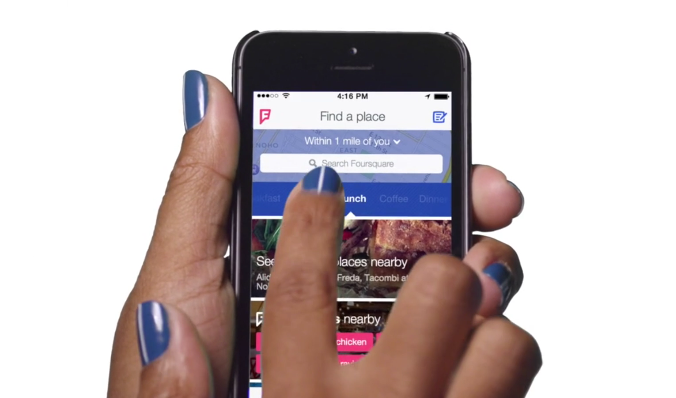 Chipotle Mexican Grill, Inc. (CMG), the fast-casual burrito-maker that, for years, could seemingly do no wrong now can't seem to catch a break. Following last year's cases of E. coli breakout linked to some of the restaurant's locations in 14 states, , Chipotle reported their first quarterly loss ever as a public company on Tuesday with same-store-sales plunging nearly 30%.
On Wednesday, shares slid 6%, leaving many investors eating a substantial loss, as well as Chipotle's decent but overrated burritos. For the quarter, Chipotle reported a loss of 88 cents per share on revenue of $835 million. Wall Street was expecting a loss of 95 cents per share on revenue of $868 million.
However, one person who wasn't caught off guard by the burrito-pocalypse was Jeff Glueck, CEO of Foursquare, who predicted Chipotle's downturn two weeks before quarterly earnings were announced in a post on Medium.
Wait, what? How did a tech CEO like Glueck acquire these fast casual predictive powers? Well, turns out, Glueck didn't need to know anything about the fast casual burrito business to make his bold assertion. All he needed to do was leverage the data acquired through Foursquare's user check-ins, which are the crux of the app. Glueck's team at Foursquare analyzes foot traffic based on user check-in to get a pulse on the "offline economy," allowing him to glean advantages, like say, which burrito chain might have a PR nightmare on its hands.
---
---
Glueck actually explained this exact investment strategy in-depth in February at the EQUITIES Emerging Growth and Innovation Forum. "I think location-based intelligence has both the consumer benefit and, if you're a trader or analyst, it has the same understanding of the world has a dual purpose," Glueck said at the conference. "This map of how people move around the world is also a map of the offline economy. Obviously, that has applications for real estate and tickers that are publicly traded and implications for lending decisions to small businesses. There's a whole suite of applications that obviously applies to advertising. There's the enterprise side of location intelligence and the consumer side."
Check out part of Glueck's speech at the EQUITIES Emerging Growth and Innovation Forum below:
In this video published on Equities.com, Glueck poses the question "How do you get access to patterns before the earnings dates of how cultural trends or business trends, foot traffic trends are affecting tickers?"
"There have been different attempts in the past, through satellite imagery or other ways to try and get a sense of the pulse of the real world economy," says Glueck.
However, "Foursquare's data set is really unique because it's based on a passive understanding of over 65 million businesses. If a phone stops for five minutes in one of these 65 million businesses in 100 countries, we're able to detect that," says Glueck, "and that allows this pulse of every neighborhood in every sector based on foot traffic. It's very powerful data because it's a consistent set over time, and a consistent set across countries."
Putting Data Analysis to Use for Investors
In Glueck's Medium piece, he explicitly breaks down how he put this data analysis into action in the case of Chipotle, explaining that as time went on, it became clear that foot traffic to Chipotle in 2015 "was down in a more significant way" than in years past. Glueck explains that this information, coupled with the weekly sales data for the first 10 weeks of Q1 provided publicly by Chipotle offered ample data to build statistical models to project sales for the rest of the quarter.
So, when put that way, it actually seems pretty clear: Glueck isn't some sort of Burrito-centric Nostradamus. However, he may very well be at the forefront of a new era of statistical analysis through social technology, and that could mean fundamental changes in how investors analyze potential investment opportunities in the near future.
DISCLOSURE: The views and opinions expressed in this article are those of the authors, and do not represent the views of equities.com. Readers should not consider statements made by the author as formal recommendations and should consult their financial advisor before making any investment decisions. To read our full disclosure, please go to: http://www.equities.com/disclaimer