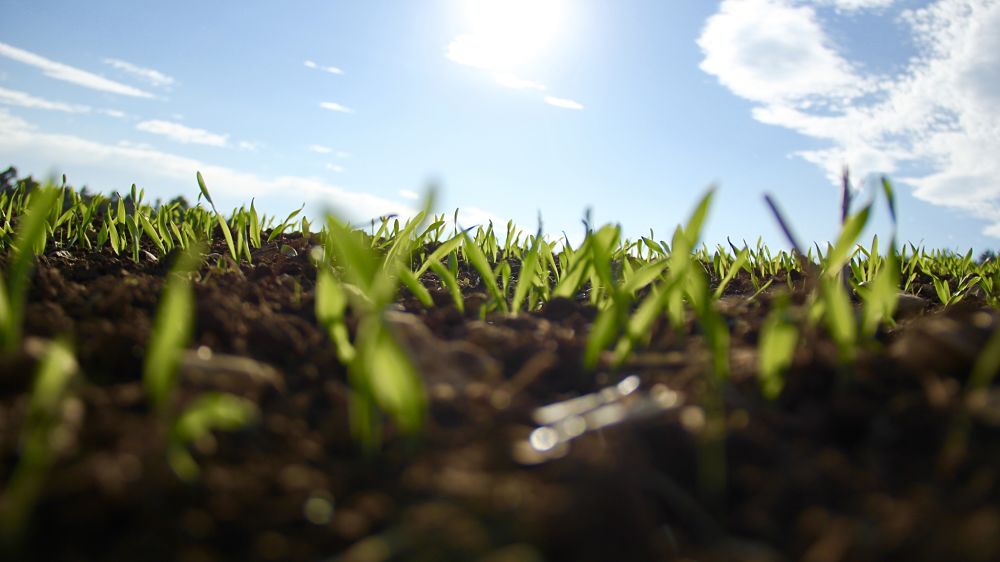 In a recent article, we discussed the Life Cycle and how to look for patterns and trends that indicate whether a business is growing or withering. This bell curve analysis coupled with today's focus on the "Fountain of Youth" are very similar to the S Curve concept.
In business, the S curve is used to describe, and sometimes predict, the performance of a company or a product over a period of time. Businesses that follow an S curve are characterized by a shallow start, whereas early adopters and niche markets buy the product or invest in the company. Then the company experiences a rapid growth, and the product or business has a dominant position in the market. After the rapid growth, these businesses maintain a high-performance level but with little growth, which often signals a mature but saturated market.
By regularly applying the "Fountain of Youth" model to your company or product, you can avoid the down side of the bell curve, and insert the S curve in a timely manner, keeping your business in a perpetual state of adaptation, growth, and positive impact.
The "Fountain of Youth" applies four steps of analysis designed to ensure you are being introspective while also prepared to capitalize on emerging opportunities. The four steps are:
Sensing
Seizing
Building
Reaping
1. Sensing
Innovative companies are always looking for changes in the market. These changes can be influenced by environmental, social, legal, and cultural trends but also by emerging technologies and public demand.
Guardian Group views counter trafficking through our history and perspective as career soldiers. The world is a battlefield whether you view it that way or not. In the commercial sexual exploitation of children, the battlefield resides on the virtual world of the internet and then moves to the physical world, predominantly hotels, when the buyer and seller complete their "transaction."
We sensed an opportunity for Hoteliers to join us in the fight against exploitation. They should be getting tired of being taken advantage of and the public is tired of bumping into this crime when they travel and stay in hotels. Creating a safe, albeit private, experience for guests is a priority for hotels and criminals are exploiting that privacy to hide their illicit activities.
Law Enforcement and Legislators also identified this exploitation and began holding hotels to a higher standard of culpability and demanding training and education for their staffs.
2. Seizing
This is where you reassess your core capacities and capitalize on the new opportunities you've sensed. This will likely require building new relationships and developing ideas on products or services that will keep you ahead of the demand. Beware of mission creep.

Recognizing hotels as "key terrain" in the fight against sex traffickers, we built an online course for hotels to educate their management and staffs on better ways to protect themselves from liability and offer a safer and more secure experience for their guests.

In addition to hotels, sex trafficking intersects with every aspect of the travel industry. Every corporation needs to be armed with knowledge that can protect their employees and public image from a scandal.
Viewing this as more than simply a social responsibility, security companies are also important allies in partnering against this crime.
As we develop partners in this fight, we are continually looking for ways to measure both performance and impact so that over time, we can be even more effective.
Internally, we need professionals in our ranks that can get the word out to the public as well as potential donors.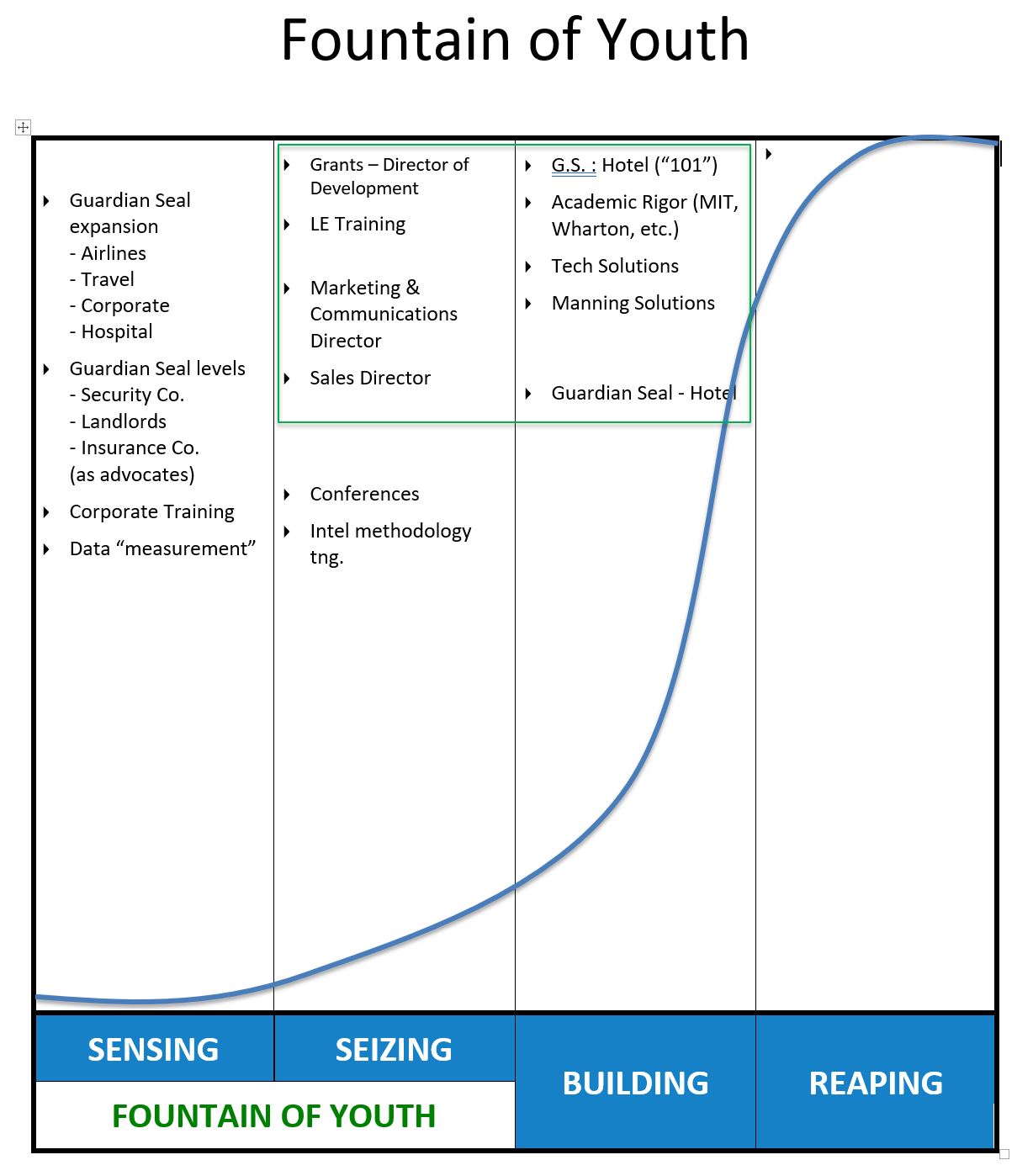 3. Building
At some point, the "good idea fairy" must exit and the practical work needs to get done. A quick pilot to prove the concept is a great way to start. If you fail, you fail with limited losses. If you succeed, you are ready to make adjustments and reinforce your success.
The first version of the Guardian Seal Course is built but it is still largely with the early adopters and we are pushing for expansion and growth to the point where we will begin to reap the benefits of selling the course while enlisting more people conscious of the fact that they stand on a battlefield where women and kids are being exploited right in front of them.
Academia plays a significant role in understanding and measuring sex trafficking. The rigor that they use to isolate variable, measure cause and effect, and test innovative ideas is essential for bringing counter trafficking efforts into the modern age.
Technology needs to be leveraged more. The anonymity and privacy that the internet offers coupled with its wide, seemingly endless reach, requires a counterbalance where we are working just as hard to protect our kids and counter the trafficker's influence.
All this work requires talented, capable, and dedicated personnel to join the fight. Salaries for our veteran force is our largest cost. To break through the building phase into reaping the effects we seek, we will need to get well beyond the early adopters and the niche market and scale to a degree that can at least threaten the traffickers.
4. Reaping
Reinvesting in success and always looking for sequels and branches you can explore to expand your success even further can be tricky. While in the reaping phase, you'll need to circle back to the sensing phase and be prepared to repeat the process. Stick to the same process described above and you should stay ahead of the curve.
---
This is not a simple four step process. We have not reached the Reaping Phase with our Guardian Seal training. We have early adopters and strong relationships, but we are still building necessary relationships in the public and private sector. We understand our adversaries (pimps, traffickers, and predators) well but it is taking us longer to understand our allies. Truly understanding what our allies need and what the market demands is keeping us in the building phase longer than expected.
If you sense a need / opportunity before your customer senses it, you will need to keep building.It's surprising to me that corporations have not fully engaged in the fight against sex trafficking yet. I understand that there are plenty of issues they need to deal with each day but the exploitation, oppression, and absolute degradation that is inherent to sex trafficking must be addressed. We continue working to better understand what they need.
Corporations have a critical role to play in the fight against human trafficking. When public and private sectors truly embrace the importance of collaboration in the fight to end human trafficking and are dedicated to finding solutions for this problem, businesses become a force for good.
Guardian Group (www.theguardiangroup.org) complements resource-constrained law enforcement, ensuring sex-trafficking safe-havens are disrupted and eliminated. We currently operate in over 20 states and have completed hundreds of successful sex-trafficking engagements in direct support of law enforcement and families that need our help. We are in the process of developing strategic partnerships with worldwide and world-class organizations that understand the social and business benefits of tackling this exponentially increasing social injustice. Guardian Group is a non- profit that hires retiring U.S. Veterans from Army Special Operations Forces, specifically those within the intelligence, analytical, and tactical divisions of the force.
Paterson Center (https://patersoncenter.com/ ) StratOp is a strategic system that helps your team clarify where you are, where you're headed, and how to get there. It's used by organizations big and small, from billion-dollar global corporations to entrepreneurs and startups. Many companies are not focused around a central plan, and many leaders are left wondering how to maximize potential. With StratOp, your entire team will be focused around the same unique mission and vision, and will have a clear plan to make that vision a reality.