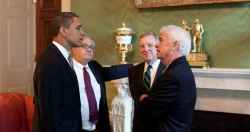 The Dodd-Frank Act was originally enacted to promote the financial stability of the American markets after the financial debacles of 2008 laid bare the lack of accountability and transparency in the "over-the-counter" derivatives markets. Title VII of the Dodd-Frank Act provides new regulatory frameworks for swaps and security-based swaps trading, including:
(1) The registration and regulation of swap dealers and major swap participants
(2) Imposing clearing and trade execution requirements on swaps and security-based swaps, subject to certain exceptions;
(3) Recordkeeping, regulatory reporting, and public dissemination requirements for swaps and security-based swaps; and
(4) Expanding the regulatory and enforcement powers of the Securities and Exchange Commission (SEC) and the Commodity Futures Trading Commission (CFTC).
The SEC has continued to define its Dodd-Frank mandate and has recently released several pertinent regulations collectively entitled "Regulation SBSR—Reporting and Dissemination of Security-Based Swap Information." These regulations pertain to swap derivatives traded by US citizens, US-based registered clearing entities, or by registered Security-Based (SB) swap dealers. Irrespective of the locality of its trade execution an SB swap must be reported to a registered SB swap data repository ("registered SDRs") or the SEC.
Regulation SBSR also requires registered SDRs to publicly disseminate the security-based swap transaction data, trade volume, and pricing information they acquire. The record keeping and reporting policies and procedures that registered SDRs are required to maintain are also obligatory for registered security-based swap participants and registered security-based swap dealers. Swap dealers must follow proper procedures and protocols that reflect compliance with the relevant reporting obligations. Regulation SBSR also covers regulatory reporting and public dissemination requirements to cross-border security-based swap transactions. However the regulations do allow market participants to satisfy some of these requirements through substituted compliance.
Regarding trading activity prior to this legislation, Rule 901 of Regulation SBSR requires reporting, to the extent of what data is accessible, of security-based swap trades opened before the Dodd-Frank Act ("pre-enactment security-based swaps") and after the date of enactment but before Rule 901 becomes fully operative ("transitional security-based swaps"). Among the more significant rules is Rule 901(f) which requires a registered SDR to timestamp any information submitted to it.
Rule 902 of Regulation SBSR requires a registered SDR to publicly disseminate a transaction report immediately upon receipt of information about a security-based swap, except in certain limited circumstances. Pursuant to Rule 902, the published transaction report must consist of all reportable information plus any condition flag relevant to the registered SDR's policies and procedures.
Despite significant pushback by major trading firms and their lobbying groups on Capitol Hill, the Commission is adopting final rules that require all security-based swaps—regardless of their amount—to be reported to a registered SDR at any point up to 24 hours after the time of execution. The registered SDR will be required, as with all other dissemination-eligible transactions, to publicly disseminate a report of the transaction immediately and automatically upon receipt of the information from the reporting side.
While the need for greater reporting requirements is clear, investment firms are anxious to maintain their business secrets and knowledge bases. To a trader on an institutional desk or even at a smaller hedge fund, his ability to succeed and build an ROI is dependent on many factors including trading strategies, ability to execute a trade at the nominal price, liquidity, and risk level. In other words, a trader prefers his anonymity and dislikes the notion of being observed or copied by others who watch the publicly disclosed trade data. Regulators recognize that these trade secrets may be integral to an investment firm's proprietary business, and as a result the government has acknowledged that the Commission must clarify the criteria for determining what constitutes a large notional security-based swap transaction ("block trade") for specific markets and contracts and also specify the time requirements that a trade desk must report block trades to the public.
Many financial pundits have predicted that the public disclosure of transaction and pricing data for security-based swaps that are not cleared at a registered clearing agencies but reported to a registered SDR will inherently reduce market liquidity. One might imagine that this particular point is a topic of heated discussion among industry officials and the senior executives of top tier firms.
DISCLOSURE: The views and opinions expressed in this article are those of the authors, and do not represent the views of equities.com. Readers should not consider statements made by the author as formal recommendations and should consult their financial advisor before making any investment decisions. To read our full disclosure, please go to: http://www.equities.com/disclaimer