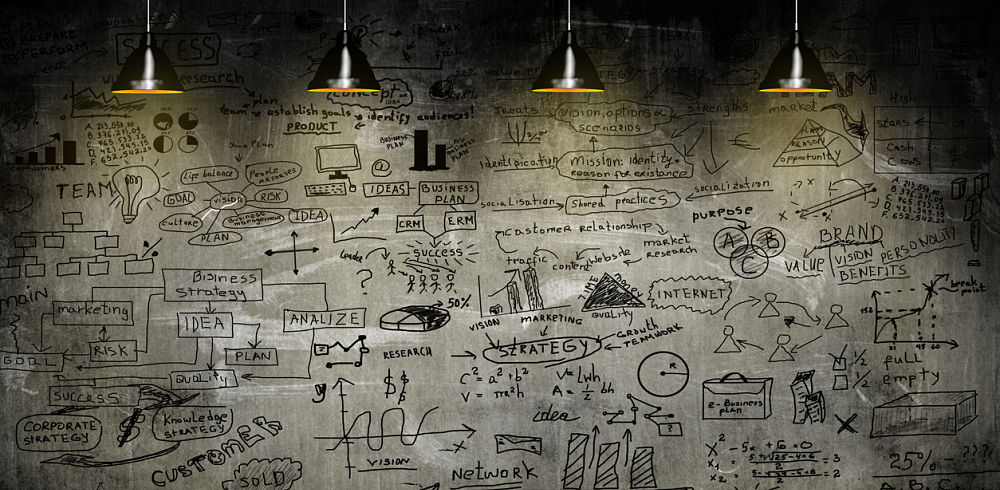 Market saturation is not one of those things we talked about in the U.S. Army's Special Forces. However, the concept was very important for us to understand. As a force that works by, through, and with, host nation partners, we needed to understand the public sentiment very well. Were the radical ideas and false promises of Al Qaida and ISIS waxing or waning in popularity and demand? Were the actions and promises of Allied Forces being regularly reinforced so the "consumer" continued to buy our product?
How long can you sell an idea or product before the public grows weary, skeptical, or simply ready for a change?
Market saturation occurs when a service or product has reached maximum interest from the community and is declining in value. This can happen because the product is not adapting or evolving rapidly enough, or it can happen when a competitor floods the market with a similar, often identical, product, service, or promise. When the market is saturated, an organization must create product or service improvements, increase demand within the market, or start demand within a new market.
Guardian Group views the challenges of counter-sex trafficking to be very similar to counter- terrorism and counter-insurgency strategies. As an organization, we also view it through business rules and models that are used in the free market and need to stay ahead of market saturation.
Paterson StratOp uses a model for assessing market saturation and finding opportunity by separating things into four quadrants.
Current Products/Current Market
New Products/Current Market
Current Products/New Market
New Products/New Market
As a non-profit these sections can get a little convoluted, but the end goal is to bin ideas, so you are identifying the potential to create new products and reach new markets.
Current Products/Current Market
The items in this quadrant reflect what you are presently doing and with whom. Guardian Group has an online training course for the hospitality industry to better recognize and report trafficking that is occurring on the premises. This Guardian Seal "101" class is created and is currently being marketed and sold. Revenue from Guardian Seal sales is directly applied to developing intelligence products and offensive stings with local Law Enforcement agencies around the United States. We also rely on grants and donors to keep Guardian Group afloat and expanding.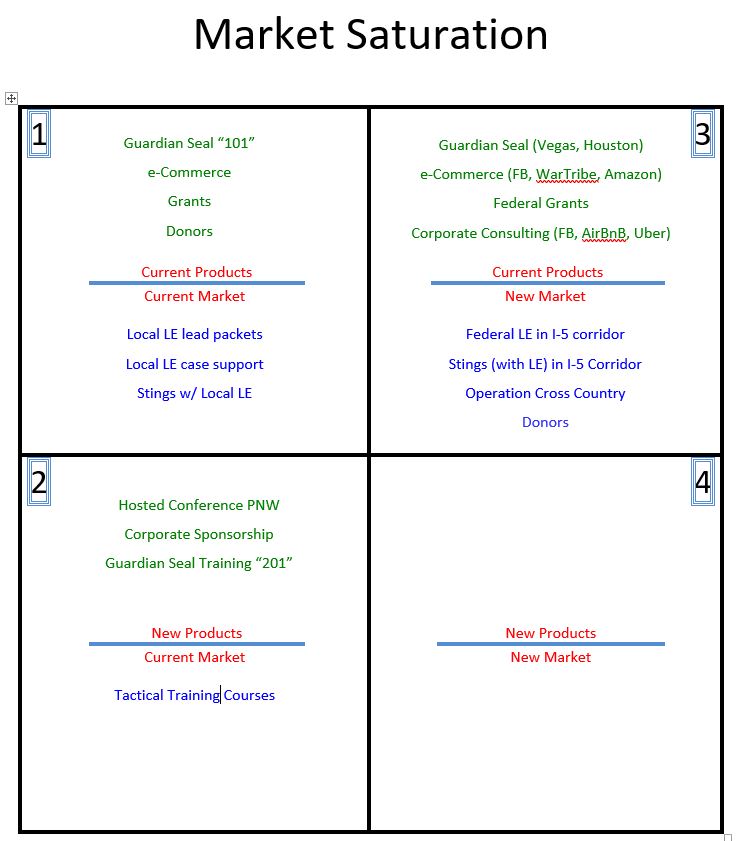 New Products/Current Market
Where are you leaning forward to ensure your products and services do not lag behind?
We travel the country providing training to universities, corporations and law enforcement. Hosting a conference in the Pacific Northwest will allow for a wide audience to come to us and experience the high-end training experience we can offer. As we build more relationships with donors and corporations, we expect companies to add counter trafficking to their platform of social responsibility and join us in the fight. We need to continually improve and update our training, including both our tactical training courses and our Guardian Seal "201" course.
Current Products/New Market
Where is the market still untapped for your products and services?
We've been focusing on getting the Guardian Seal solidified on the West Coast, along the I-5 corridor, but see the necessity to address other markets where trafficking is a concern. There are plenty of opportunities to expand our donor base across the United States and partner with more companies and corporations that believe in our vision and mission. As we build more capability at the local levels, we will be able to expand our relationships to federal law enforcement and some of their offensive campaigns.
New Products/New Market
When do you need to create new products / services and where do you need to invest to find new markets?
Guardian Group is still fresh with its products and services. We have not yet exhausted our current products and have not completed the second iterations of those products. We have logical areas to expand our market, but this block is intentionally left blank for us at this time.
We need to finish some of the things we've started and give the market an opportunity to speak and be heard. We will re-address market saturation and potential opportunities with this process again in about six months.
Until then, we will stick to our core competencies, "double down" on our successes and continue to mitigate any negative results from missteps.
Guardian Group ( www.theguardiangroup.org )complements resource-constrained law enforcement, ensuring sex-trafficking safe-havens are disrupted and eliminated. We currently operate in over 20 states and have completed hundreds of successful sex-trafficking engagements in direct support of law enforcement and families that need our help. We are in the process of developing strategic partnerships with world-wide and world-class organizations that understand the social and business benefits of tackling this exponentially increasing social injustice. Guardian Group is a non- profit that hires retiring U.S. Veterans from Army Special Operations Forces, specifically those within the intelligence, analytical, and tactical divisions of the force.
Paterson Center (https://patersoncenter.com/ ) StratOp is a strategic system that helps your team clarify where you are, where you're headed, and how to get there. It's used by organizations big and small, from billion-dollar global corporations to entrepreneurs and startups. Many companies are not focused around a central plan, and many leaders are left wondering how to maximize potential. With StratOp, your entire team will be focused around the same unique mission and vision, and will have a clear plan to make that vision a reality.