Forty Seven Inc. Raising $100 Million in IPO for Immuno-Oncology
Edward Kim Follow |

The human body's CD47 protein is a key cellular signaling molecule whose overexpression has been found to be correlated with poor prognosis in multiple cancer types, including acute myeloid leukemia, Non-Hodgkin's lymphoma, ovarian cancer, gastric cancer and lung cancer. Abnormal cells, including cancer cells, commonly have "eat me" signals that indicate to the immune system that they don't belong in the body. Macrophages—specialized white blood cells—would normally engulf (remember phagocytosis from your high school biology class?) and digest cancer cells as a first line of defense, recognizing them via these "eat me" signals. CD47 functions effectively as a "don't eat me" signal to the immune system, thereby protecting cancer cells from being destroyed by macrophages.

Forty Seven Inc. (proposed Nasdaq: FTSV) is expected to go public this week in a $100 million deal (6.7 million shares at $14 to $16) via Morgan Stanley and Credit Suisse that would value the company at $444 million post-IPO. The company was founded by Stanford University scientists who demonstrated CD47's critical role in cancer. Preclinical work performed in the laboratory of co-founder Irv Weissman, MD, Director of the Stanford Institute for Stem Cell Biology and Regenerative Medicine and Director of the Stanford Ludwig Center for Cancer Stem Cell Research, demonstrated that:
Blocking the CD47 "don't eat me" pathway leads to elimination of many types of tumors and increased survival
Boosting the "eat me" signal found on cancer cells using therapeutic antibodies results in a synergistic effect with blocking CD47
Macrophages present tumor-specific antigens that can activate T cells against cancer, thus creating the potential for synergy with T cell checkpoint inhibitors.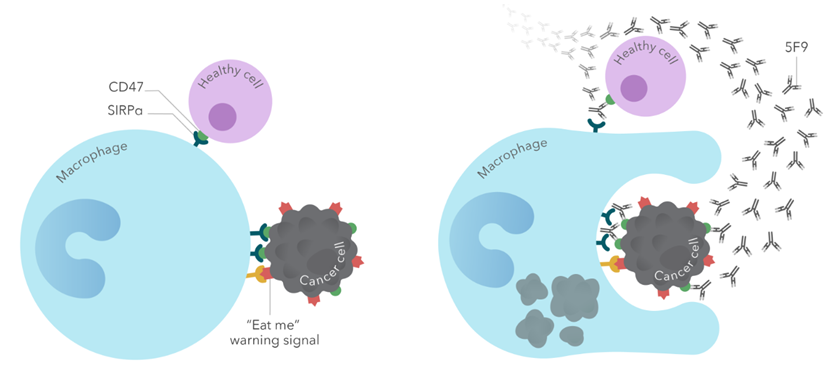 Source: Forty Seven website

Forty Seven's lead therapeutic candidate, 5F9, is an antibody that is designed to block the CD47 "don't eat me" signal. Forty Seven is investigating 5F9 in multiple Phase 1 and Phase 2 trials in various cancers, including non-Hodgkin's lymphoma, colorectal cancer, ovarian cancer and acute myeloid leukemia as both monotherapy and in combination with approved therapies.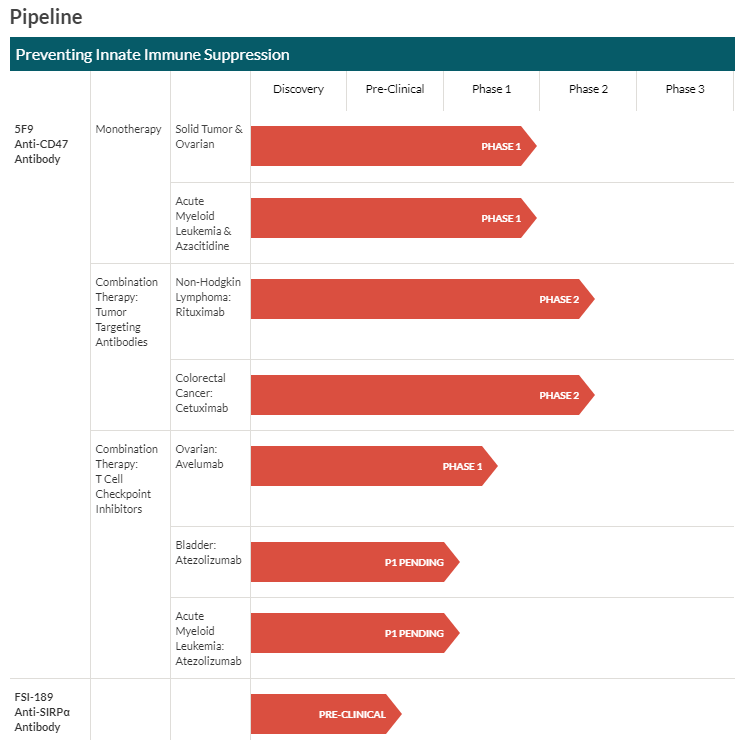 Source: Forty Seven, Form S-1/A, June 18, 2018

Forty Seven raised $75 million in its Series A round in 2016 from Lightspeed Venture Partners and Sutter Hill Ventures with participation from Clarus Ventures and GV, while licensing the rights to multiple immuno-oncology programs from Stanford. A $75 million Series B round followed in 2017, led by new investor Wellington Management with participation from all of the Series A investors.
Earlier this month, Forty Seven presented data at the 2018 American Society of Clinical Oncology annual meeting in Chicago from two clinical trials in patients with advanced solid Tumors and non-Hodgkin's Lymphoma. The company's 5F9 antibody, in combination with rituximab, was shown to be safe and well tolerated, with an objective response rate (ORR) of 50% and a complete response rate (CR) of 36% reported in 22 patients with relapsed/refractory non-Hodgkin's lymphoma. Additionally, the company showed preliminary evidence of anti-tumor activity in patients with ovarian cancer using 5F9 as a single agent therapy.
Please email us at content@equities.com to see our Case Studies and Testimonials.

Please click here for information on our new trading platform.
Please click here to see our weekly newsletter.
DISCLOSURE: The views and opinions expressed in this article are those of the authors, and do not represent the views of equities.com. Readers should not consider statements made by the author as formal recommendations and should consult their financial advisor before making any investment decisions. To read our full disclosure, please go to: http://www.equities.com/disclaimer