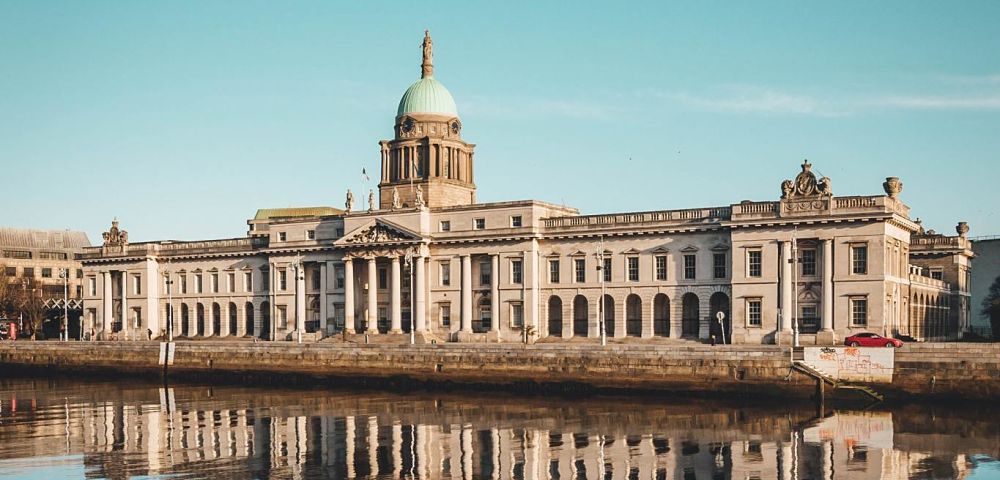 To walk the streets of Dublin is to witness Ireland's miraculous economic turnaround firsthand. Young professionals crowd the cafes and pubs. New construction dots the landscape. A growing number of lucrative jobs attract highly skilled workers.
In less than a decade, Ireland has turned its back on the worldwide recession sparked by the collapse of the housing industry. Ireland has not only reversed its recession, but it has also far surpassed the recoveries of its European Union counterparts.
In 2017, Ireland's gross domestic product outstripped growth in any other country in the EU. Irish GDP grew by 7.3 percent, expanding three times faster than the broader EU community.
But calling Ireland's economic triumph a "miracle" isn't fitting. The Irish people achieved their success through hard work and discipline — not luck. It makes you wonder whether the U.S. and other western countries can use Ireland as a guide. With that in mind, we traveled to Ireland late last year as part of a fact-finding trip to explore opportunities to expand into Ireland, the U.K., and the EU.
Any nation's economy is far too complex to boil down to a simple playbook. But the experts we met regularly cited four reasons for Ireland's strong economic performance: low taxes, an international approach to business, reduced deficit spending, and a collaborative spirit held by an educated workforce. We'd argue that those factors could apply to any economy — even one as diverse and complicated as that of the U.S.
Ireland: A Gateway to EU Business Despite Brexit Uncertainty

The International Monetary Fund forecasts that the U.S. GDP will grow by 2.7 percent in 2018. The IMF upgraded its original prediction after the Republican tax plan passed last December, basing the adjustment on the belief that lower taxes will spur investment.
The U.S. corporate tax rate is now 21 percent, which is still quite a bit higher than Ireland's 12.5 percent tax rate. Experts at IDA Ireland told us that the low tax rate makes Ireland highly attractive to multinational corporations that want to advance in new markets.
Long-term growth projections are murkier for both Ireland and the U.S. The uncertainties surrounding Brexit make it difficult to predict how Ireland's economy will change. In the U.S., tax cuts for most residents are set to disappear at the same time deficit spending increases. The fallout of this shift is unclear.
These uncertainties underscore why Ireland's other success factors are so important. For example, positive relations with multiple nations and industries help Ireland diversify and minimize risk.
Ireland is recognized as a gateway for doing business with the EU. Worldwide technology and pharmaceutical companies, such as Intel (INTC), Google (GOOGL), and Johnson & Johnson (JNJ), use Ireland as a base for accessing markets in Germany, France, Italy, and beyond.
Keeping the Deficit in Check

Another reason for Ireland's impressive economic results is its focus on reducing the deficit. The current recovery marks the second time Ireland has engineered an economic rally. In the 1980s, Ireland experienced a decline akin to the Great Depression. The comeback created half a million new jobs and earned Ireland the nickname "the Celtic Tiger."
Over a pint in Dublin's iconic Doheny & Nesbitt public house, we met with a leader of Ireland's ruling party, Fine Gael. He explained that many of Ireland's current officials remember the pain of the '80s. Back then, young academic activists joined a movement to reduce spending and cut taxes.
Those activists have become Ireland's economic and political leaders, and the movement has evolved into a national push to keep the deficit in check. Ireland's debt is about 75 percent of its GDP — a nearly 45-point turn in the right direction since its peak in 2012 and 2013. Meanwhile, the debt ratio in the U.S. stands at about 105 percent.
The same movement adopted a "we're all in this together" philosophy. Whether on the liberal or conservative end of the sociopolitical spectrum, most of Ireland's leaders are fiscally conservative. They recognize that political divisiveness has no place in an economic recovery.
Ireland has a substantially different situation than that of the U.S., but there are plenty of lessons to learn from Ireland's success. While it's not an apples-to-apples economic comparison, some fundamentals are undeniable. The U.S. could benefit from the same collaborative environment that characterizes the Irish "economic miracle," where international companies and workers alike are enticed by low taxes, manageable deficits, and a warm welcome.
Michael Gleason, an entrepreneur and technology expert, is founder and CEO of InMyArea.com, and Kevin Muldoon is an attorney and city councilman in Newport Beach who serves as InMyArea.com's chief business development officer.