On Saturday, the U.S. Senate passed a tax-reform bill. What does it imply for the gold market?
The last weekend was a turbulent period for the gold market. On Friday, Michael Flynn, Trump's former national security adviser, was charged and pleaded guilty to lying to FBI agents. It means that the Russia probe is getting closer to the White House. Importantly, Flynn could have extremely valuable information about the Trump administration's potential contacts with Russians. Hence, when the news hit the markets, the price of gold jumped from about $1,273 to almost $1,290, as one can see in the chart below.
Chart 1: Gold prices over the last three days.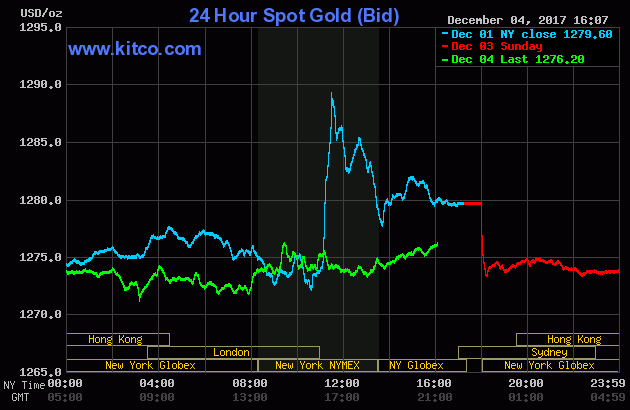 But when the U.S. Senate passed a tax reform bill which introduces significant tax cuts, the risk appetite returned to the markets and the price of gold dropped to the level seen before the news of Flynn's plea.
What does this imply for the gold market? Well, the approval of the tax bill by the Senate is not the end of the legislation process, as the bill will now have to be reconciled (the U.S. Senate and House of Representatives passed different versions of the bill). However, the Senate vote was an important step toward Trump's goal of tax cuts. It may strengthen the investors' optimism about future economic growth. The tax cuts are expected by the markets to stimulate the economy and make the Fed more likely to increase interest rates. Such a sentiment is negative for gold prices – and in the past two years, the price of gold was usually under downward pressure in the several days before the December FOMC meetings. If history is any guide, the yellow metal is likely to struggle until December 13, although the FBI probe and a bumpy reconciliation process may provide some support. Stay tuned!
If you enjoyed the above analysis, we invite you to check out our other services. We focus on fundamental analysis in our monthly Market Overview reports and we provide daily Gold & Silver Trading Alerts with clear buy and sell signals. If you're not ready to subscribe yet and are not on our mailing list yet, we urge you to join our gold newsletter today. It's free and if you don't like it, you can easily unsubscribe.
Disclaimer: Please note that the aim of the above analysis is to discuss the likely long-term impact of the featured phenomenon on the price of gold and this analysis does not indicate (nor does it aim to do so) whether gold is likely to move higher or lower in the short- or medium term. In order to determine the latter, many additional factors need to be considered (i.e. sentiment, chart patterns, cycles, indicators, ratios, self-similar patterns and more) and we are taking them into account (and discussing the short- and medium-term outlook) in our trading alerts.
Thank you.
Arkadiusz Sieron, Ph.D.
Sunshine Profits' Gold News Monitor and Market Overview Editor
Gold News Monitor
Gold Trading Alerts
Gold Market Overview