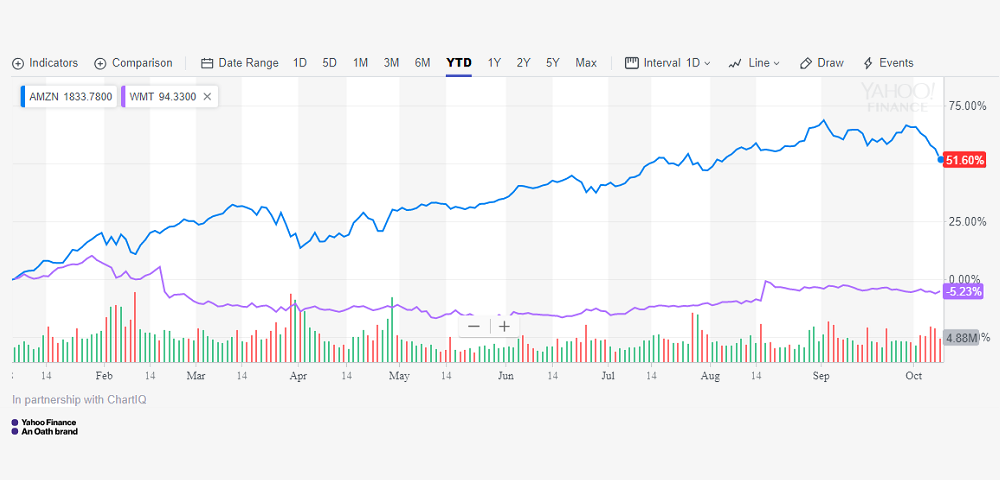 The first two entries investigated critical elements in the WalMart (WMT)-Amazon (AMZN) battle for retail leadership. Part 3 tries to project a winner. Investors should keep in mind that this battle deals with retail goods including supermarket food purchases, business areas that live by low margins. It excludes Amazon's specific high technology divisions. Also recognize that WalMart owns a much larger presence in the supermarket business. While much has been made of Amazon's purchase of Whole Foods, it remains a limited operation. Not much has changed since the market capitalization behemoth took over (yes, topping one trillion for a time).
While Amazon's stock and market capitalization continue to rise, WalMart took an upward leap recently when its online prowess picked up steam. WalMart had an outstanding second quarter thanks to a robust economy and cash-laden consumers. This proves that in-person shopping holds a revered position especially when buying food. (Brown bananas are undetectable when purchased online!) Also, old habits die hard. Despite the rapid growth of online, most shoppers like going to the store. This is where WalMart retains a strong advantage over Amazon. In addition, the Fortune 500 revenue king, topping $500 billion for a full year, understands how to work with manufacturers and make a reasonable profit. The newer fashion trend companies discussed in part 2 of this series make a good target for WalMart. By comparison, Amazon's revenue for the last year stands at approximately $178 billion.
We looked at WalMart's advantage in ground transportation with its huge truck fleet and warehouse infrastructure. Amazon, of course, leans toward air transport and has been building warehouses faster than a team of beavers in a log-filled stream. So, Amazon sees the brick and mortar gap and is moving rapidly to catch up.
We also looked at speed in delivery and in capitalizing on new fashion trends, a fascinating technique to get to market rapidly before your competitor can check the inventory levels of yesterday's bargains. Coupled with inexpensive manufacturing of frankly inexpensive items such as sweaters and leisure clothing, a retailer can carve out an attractive space while the big companies are still meeting consultants to determine if the next fashion trend is really happening. Low price gains greater appeal as brand loyalty fades.
And, the Winner is…
Predicting a winner is difficult but we must follow through. The public favorite is mighty Amazon, which commands the huge market capitalization. Many pundits tell the Myth Buster that Bezos's baby must be the winner. However, WalMart is moving steadily to provide a wide range of retail goods including its much larger presence in the grocery area and its geographically impressive brick and mortar cache. WalMart operates full-service grocery stores as opposed to the Whole Foods locations and the warehouses, which only store goods that are part of the Amazon online arsenal. Neither Amazon nor WalMart do very much direct manufacturing – at least not compared to the total number of products sold.
Both giants compete for leadership in delivery time and delivery quality. WalMart holds an advantage in the size and age of its truck fleet. (Older trucks are cheaper.) While Amazon has more planes at its disposal, even cargo planes are more expensive than trucks. Building a hub plays well with investors, but WalMart can call on Fed Ex (FDX), UPS (UPS) and others to deliver overnight. So can Amazon. Both companies can offer the inexpensive "fast fashion" products made by newer retailers.
Looking for the Strategic Edge
This series seeks strategic advantages, looking for clues to success in any business. In innovation, Amazon holds the lead. Amazon Prime and efforts to move into entertainment make it an exciting company. Amazon commands a willingness to try new things, even if it incurs staggering cost. Pushing for same-day delivery spans new employees, new equipment, massive spending and a good deal of risk. Going head-to-head with Federal Express shows boldness and a touch of the killer instinct. Even so, Amazon has not cracked the same-day delivery nut. WalMart offers a huge range of products and delivers rapidly as a supplement to its long-standing brick and mortar presence. Their ground fleet fills many highway lanes with big white trucks and blue labels carrying goods everywhere. WalMart's infrastructure will also prove valuable in really delivering goods on the same day from a spread out array of warehouses.
Amazon holds the lead in air transport, a key advantage. WalMart holds an edge in ground transportation. Based on our analysis, the ground game offers an advantage in the battle of titans. Both companies will continue to use and will seek even more favorable rates from the big overnight delivery services, cutting off any advantage for their competitor. WalMart also leads in grocery retail size and experience. Its slightly slower, steadier approach to growth may benefit its efforts to make wise decisions in a highly competitive and low-margin business.
Since we began this series, both contenders have done well. Amazon's share price spurts upward; its market cap is outrageous. Walmart took a significant upward leap recently and its online capability is solid. The Wall Street Journal has run a couple of articles on the topic, demonstrating that we are witnessing a fascinating competition.
So – and the Myth Buster would not be fair without picking a winner – at this point, WalMart looks solid. Sam's gift to the nation and the world shows greater sales, steady performance as the economy rises and great capability to compete effectively.
This myth has proven its interesting qualities, allowing us to look at many areas of competitive advantage. Next month, the Myth Buster will pick up a new and equally challenging myth.
Read the rest of Financial Myths: Ground Game vs. Air Game series here:
*******************
Michael McTague, Ph.D. is Executive Vice President at Able Global Partners in New York, a private equity firm.