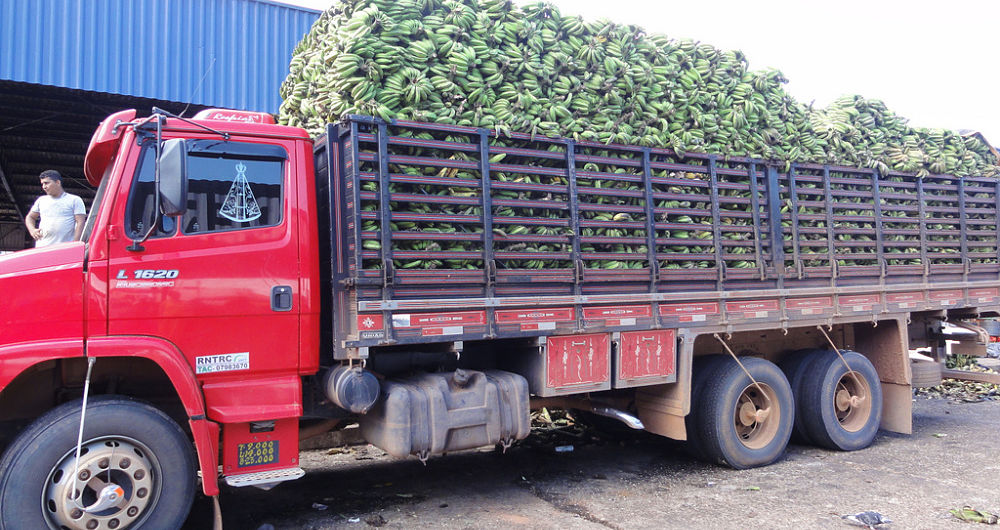 Image via Dave Lonsdale/Flickr CC
Part 1 looked at major issues in the Amazon AMZN – WalMart WMT battle for online shopping leadership. The battle rages on and ignites all of retail. Part 2 picks up on the key strategic advantage of speed and looks at the feasibility of ever-faster delivery — same day or even 1-2 hour. Purchasing and payment followed by package processing, air transport, truck shipment and delivery across the country in a short time poses many challenges. FedEx FDX and UPS UPS only have to ship and deliver by the next day. WalMart and Amazon must complete the purchase, payment and packaging before they can employ or duplicate overnight delivery.
Amazon – the high tech darling – is swiftly building a fleet of cargo planes to seize an air game advantage. Given the cost of passenger airplanes, a fleet of propeller or cargo planes offers a big advantage. A hub may be in the works. The Pittsburgh Post Gazette reports that the steel city may become a second headquarters for Amazon, which may bring 50,000 jobs and $5 billion in investment.
Beyond the drama of the WalMart – Amazon battle, have you noticed how many long-standing retailers are going belly up? Abercrombie & Fitch ANF, The Gap GPS, Old Navy, JC Penney JCP, Toys R Us and others cannot catch a break. Exhausted by the growth of online shopping, the mall stalwarts have run out of the wiggle room provided by discounts, sales, coupons and specials.
That's Where the Money Is

If one were to break down the cost and profit chain – as opposed to the ubiquitous supply chain – most of the profit lies in retail, the actual sale of the product. Manufacturing cost falls mercilessly as more and more inexpensive labor becomes available. Raw material and shipping cost affect brick-and-mortar mall and online leaders similarly, so no one holds an advantage. Retail profit stands out as the fattest link in the chain and the most vulnerable.
The well-known store brands face two major threats. Everyone offers online shopping, but Amazon and Wal-Mart are cutting into the big name retailers' sweet spot through faster delivery. The mall-based retailers at risk of bankruptcy because of the relentless growth on online shopping cannot build a hub or purchase a fleet of planes and using Fed Ex and UPS serves everyone and offers no advantage to a single retailer. The second vulnerability is the weighty profit margins enjoyed by big retailers. Operating in modest quarters and satisfied with smaller profit margins – often half of what their competitors are accustomed to — online-only retailers sell similar goods at lower prices. These companies also avoid the marketing and advertizing expense of the big name retailers, get the job done with smaller staffs and save the brick and mortar costs.
What's in a [Brand] Name?

Have you noticed that retail price is more important than ever before? Millenials love bargains more than name brands. If a retailer can cut the price and get their product in front of buyers quickly, they gain a significant competitive advantage. The online-only group is not satisfied with mere online delivery. Smaller, newer and more malleable online companies are buying up or creating products that resemble the goods the giants make or purchase.
Take for example ASOS, which uses the words cheap and affordable over and over. The London-area based company manufactures locally. This online seller also pursues a marketing concept called "fast fashion." Along with other newer contenders in online shopping, ASOS prides itself on being ahead of its bigger, older competitors in sensing and adapting to fashion trends. One of the keys to success is rapid production of newer design trends. Speed is critical everywhere in retail! A cotton cardigan listed on the website sells for $35.00. At Macy's, a Ralph Lauren Waffle-Knit Cotton Cardigan sells for $79.99. The two items may not be a perfect comparison, but note that the name brand competes with the current trend and the prices diverge significantly.
The strategic factors in the WalMart — Amazon battle are fascinating. Speed – a major superiority – can mean rapidity in moving goods across the country, or swiftness moving perishable goods from a refrigerated warehouse to a hungry consumer or velocity in rolling out new products that respond to customer preferences. Massive size – another major provider of strategic advantage – can help a company ship and store goods. But, small size offers a leg up driving around large cities, parking on crowded streets, and actually delivering goods.
Whoever figures out how to deliver in 1-2 hours will gain a major advantage. Getting product to customer that quickly is only feasible in specific markets where well-managed, nearby, refrigerated warehouses store vulnerable goods and where a large ground fleet is ready to roll. Most consumers still prefer seeing and touching the groceries they buy. So, for the time being, overnight delivery suffices.
WalMart's revenue mastery is truly overwhelming, more than double Amazon's. Amazon is moving quickly to lead in online and to span the whole nation, while WalMart commands in-store shopping, the grocery business and maintains online as a powerful supplement.The battle is far from the final round.
This myth allows us to look inside these giants as they battle for leadership. It also uncovers fascinating vulnerabilities of long-established retailers as new players gain ground. Right now, the battle for speed outdoes quality and price. Next month, the Myth Buster will continue the investigation and try to pick a winner.

Read the rest of Financial Myths: Ground Game vs. Air Game series here:
*******************

Michael McTague, Ph.D. is Executive Vice President at Able Global Partners in New York, a private equity firm.