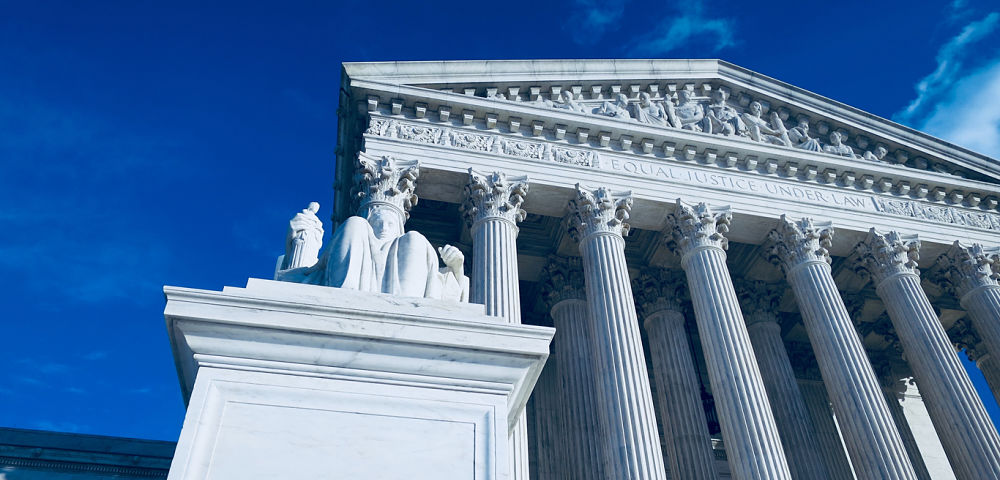 How did the Myth Buster do this year? While looking at the problems of Facebook FB and its sloppy handling of private user data, we raised the issue of monopolies. Big, predatory companies are supposed to find themselves in trouble with the federal government. Despite its misdeeds, Facebook avoided disaster and actually made more money while it was defending itself to Congress and hiding behind a cloud of algorithms.
As the year comes to a close and new instances come to light, an algorithm will not suffice to fix Facebook's trouble with data and privacy. However, the specter of the government cracking down on monopolies was also playing out in other arenas as discussed in the series "The Falcon Cannot Hear the Falconer." As this year-end entry is being finalized, the Supreme Court gets ready to hear Apple vs. Pepper. The iPhone inventor is accused of acting like a monopoly. So, the tech giants are not immune from government oversight.
The tech giants do not move in lock step either. Alphabet/Google GOOGL, Apple AAPL and Microsoft MSFT tend to move freely. Facebook and Amazon AMZN show roller coaster movement. Facebook owes its tribulations to its bad reputation. Amazon, despite its enormous market cap, wheezes when its thin margins come to light.
AT&T T and Time Warner (Private) found that, as the Myth Buster has written previously, Big Is In, a key strategic concept. Giants are not viewed as predatory by nature anymore, but companies a notch below that do not create new technology are likely to get the third degree. The proverbial little guy is at a great disadvantage; companies in the middle may be in a worse position. Companies without the technology halo or that merely provide high tech service such as Verizon VZ, AT&T and the Internet providers feel the full force of the many laws that protect consumers from monopolies.
Big Is In
In the November entry, "The Bigger They Come, The Harder They Fall," we again picked up the theme of huge monopolies forming, including tomorrow's giants, which are today's high tech giants eating up artificial intelligence and cloud computing to gain total control of the digital future. We also pointed out that 2018 was a record year for massive mergers and acquisitions (M&A). And, we discovered that these M&A deals span the globe. For example, IBM IBM bought Red Hat (RHT) for $34 billion, revealing huge plans. Big is in!
The "Ground Game Vs. Air Game" series allowed us to delve into the goings on in the battle for retail leadership between WalMart WMT and Amazon. The mall/brick and mortar kings are going at it against the online techies. This series uncovered the peculiar efforts of a technology-savvy company trying to ramp up its brick and mortar presence against a mall giant that is pushing its warehouses and truck fleet to deliver faster than a jack rabbit, or, at least as fast as Federal Express FDX. Since we tackled the subject, the Wall Street Journal and others have been solidly on the case.
Since the "Ground Game" series appeared, both companies are moving aggressively. As the year year ends, Amazon is finalizing its plans for two massive headquarters in New York City and Virginia supported by generous tax breaks. Amazon may also take on Uber (Private), while WalMart is pushing hard for seamless shopping and great holiday sales as well as faster delivery. Friends of the Myth Buster and pundits tend to favor Amazon, but WalMart is not backing away from the fight and the Myth Buster sees WalMart achieving success. WalMart recently enjoyed a revenue burst fueled by a 43% rise in online sales while Amazon stock dipped along with the other tech giants.
Approaching the end of the year, the market dipped, then rebounded, then dipped again. During that time, Amazon had a rocky time. Its vulnerability as seen in their 7% loss in a single day marks them as a doubtful member of the giants club. The tech giants – Microsoft, Apple AAPL, Google, Facebook and Amazon — had a good first half of the year in the stock market. Then all five slumped. Microsoft, Apple and Google experienced smaller drops than Amazon and Facebook. We shall see if the pattern holds into and through 2019. The coming year may see more divergence among these investor darlings.
Pharmaceuticals Rebound Quickly
In the series, "Like a Patient Etherized Upon a Table," the Myth Buster took a look at the massive medical industry and its many features. Spanning hospitals, nursing homes, pharmaceuticals and the medical profession itself, its complexity and achievements are truly impressive. New sub-specialties appear in medicine as new pharmaceuticals rise. Pfizer's PFE stock price had quite a run through 2018. J&J JNJ started high, sagged and regained its footing, actually rising as the market sagged. This sector looks stronger at year end than high tech.
The year has shown some topsy-turvy outcomes: High tech and low tech giants merging; huge communications and entertainment leaders joining. The massive capitalizations get a free pass while the down-to-earth market caps get the penalties. Clearly, size matters. However, Amazon's oversized market cap has not propelled it past WalMart's gritty brick and mortar hegemony.
The year has proven eventful and the trends we looked at are shaping the future of business sometimes in unexpected ways. Next year, we will be ready with new insights into equally challenging situations.
**********************
Michael McTague, Ph.D. is Executive Vice President at Able Global Partners in New York, a private equity firm.