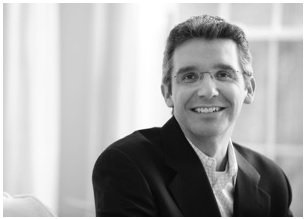 At equities.com, we've always been focused on building an active community among the leading voices within the world of finance. However, as with many other fields, in recent years, we've noticed a significant shift away from traditional sources of news, tips and predictions, and toward the growing number of financial bloggers.
In this series, we profile some of the most distinct and noteworthy voices in the world of financial blogging. Here, you'll find our recent interview with Tadas Viskanta. The founder and editor of Abnormal Returns since it was launched in 2005, Viskanta is also the author of Abnormal Returns: Winning Strategies from the Frontlines of the Investment Blogospere. Read below to learn about the value of "forecast-free finance blogging" and the importance of getting in control of your own behavior to get ahead of the markets.
EQ: What inspired you to start Abnormal Returns?
Viskanta: It's been a long time now, about nine-and-a-half years, so I have to think back. When I was working in traditional investment and management I was a co-author of a number of papers in practitioner literature. Things like Financial Analyst Journal and Journal of Portfolio Management. I've had an interest in writing about finance and investments for a long time now. In a prior life I co-founded a hedge fund, and after that venture ended I had all sorts of knowledge about the hedge fund industry and hedge fund investing. I ended up writing a book proposal about the hedge fund world. In my mind it was kind of "Hedge Fund 101." I pitched that book proposal to publishers and it went nowhere, frankly.
EQ: What year was that?
Viskanta: This was 10, 11 years ago. I had the writing bug at that point and blogs were really just beginning to take off. After lurking for a little while I felt that the blogosphere was my place. I launched the blog and haven't looked back.
EQ: What was your financial background prior to starting the blog?
Viskanta: I have an MBA from the University of Chicago. I spent over a decade in a number of roles at the investment management arm of a big bank before going out on my own.
EQ: Did you have a specific philosophy when it comes to financial advice offered at Abnormal Returns? How do you differentiate yourself from other blogs out there?
Viskanta: I've always said that Abnormal Returns is really just what one person finds interesting on a day-to-day basis on finance and investing, and anything else that comes across my radar. I don't really come at it with any particular philosophy. In fact, if I look at it from day one to today, it's definitely changed. The world has changed, I've changed and technology has changed.
What gets on the site is probably different than what it was back when it started. That said, I'm sure there are some themes that continue. That was one of the reasons why I wrote the book. A lot of those themes kept coming back to me and I decided to put them down on paper and memorialize them once and for all.
EQ: Who do you view as your audience at Abnormal Returns?
Viskanta: I'd like to think that whenever I write a about investing and the markets, I'm really trying to talk to as broad an audience as possible, and frankly, that audience is not necessarily super interested in investing. I think that it's really kind of pitched towards that audience.
Markets aside, a lot of good things have happened for investors over the past 10 years. I think that whether it be the rise of ETFs, the lowering of expenses on various investing tools, the rise of the robo advisor, all of these things are really positive for investors. When I first started the blog, I tagged it a "forecast free blog," because a lot of the articles I was reading at that time seemed very transactional, in a sense that "this stock is going this way," or "this market is going another way." I think the move away from that may be one of the biggest things that I've seen change over time.
That approach towards markets is perfectly valid, but I think the things that I focus on and the people that I read have really focused on changing investor behaviors. It's less about picking the right stock and more about trying to act in a way that best maximizes potential for returns, and avoiding big mistakes. Human nature being what it is, we're always going to struggle with investing. I think trying to talk to investors on that level – where you can actually control your behavior – that makes sense.
EQ: I'm sure if you can take it from a perspective of the human psychology behind why people go against the ingrained logic of the market, you'll have much more fodder for writing every day.
Viskanta: I think you could spend all day just reading analysis of companies and trends. There's certainly room for that, but I'm trying to find things that A) I find interesting and B) I think are worthy of passing on to my audience. That's the kind of the things that I've been focusing on, and probably will continue to focus on.
EQ: Do you have any long term goals for the blog?
Viskanta: Not specifically. As I've said, it's really an outlet for my thoughts, and those have changed over time. It's been helpful in allowing me to meet people and explore different opportunities much more than being an ongoing business. I've met all sorts of great people, and that's probably been the richest experience of it. Like you said, the blogosphere went from being scorned and being outsiders to being in the mainstream now.
EQ: Do you have any specific investments that you find interesting right now?
Viskanta: It's funny, I was just reading a recap of all the ETF launches from last year at EFF.com. I like to think of myself as being on top of what is going on in that space. There's a lot more going on than even I realized. It's a really interesting space. I've talked a lot about the inevitability of active ETFs. That trend is going to continue, for better or worse. It's already difficult to stay on top of all the ETF launches and I think we're going to continue to see more active ETF launches.
I think it's going to be even a more difficult job to sort through everything that is going on in the ETF space. Not only are costs getting driven dow for plain vanilla ETFs, but we are seeing more markets and strategies getting coverage. There's a lot of debate about smart beta strategies, for instance. In a certain respect, if somebody can dream it up it can become an ETF. All sorts of strategies and opportunities are going to get captured in that ETF wrapper. I think that is really interesting for both individual investors, and for people who are building portfolios for a living. How it will all play out in the end is an open question, however.
EQ: ETFs have certainly proven to be a very popular device in a short period of time. If you could distill your perspective down to one piece of advice or philosophy that you'd want to impart to your readers, what might that be?
Viskanta: You really can't control what the markets are going to do. In the 9-plus years that I've been blogging we've seen a housing bubble burst, a financial crisis and a lot of market ups and downs. There's really nothing we can do to control what the markets do, but we can control our own behavior. You can put in place a strategy that works for you, and that might be very different than what somebody else does or somebody else thinks you should do. Finding a strategy and sticking with it is probably more important than trying to chase down the last few basis points of returns.
EQ: Is there anything else that we didn't touch on that you think is worth noting about the financial blogging space today?
Viskanta: What I find heartening is that that we continue to see financial information, financial media getting disseminated in different ways. Of late, I think we're seeing a lot more in terms of podcasts and things like that. We've got a full spectrum of content and media, anywhere from tweets all the way up to full blown research reports, and everything in between. If you're interested in investments, there is something out there for you, it's just a question of finding it. Abnormal Returns is one way to do that, but there's lots of other ways as well. No matter what kind of information and things that you're looking for it's out there. The challenge, of course, is finding it, and finding it in a time-efficient manner.
For more on investment, financial analysis and portfolio analysis, follow Tadas Viskanta's posts on Abnormal Returns.
DISCLOSURE: The views and opinions expressed in this article are those of the authors, and do not represent the views of equities.com. Readers should not consider statements made by the author as formal recommendations and should consult their financial advisor before making any investment decisions. To read our full disclosure, please go to: http://www.equities.com/disclaimer