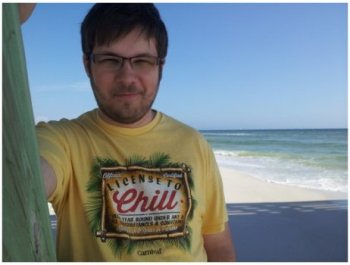 At Equities.com, we've always been focused on building an active community among the leading voices within the world of finance. As with many other fields, in finance, we've noticed a significant shift away from traditional sources of financial news, tips and predictions, and toward a growing number of financial bloggers.
In this series, we profile some of the most distinct and noteworthy voices in the world of financial blogging. Here, you'll find our recent interview with Lance Cothern, founder of the site Money Manifesto. Read below for Cothern's advice on paying off student loans and credit card debt, and why you might want to continue living like you're in college long after graduation.
EQ: I understand you started Money Manifesto back in April of 2012, so it's actually rather new compared to some of the other blogs out there. What inspired you to start the site? Were you influenced by other finance blogs?
Cothern: I was. I had some free time on my hands at the time, and I'd been reading lots of other personal finance blogs. It was interesting to see everybody's opinions on money. I was dating my girlfriend – now my wife. She was just getting out of college that previous year and she had $80,000 of student loan debt.
So I thought I'd add my voice to the blogosphere, give my opinions and show people that we're able to pay down the debt. That was something we started highlighting on my blog later that first year. We had just paid off all $80,000 of her student loan debt, so we were trying to get our perspective and our experience out there for others, and trying to help others with their money as much as we could.
EQ: Congratulations, that alone is definitely an accomplishment. Student loan debt is an issue that a lot of young people are facing these days, as I'm sure you're aware. Do you get a lot of stories about debt, and other individual financial concerns from your readers?
Cothern: I definitely get emails from people. It just depends on what people go through in their lives. I've had a few people email me about their student loan struggles. Sometimes it's just people saying, "Wow! I came across your story, and it really inspired me to start attacking our student loan debt. Even if it takes me twice as long to pay down as it took you guys, I'd still be happy to have the debt paid off by then."
There are other people that email me and ask questions about my own personal finance philosophies. Some steps I can't help with, in which case I might refer them to other blogger friends that might be a better match to help out with these situations. But it's definitely been great getting to know my readers.
EQ: Good to hear. I think a lot of young people coming out of college with a great deal of debt are constantly told of the importance of fiscal responsibility – which means paying down debt as well as saving for the future. But it seems like a lot of people can't even fathom saving substantial amounts when they have so much debt to pay off. How do you pay down debt and save at the same time?
Cothern: There are a lot of different things grabbing at your money when you're young and just out of college. One of the things we did was to try to continue living as if we were in college as long as possible. My first year out of college, while my wife was in college, I still had roommates. Then, unfortunately, I was in a position where I couldn't continue with roommates. But if you can live in the college student mindset for just a couple of years after you graduate, and just save as much as you can, it will help you to get far ahead.
Once you earn your first paycheck, use it to help pay down your debt. Of course, what your goals are in life, and where you are living will also affect how much you can allocate to your different goals.
I always suggest people start investing for their retirement and take advantage of their employer match as soon as that's available. Then, depending on if you have really low fixed rate interest debt, make payments as soon as possible. I know right before before my wife went to college, there were people who consolidated their loans at like a 2% or 3% fixed rate.
My wife's loans were anywhere from 5% up to 12%. Some were variable rates, some were fixed rate, some were private loans, and some were government loans. So, you have to take inventory of your situation to figure out where you're at and attack the biggest threat to your future wealth first.
EQ: Sure, that makes sense. When you started Money Manifesto, there were already a few financial blogs out there, and since then they have continued to become more accepted in the mainstream of financial news. What sets Money Manifesto apart from the other financial blogs or other news sources out there?
Cothern: Whenever I think about what sets Money Manifesto apart from other blogs, I really think it comes down to the personal experiences of my wife and I. How we've been dealing with our money, and how we have been going through everything. I try to share stories in detail about what's going on in our lives, but also how that can apply to other people who are in similar situations, or even substantially different situations, but it can apply the same types of concepts too.
We paid our student loan debts, but I know there are a lot of people out there with credit card debt. You can apply the same methodology to paying off credit as you do to student loan debt.
We paid off our highest interest rates loan first because that was most threatening to us. So, with any personal finance blog, what really differentiates them is the voice behind the blog. So that's the big difference here – it's us and our experiences.
EQ: Since you began, how has the blog evolved?
Cothern: Well, when I started out, of course we were in a lot of debt. It was basically just to get our ideas out there for those seeking answers to their financial questions. Over time, though, we've changed this as our circumstances have changed.
Right now, I'm just trying to provide a resource for anybody who comes to the blog in the hope of bettering their financial situation. Hopefully, we can continue to grow and start offering some tools – more than just the blog posts, I'm hoping to come up with some e-books in the future. We want to grow to a point where we have more that we can offer to help people figure out or fix their financial situation.
EQ: Is there any single piece of advice or philosophy that you try to impart to your readers when writing your articles?
Cothern: There are a couple of big themes that I like to get across in our articles. One of the main ones is that you're responsible for your money and your decisions with your money. That can give you a great opportunity for the future, if you take advantage of it. Your money is there to work for you, and you need to employ it that way.
Too many people don't pay any attention to their money. They just get a paycheck, spend until they get their next paycheck, and hope their checking account doesn't hit zero before they get there. So, we help readers to really take control of their situation, work toward the future and grow their wealth to a point where they can use money as a tool. That's probably the biggest theme that we try to get across.
EQ: Great. That's very helpful. Now, I see you've got a lot of articles on credit cards, budgeting, and debt, of course. Do you offer any investing advice, as well?
Cothern: We cover investing, but we cover it in a more generic sense. I don't have any licenses that will allow me to give specific recommendations on investments. Personally though, the theory that I believe in and practice myself is buying index funds, and dollar-cost averaging over time.
I don't try to beat the market, I just try to get as close to what the market does as possible. Occasionally, we'll talk about making sure you're investing at your risk level, so that if the stock market goes down 50% tomorrow and you had 100% stocks, you won't sell when it goes down 50%.
In order to get the benefit, you have to be buying when it's down 50%. So, generic concepts like that. Mainly index investing is the type of investing that I'm most comfortable with and would probably suggest.
EQ: That's great, and definitely right in line with the themes that you often cover. Do you have relationships with other bloggers out there?
Cothern: I definitely have a group of people that probably started around the same time that I did with my blog. I've gone to the financial blogger conference for the last two years, and I'll be going again this year. It's great to get out there and meet people.
Everybody, at least at the financial blogger conference, is so willing to help. They know that while we might be technically competing with each other for readership, the more people that we can all reach will actually help everyone.
You can ask questions and they'll be really forthcoming with answers. "Oh, you know, this works for me, and this doesn't work for me. This has really been helpful to my readers, this hasn't." It has been very helpful to get involved with that community, and I really love it.
EQ: That's great. Before we go, do you have any parting advice that you'd like to share with our readers?
Cothern: Just to spend less than you earn and invest the rest, with investing the rest to be a very key part of that. If you just save in a bank account, you're never going to grow any wealth, you'll just be getting beaten by inflation. If you start investing, you have the opportunity to have your money work for you, and eventually, you'll have enough money to be financially independent, which is a big goal for a lot of people.
For more advice on paying debt and saving for the future, visit Lance's blog Money Manifesto.
DISCLOSURE: The views and opinions expressed in this article are those of the authors, and do not represent the views of equities.com. Readers should not consider statements made by the author as formal recommendations and should consult their financial advisor before making any investment decisions. To read our full disclosure, please go to: http://www.equities.com/disclaimer