The fine folks at FierceBiotech released their anticipated "Fierce 15" list today - the companies that they feel have an excellent chance at "producing something revolutionary and game-changing" in the next 5 to 10 years, "a genuine chance of being the Next Big Thing."
The majority of the companies in the list raised early capital of at least $50 million. FierceBiotech notes that "it's the promise of the science and the teams managing these candidates, alongside a genuine excitement and confidence in new hopes for truly next-generation therapies" that is driving the capital.
---
---
FierceBiotech notes further that "many veterans" from Big Pharma "have jumped ship to these startups—including ex-Biogen chief George Scangos, former Novartis leader David Epstein, former Allergan oncology VP Stephen Eck, Clovis Andrew cofounder Andrew Allen, ex-GlaxoSmithKline exec Jason Gardner, Genentech vet Raphaël Rousseau and former Pfizer leader Torben Straight Nissen."

We encourage you to visit FierceBiotech and review the detailed profiles of the Fierce 15.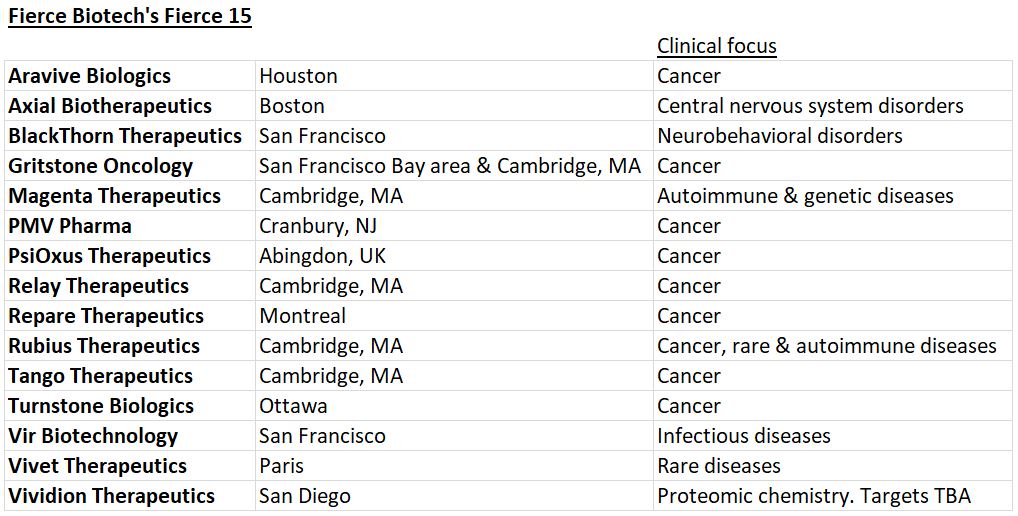 Source: Data from FierceBiotech. Chart by Equities.com

Please email us at content@equities.com to see our Case Studies and Testimonials.
Please click here for information on our new trading platform.
Please click here to subscribe to our complimentary newsletter.
DISCLOSURE: The views and opinions expressed in this article are those of the authors, and do not represent the views of equities.com. Readers should not consider statements made by the author as formal recommendations and should consult their financial advisor before making any investment decisions. To read our full disclosure, please go to: http://www.equities.com/disclaimer