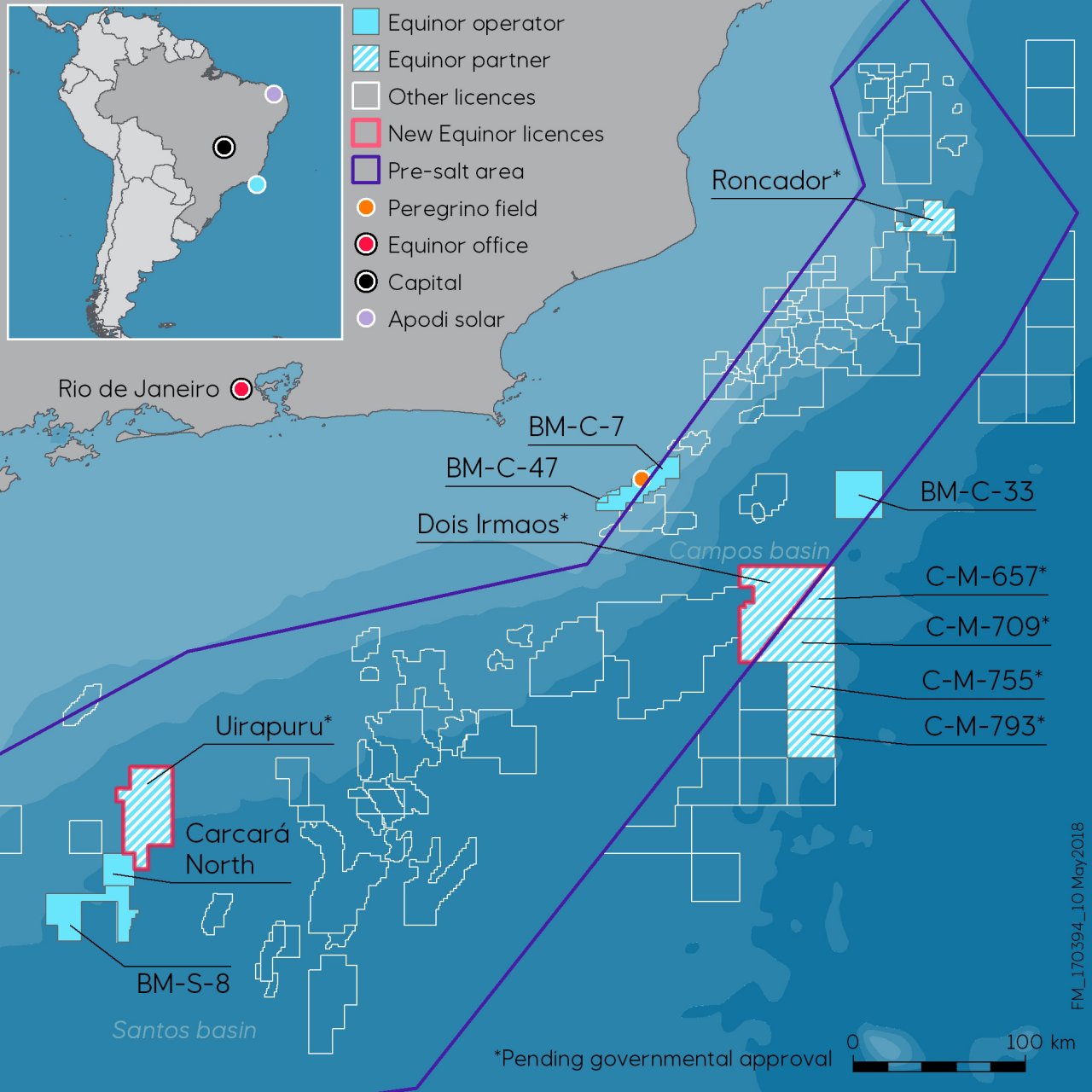 Images: Búzios oil field. Source: Equinor
February 2021 — Myth Buster
Following our first entry that looked at Chile, a true success story despite the expected fragility of any recently emerged nation, our second entry in this series sinks its teeth into Brazil, a much larger and more venerated economy. Despite its size and overall attractiveness, Brazil – the B in the widely referenced BRICS (Brazil, Russia, India, China, South Africa) – faces many challenges on its long journey to financial stardom.
Damaging policies and political corruption stall the great Amazon River country's journey to success. One of the bad decisions was its auction for the rights to drill in Búzios, one of the world's largest undeveloped oil fields. At a time when oil prices are down and the world is swimming in a massive oil glut, Brazil crossed its fingers and hoped for success. The giants – ExxonMobil, Total, BP and others – did not even bid. Why would they? This is the worst possible time to invest heavily in oil production given the glut and investors' appetite for stock appreciation and perhaps dividends. This is an example of the kind of really bad decision an emerging nation makes. Defaulting is worse, but not by much!
Future Prospects
A look at the largest companies in the home of the greatest soccer players shows they depend on the business activity inside Brazil, a nation of roughly 212 million people. These include Petrobras, Banco Itau Unibanco, AmBev, Vale and Lojas Renner. Note that none of these organizations holds a strong presence outside Brazil.
You might wonder what Brazilian products stand out on world markets. Brazil is the largest seller of coffee beans to the US, where they take on the names of American brands. The largest country in South America is the world's largest beef exporter, topping its highly touted neighbor, Argentina, but bribery related to inspections marred its reputation several years ago. For a time, the nation offered a huge price drop to build up market share. Even so, corruption brings its own problems.
Petrobras, Brazil's corporate giant, holds a market capitalization of roughly $70 billion, about on a par with BP but well below Exxon Mobil, roughly $200 billion, and Total at about $110 billion, for example. This pattern indicates that most of its customers live in the home country – a bad sign for a nation wishing to move up the wealth ladder.
It would be even better to see some popular product jacking up sales across the Internet, delivered daily in Amazon boxes or sold at the mall. Consider liquor, a type of product a country with a large population might excel in producing and selling abroad. Fellow BRICS member Russia exports about 49 million liters of vodka annually, led by Smirnoff, now owned by British multinational Diageo. Actually, Sweden and France outperform Russia in vodka exports based on Absolut, owned by Pernod Ricard. Meanwhile, the most popular cocktail in Brazil is a caipirinha, made from cachaça, sugar and lime. It hasn't quite made the impression of vodka or scotch, and it also has not attracted the attention of the alcohol fortune makers like Diageo and Asahi. As an emerging nation, it would be better if Brazil's biggest companies were squarely involved in selling solid products and services outside the homeland.
The Costs of Bad Decisions
Why do emerging economies make such bad decisions? In this case, the reasons are clear. They feel that oil is a precious commodity, a misconception widely held in nations seeking a sudden burst of wealth. Oil would be precious if supply were short and the going rate were at or above $100 a barrel. The people in Brasilia would be wise to wait for Canada to ramp up its oil sands production – a sign that expensive-to-produce oil is attractive. Watch the share prices of Suncor and Canadian Natural Resources. Until then, a huge infrastructure expense leading to real oil production down the road remains a non-starter. Careful planning with a long-term focus would serve Brazil better than short-term actions that are unlikely to work out.
Even more troubling is Brazil's reputation for corruption and for making it hard to do business. A recent survey by the World Bank ranked Brazil number 109 in terms of ease of doing business. Playing by the rules and softening regulations would work much better in attracting international investors. A reputation for red tape and payoffs always proves difficult to erase. One example is that customs delays slow down exports and imports by almost 15% according to a Brazilian study. The paperwork required in agricultural sales is also considered onerous and expensive. Speed stands out as an attractive element in all transactions, and investors will take note that changing these slow-poke policies can only be done after long meetings by government officials with expensive suits and practiced frowns.
Perhaps Brazil's biggest error on its journey to the highly prized "emerged" status has been raising taxes on its fragile middle class. About 55 million Brazilians live in poverty, and movement from poverty to the middle class has proven slow and painful. All governments need taxes, but increasing the financial burden on those who recently moved into the middle class tends to push this aspiring group of citizens back into poverty and takes away the incentive for those at the bottom to move up. What looks good in Rio de Janeiro and São Paulo does not work so well in Mato Grosso or Pernambuco.
The BRICS giants continue to emerge like a runner huffing and puffing after just two of the four laps needed to reach the finish line. This series looks at fundamental actions and conditions needed to really emerge. Next month, we will conclude this series.
**********************
Michael McTague, Ph.D. is Executive Vice President at Able Global Partners in New York, a private equity firm.
_____
Equities News Contributor: Michael McTague, Ph.D.
Source: Equities News