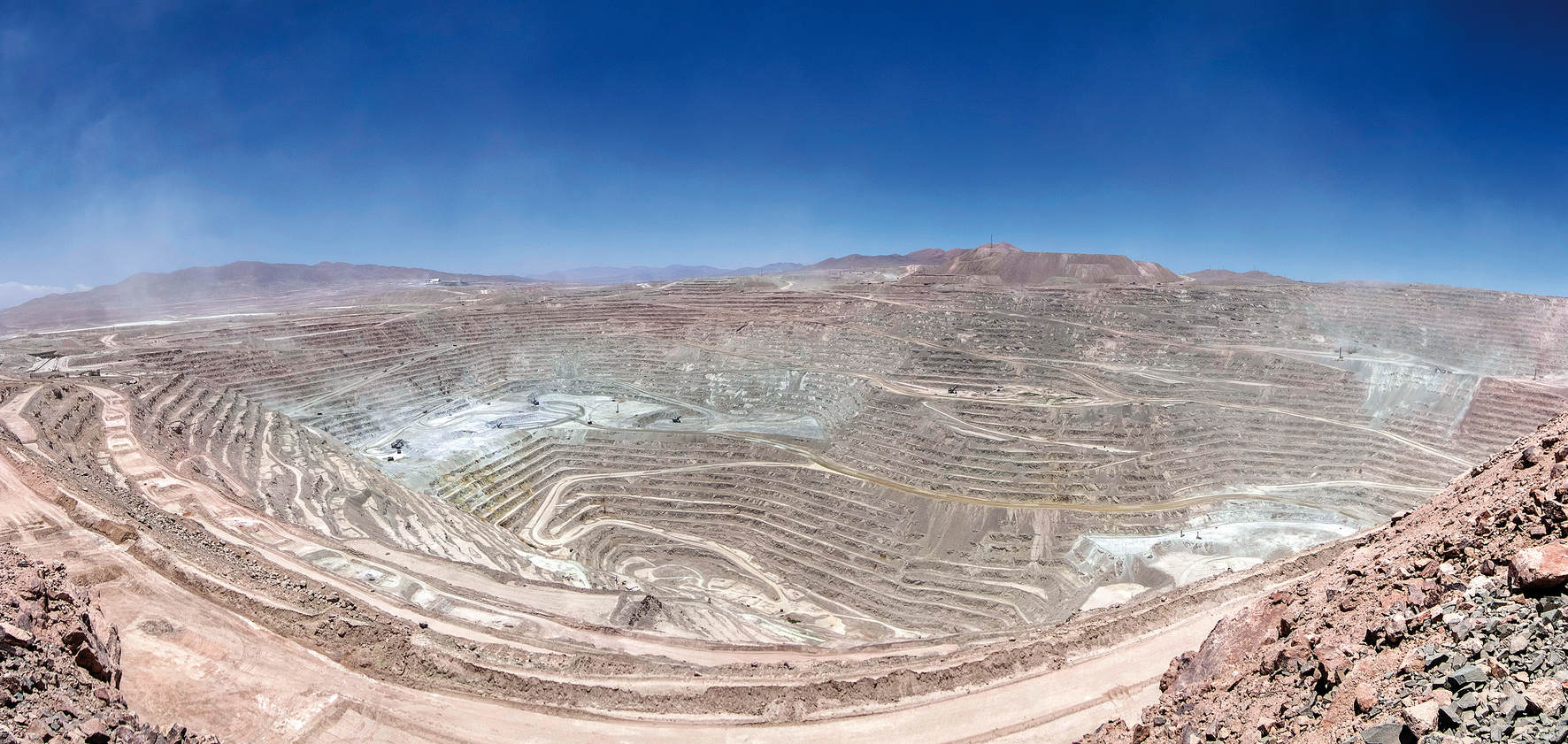 Image: Escondida copper mine, Atacama Desert, Chile. Source: BHP
January 2021 — Myth Buster
As some aspects of the pandemic recede, or at least as some businesses re-start in the US and the wealthier countries, many wonder what is happening to emerging markets? China enjoys a recent burst of economic activity. Russia, another member of the BRICS (Brazil, Russia, India, China, South Africa) nations, sings the oil blues as dollars per barrel scrape the bottom of… the barrel. Exports and manufacturing remain on hold. Savings dry up even in the wealthier countries. Brazil's Buzios auction disappointed. Risk is everywhere. Investors only plunk down their money on attractive opportunities.
Dry Desert Dripping with Riches
While investors keep hoping for good news from the high population BRICS, we start off the new year by looking at a recently emerged economy: Chile, that long, thin stretch of land on the west side of South America. A few years ago, Chile moved into the coveted "emerged" category, far outpacing its giant BRICS cousins. Its long-standing middle class has grown steadily as many have moved out of poverty. The home of the world's driest desert – the Atacama – sustains a modest population, and government business policies have been reasonable for decades. With just over 19 million people, Chile is far smaller and more flexible than the giant emerging BRICS economies that used to stir things up at Goldman Sachs before it disbanded the much heralded BRIC investment fund.
On its way up and more recently, Chile got a lucky break: copper prices leaped, pushing up mining company stocks. The recent spurt relates to personal computer and smart phone production rising during the pandemic and general prospects that electric cars may really be poised to follow the long-awaited hockey stick effect. The lack of infrastructure for battery-powered cars and the tribulations of Tesla may soon reverse the good fortune to have one of the world's largest stockpiles of copper.
In the meantime, investors will note that Ford plans to expand its Transit commercial vehicle, working on the roll out of an electric version. So, copper is in the right place at the right time.
In previous Myth Buster series, we looked at countries that fall into the emerging category and that depend on oil, all of which have suffered from the increased supply of black gold and the accompanying massive price drop. By contrast, Northern Chile's Escondida copper mine, located in the Atacama Desert, ranks as the world's largest copper mine based on more than 32 million metric tons of recoverable copper reserves. In fact, Chile is home to six of the ten largest copper mines in the world, with the others located in Mexico, Peru (two) and Indonesia. No wonder Chile is the biggest producer and exporter of copper. China, the US and Japan are the biggest purchasers. Copper is one of the few raw materials that prospered during the pandemic.
Codelco is the largest mining company in Chile, with Anglo American, K&S and Hatch trailing behind. Investors who follow mining will also note the connection to Canada and the mining-heavy Toronto Exchange. Anglo American was near its 52-week high as 2020 came to a close and ranks as one of the top ten mining companies worldwide. Other successful mining companies include Vale and Glencore, which are near their 52 week highs. Newmont Goldcorp, the world's largest gold mining company, is also a big copper miner and is chugging along.
Copper is by far the largest export product from Chile totaling well over $30 billion per year. Peru, Chile's neighbor, also sits on large supplies of copper. In fact, Peru has been moving along fairly well as an emerging economy with solid growth and reasonable government policies. Rankings of per capita income and the stability of the middle class, however, show Peru way behind Chile.
Middle Class – Key to Growth
One of Chile's long-standing achievements is the growth of its middle class. In the last two decades, a substantial number of people moved out of poverty into the middle income range. Bigger countries with far higher Gross Domestic Products would welcome Chile's upward movement in the middle income ranks. A strong middle class anchors the economy providing a demand for goods and broad-based financial activity.
As with so many countries, the coronavirus has hit Chile hard, slowing business activity and putting added stress on the national economy. The country remains a success story, however, as a nation that has emerged and is showing others how to do it right.
So the new year brings a new Myth Buster series, one which enables a cold eye to be cast on emerging markets. The well-known BRICS seize the buzz of investors. They seem to emerge endlessly or perhaps, in line with Wodehouse's comment (the title of the series), merely appear to emerge. Investors know these would–be economic powerhouses also sag, however, when the major economies slow down or when they make one of their too frequent financial mistakes. We begin this series not by trotting out the case for the BRICS – a case that appears every January in investment committee meetings – but by looking at a clear if slightly fragile success story. With the major economies on a huge virus-driven slowdown, it is unlikely that the ballyhooed BRICS will draw their massive populations through a financial metamorphosis this year. We can of course look at their fundamentals in this series.
Next month picks up another aspect of this huge and optimistic slice of the world's population.
**********************
Michael McTague, Ph.D. is Executive Vice President at Able Global Partners in New York, a private equity firm.
_____
Equities News Contributor: Michael McTague, PhD
Source: Equities News