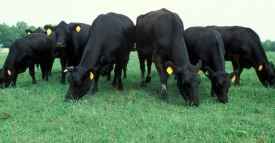 Commercial traders in the Feeder Cattle futures have done an excellent job of timing the jumps in this market. Recently, we've seen commercial traders turn net sellers in three of the last four weeks. While some view this as bearish, I believe the pattern is simply a pause before the market takes one more shot at the highs.
The commercial traders' net position swung more than twenty fold as the market climbed from $193.50 in late May to $216.00 by the first week of July. The feeder cattle futures market is small enough that the commercial traders can, and do affect some change on price. Their recent selling appears to have more to do with taking chips off the table rather than changing the course of the current trend. You can see their actions overlaid on this commitment of traders chart.
Technically, the market's bounce yesterday was extremely constructive as the day's decline in total open interest took enough players out of the game to bring in some fresh action. The giant rally off the opening lows didn't even test the support near $210.00. This type of volume spike and price action on declining open interest simply reeks of commercial traders coming in early and hard to stock their future supply line.
Look for Monday's low of $211.90 to hold in the October contract. Buying should take place today on some type of backfill although I don't expect it to be too deep. Confirmation of the next leg comes in above $217.00. Hold onto this position as long as possible above yesterday's low and we'll see exactly what the commercial traders were doing on this dip before any profits are taken.
DISCLOSURE: The views and opinions expressed in this article are those of the authors, and do not represent the views of equities.com. Readers should not consider statements made by the author as formal recommendations and should consult their financial advisor before making any investment decisions. To read our full disclosure, please go to: http://www.equities.com/disclaimer