Source: iStockphoto, traveler1116
Early Tuesday morning, I put out an update that noted that the 3135 region as the top of our resistance region, which can point us lower once struck.
Now, we all know that the "surprise" rate cut by the Fed should have been viewed as a positive to the market. In fact, most expected the Fed to act soon, and were certain how this would send the market soaring again.However, I continue to reiterate that when the market is in a positive sentiment trend, the Fed action will always be viewed as positive.
Yet, when the market is in a negative sentiment trend, the Fed will not likely be able to stem the tide of negative sentiment. They simply cannot change the sentiment of the market, despite the common misconception to the contrary. Well, if you were following the market, you would know that the market spiked EXACTLY to the resistance target we noted early Tuesday morning, and then reversed in a 160-point decline in the SPX. Does that sound like the Fed was able to change sentiment?
Unless you open your mind to the fact that the Fed is unable to change market sentiment, you will likely be caught looking the wrong way once this bull market ends in a few years and the Fed then attempts to stem the tide. They will simply be ineffectual, and many may even call for disbanding the Fed at that time. But, we are still several years away from that potential. I keep coming back to the example put out by Elliott Wave International seen in the chart below as to how the government was truly powerless to stem the tide back in 2008-2009.
It was only when the market completed its downside sentiment pattern did it seem as though the market turned up due to government intervention. My strong suggestion to those listening is that Fed action will not be able to stem the tide of negative sentiment when it truly turns. Expecting otherwise will certainly be detrimental to your portfolio once this bull market comes off the 2009 lows completely.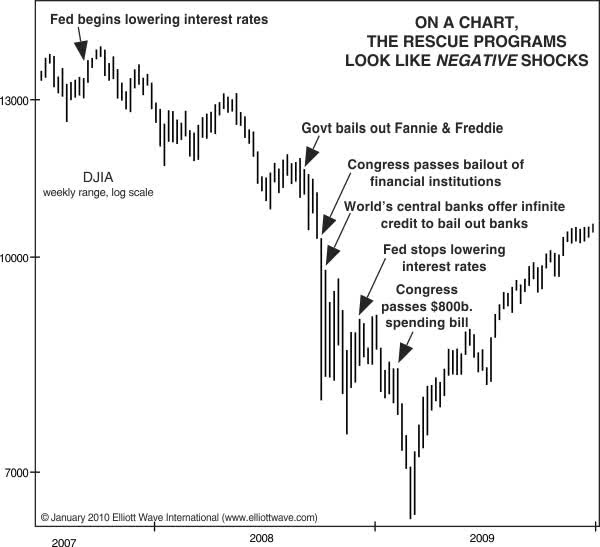 _____
Equities Contributor: Avi Gilburt
Source: Equities News