FEATURE: Ex-Lehman Brothers Employees Recall 2008 Collapse
Japan Economic Newswire |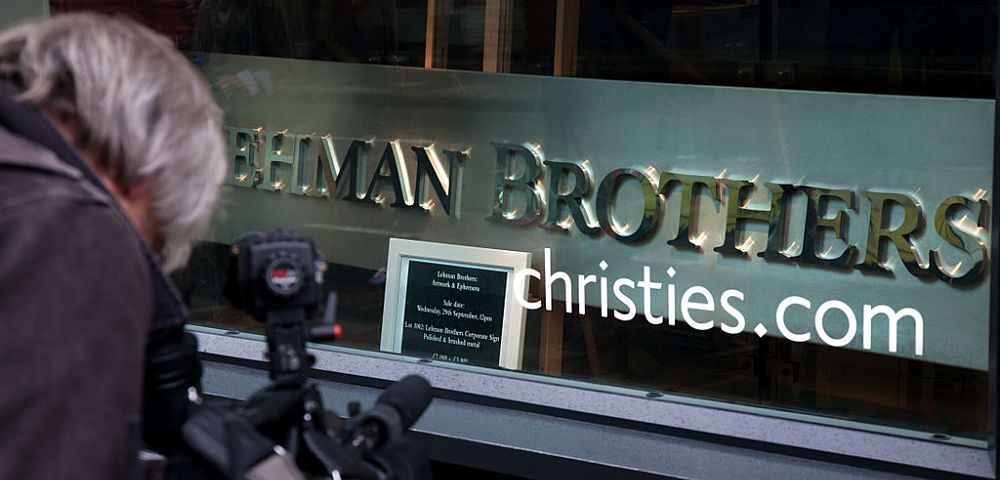 Image via Jorge Royan / http://www.royan.com.ar / CC BY-SA 3.0
This weekend marks a decade since the bankruptcy of Lehman Brothers Holdings Inc. -- then one of the world's largest investment banks -- whose failure set off a global banking crisis and left thousands of the company's employees out of work.
Amid market chaos and mass layoffs in the wake of Lehman's fall, Barclays PLC of Britain bought the 158-year-old firm's investment banking and trading businesses as well as its headquarters in midtown Manhattan.
More than 10,000 Lehman employees received job offers from Barclays, though the transition was difficult for some as Lehman's theme color of green was swapped for the blue of Barclays' logo.
"Those who worked at Lehman had a sense of unity to say that we 'bleed Lehman's green' and that's why I was shocked by the carpet's changed color," recalled Miki Herrick, a former employee.
Herrick first joined Lehman Brothers in 2002 in the company's Japanese arm before transferring to New York in 2004, at a time when no one could have anticipated the firm's coming end. Even after the subprime mortgage crisis hit the U.S. economy in 2007, embattled entities like Bear Stearns Cos., another investment bank, averted bankruptcy through Federal Reserve financing.
In the case of Bear Stearns, government assistance eased its acquisition by JPMorgan Chase & Co. in early 2008. Later in the year, however, there was no bailout for Lehman to help soften the blow.
Herrick, who only worked at Barclays for six months following the bankruptcy, is currently a managing partner of the educational program company Bricks 4 Kidz, and chooses to leave memories of her former workplace in the past.
"As soon as Barclays came in, everything was changed from green to blue. It still pains me to see the building in blue and I try to avoid going by at all costs," Herrick said.
Another former Lehman Brothers employee, Lynn Gray, recalled her office celebrating after being released by Barclays in the fall of 2008.
"We had loved Lehman so much. We were just relieved, I think it was really a sense of relief that we can move on with our lives," she said.
Near the midpoint of her 11 years with Lehman, Gray became the chief administrative officer of the global real estate group and gained extensive experience in talent recruiting. Soon after leaving, she started her own recruiting service called Campus Scout.
"It occurred to me that I love going on campus, I loved the talent development work that I did for the last six and a half years at Lehman," she said, recalling her decision to launch her own company.
Gray still remains in touch with her former colleagues through the women's network and by attending annual reunions, such as the one expected to take place in October to mark the 10th anniversary.
"I loved Lehman, in fact, the Lehman community is very tight-knit still," she said. "Every year we have a reunion and the love that is in that room is incredible."
After the bankruptcy, Lehman Brothers set up a small team in the real estate group to be in charge of liquidating around $20 billion in assets. Justin Palmer, a new hire for the post-bankruptcy project, joined a team with about 15 Lehman employees to help maximize recovery dollars.
"I think there was a lot of weight in that group," Palmer said of the team's atmosphere. "They all kind of weathered through the storm together and that had kind of kept them together."
Though some in Palmer's life questioned his move, he said working at the bankrupt company provided a unique opportunity.
"What I liked about it is that there was a real opportunity to go learn and grow in a time when the market was completely dead," he said.
Palmer called the experience challenging due to the uncertainties of the various projects -- from refurbishing infrastructure to curing senior loans -- into which millions of dollars had been invested and for which asset values were in flux.
"My boss needed people that can come in and take an unemotional approach to some of the deals and say, 'Hey, I think we should just let this go, there is a senior loan in front of us. This is worth zero no matter which way you look at it (so) let's give it up'," Palmer said. "I think they appreciated that point of view."
Palmer credited his training at Lehman for enabling him to start his own real estate services firm, Synapse Development Group, at age 30.
From the two and a half years he spent working with creditors at the bankrupt company, he said he gained rare insight into matters such as how much debt and risk to take on while financing an asset, and how to discern the right talent for different teams.
"I have the personality where I'm staying until the end even if it means I'm making zero," he said. "I try to align myself with people that have that same mentality and that was really the group that was left at Lehman Brothers."
Ten years later, the Lehman bankruptcy continues to have a deep impact on former employees, as well as for those who lost their homes and jobs due to the Lehman shock that led to a wider financial crisis.
"While the main street suffered due to the fall of our company, we also suffered," Herrick said.
The bankruptcy also serves as a cautionary tale as talk of another global banking crisis increases.
"We have had downturns every 10 years or so, and it's 10 years now," Gray warned.
==Kyodo
DISCLOSURE: The views and opinions expressed in this article are those of the authors, and do not necessarily represent the views of equities.com. Readers should not consider statements made by the author as formal recommendations and should consult their financial advisor before making any investment decisions. To read our full disclosure, please go to: http://www.equities.com/disclaimer.
| Symbol | Last Price | Change | % Change |
| --- | --- | --- | --- |
| AAPL | | | |
| AMZN | | | |
| HD | | | |
| JPM | | | |
| IBM | | | |
| BA | | | |
| WMT | | | |
| DIS | | | |
| GOOG | | | |
| XOM | | | |
| BRK.A | | | |
| FB | | | |
| JNJ | | | |
| WFC | | | |
| T | | | |
| NFLX | | | |
| TSLA | | | |
| V | | | |
| UNH | | | |
| PG | | | |