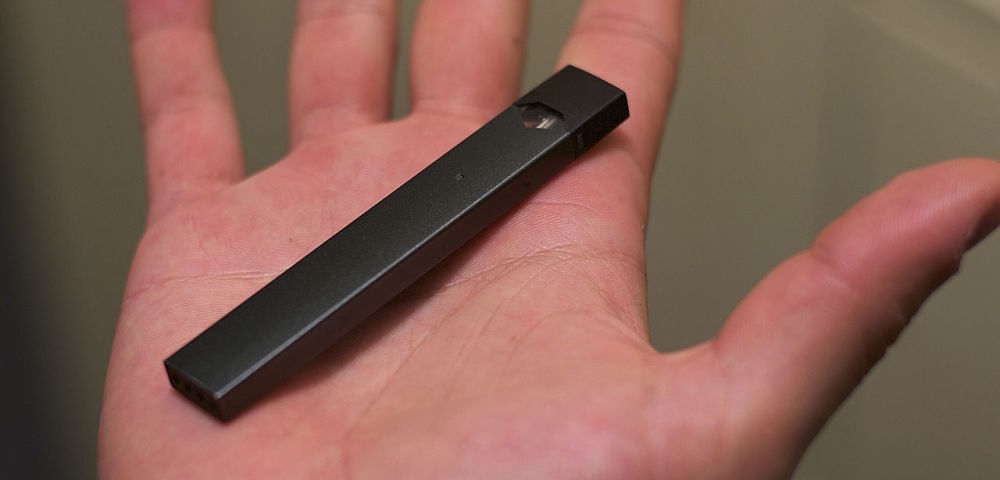 Image via Mylesclark96/Wikimedia
The U.S. Food and Drug Administration issued a stern warning Wednesday to the makers of electronic cigarettes: Control the "epidemic" use by teens or the products will be banned for everyone.
Dr. Scott Gottlieb, the FDA commissioner, said the agency is acting strongly to address the problem of e-cig use among underaged users.
"Let me be clear: Everything is on the table, including all our civil and criminal enforcement tools," Gottlieb said in a speech at FDA headquarters in Washington, D.C. "If the companies don't know, or if they don't want to know, that these straw purchases are occurring, we'll now be helping to identify it for them."
More than 2 million middle and high school students were current users of e-cigarettes in 2017 — the most commonly used tobacco product by youth, the FDA said.
The federal agency issued more than 1,300 warning letters and fines to retailers who illegally sold e-cigarette products to minors during a nationwide, undercover blitz of brick-and-mortar and online stores from June through August.
The mast majority of the offenders are Vuse, Blu, JUUL, MarkTen XL and Logic, the FDA said. They comprise more than 97 percent of the U.S. market for e-cigarettes. Juul represents 72 percent of sales, according to Nielsen data compiled by Wells Fargo analyst Bonnie
Each company must submit to FDA within 60 days plans on how they will address the widespread youth access and use of their products.
"If they fail to do so, or if the plans do not appropriately address this issue, the FDA will consider whether it would be appropriate to revisit the current policy that results in these products remaining on the market without a marketing order from the agency," the FDA said in a press release. "This could mean requiring these brands to remove some or all of their flavored products that may be contributing to the rise in youth use from the market until they receive premarket authorization and otherwise meet all of their obligations under the law."
Also, the FDA issued 12 warning letters to other online retailers "selling misleadingly labeled and/or advertised e-liquids resembling kid-friendly food products such as candy and cookies." In May, they were warned, but they are still advertising and selling the violative products. Several of the retailers also were cited for illegally selling the products to minors.
The agency has so far issued fines to 131 retailers, ranging from $279 to $11,182.
And the agency has issued more than 135 No-Tobacco-Sale Order Complaints, which, according to the FDA, "can result in retailers being prohibited from selling tobacco products for specified periods of time."
"We're committed to the comprehensive approach to address addiction to nicotine that we announced last year," Gottlieb said. "But at the same time, we see clear signs that youth use of electronic cigarettes has reached an epidemic proportion, and we must adjust certain aspects of our comprehensive strategy to stem this clear and present danger."
The FDA plans to step up enforcement actions to monitor, penalize and prevent e-cigarette sales in convenience stores and other retail sites.
Also, the agency is probing manufacturer's online shops for "straw" purchases in which buyers resell products to minors.
And the FDA is examining the availability of flavors.
"I believe certain flavors are one of the principal drivers of the youth appeal of these products," Gottlieb said. "While we remain committed to advancing policies that promote the potential of e-cigarettes to help adult smokers move away from combustible cigarettes, that work can't come at the expense of kids.
"We cannot allow a whole new generation to become addicted to nicotine."
Juul e-cigs are available with 3 percent nicotine and 5 percent nicotine — about a much as pack of cigarettes, according to its website. Ingredients also include glycerol, propylene glycol, natural oils, extracts and flavor and benzoic acid. Flavors include mint, mango and creeme.
In August, JUUL released a statement on the FDA's attempt to regular flavors.
"As JUUL Labs works to support adult smokers in their efforts to switch, we also remain steadfast in our commitment to preventing underage use of vapor products,"the company said in the statement. " Both goals can be achieved through reasonable regulation to restrict advertising and naming of flavors such as cotton candy and gummy bear that are directed at children. We look forward to continuing to engage with FDA, policymakers, and community leaders on helping to reduce cigarette use while protecting young people."
The FDA has also been revamping its regulation on tobacco, including lowering the amount of nicotine in conventional cigarettes.