The FDA released its interim Activities Report of the Generic Drugs Program for July 2017, which showed generic approvals increasing this year over last year's record pace. Through the first 10 months (October through July) of fiscal 2017, the FDA has approved 633 applications for generic drugs, compared with 549 through the same period in fiscal 2016. Total approvals for fiscal 2016 (ended September) numbered 651, which the FDA will surpass this month. By the end of the fiscal year in September 2017, the FDA will have approved well over 700 new generic drug applications.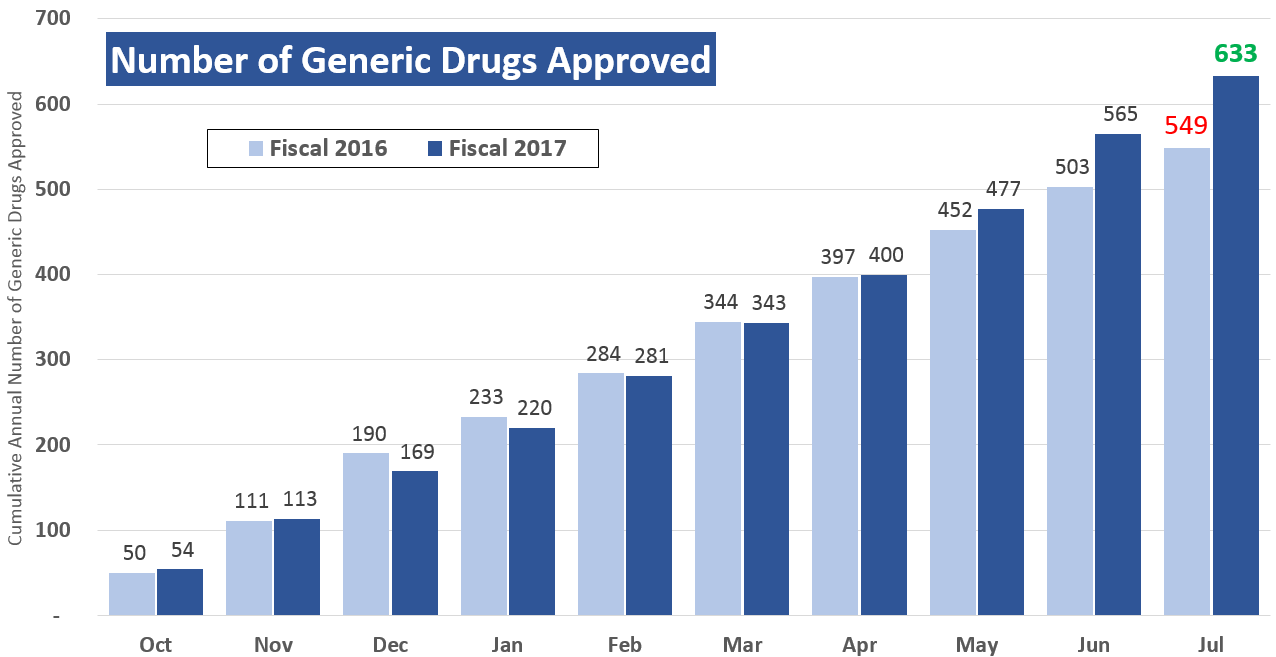 Source data from FDA Activities Report of the Generic Drug Program, FY 2016 and FY 2017 (through July). Chart by Equities.com
In June 2017, the FDA announced that it was taking significant action under its Drug Competition Action Plan to "increase competition in the market for prescription drugs and facilitate entry of lower-cost alternatives." The actions included the publication of a list of all branded drugs that with no patents or exclusivities for which the agency has yet to approve a generic alternative, and the implementation of a new policy to expedite the review of generic drug applications for medications with limited competition.
FDA Commissioner Scott Gottlieb, MD, said at the time:
---
---
No patient should be priced out of the medicines they need, and as an agency dedicated to promoting public health, we must do our part to help patients get access to the treatments they require.. Getting safe and effective generic products to market in an efficient way, being risk-based in our own work and making sure our rules aren't used to create obstacles to new competition can all help make sure that patients have access to more lower-cost options.

The latest generic drug approval data shows the positive results of Dr. Gottlieb's actions. As the Regulatory Affairs Professional Society commented, "For an FDA commissioner once criticized for his close ties to industry, Scott Gottlieb has now taken steps to directly address US drug prices that none of his predecessors took. In fact, the agency has previously tried to avoid the politics of pharmaceutical pricing and stick to matters concerning the efficacy and safety of drugs."
We salute Dr. Gottlieb and the FDA for leading by example, and we hope that other agencies in Washington DC follow suit.
Please email us at content@equities.com to see our Case Studies or Testimonials.

Please click here for information on our new trading platform.
Please click here to see our newsletter.
DISCLOSURE: The views and opinions expressed in this article are those of the authors, and do not represent the views of equities.com. Readers should not consider statements made by the author as formal recommendations and should consult their financial advisor before making any investment decisions. To read our full disclosure, please go to: http://www.equities.com/disclaimer