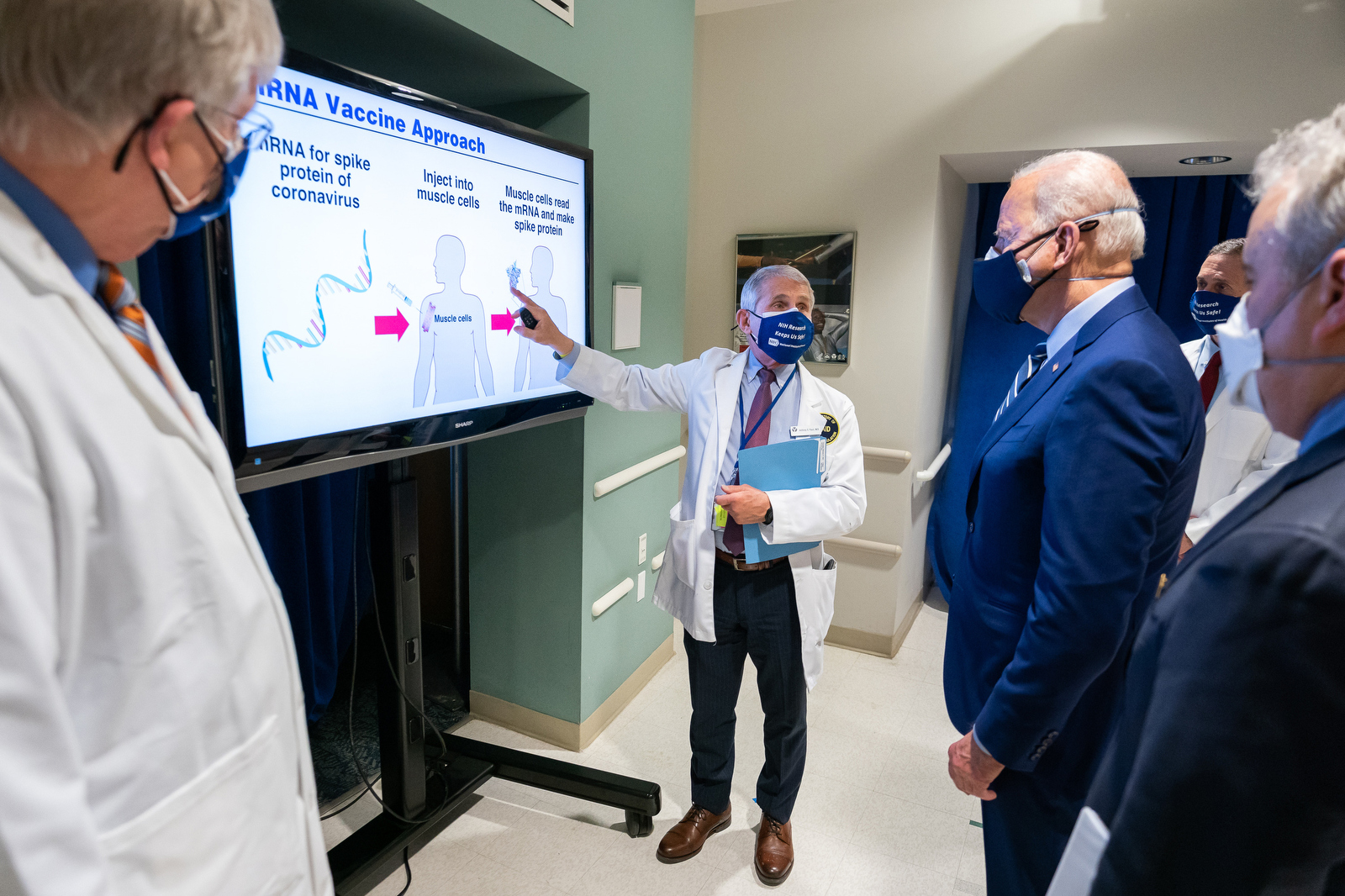 Image: Chief Medical Advisor Dr. Anthony Fauci gives briefing to President Joe Biden, Dale and Betty Bumpers Vaccine Research Center at the National Institutes of Health, Feb. 11, 2021. Source: Official White House photo by Adam Schultz.
Chief Medical Advisor Dr. Anthony Fauci warned that the US could experience another COVID-19 surge, similar to what Europe is seeing now, if states continue lifting restrictions too soon.
During an appearance Sunday on NBC's "Meet the Press," Fauci pointed to Europe, which is struggling to contain a third wave of the virus and said the US could find itself in the same situation in a few weeks' time.
Fauci said that while the number of new cases in the US is on the decline and the number of people getting vaccinated grows larger daily, a surge is still possible due to newer, more contagious strains of the virus that are less responsive to vaccines.
"Don't spike the ball on the five-yard line. Wait until you get into the end zone. We are not in the end zone yet," he said, adding that prematurely pulling away from safety measures could prolong the pandemic.
Fauci's warnings come as some states, such as Texas, have begun allowing businesses to reopen at full capacity and dropping mask mandates against the advice of public health officials.
"When I hear pulling back completely on public health measures, saying no more masks, no nothing like that, that is risky business," Fauci said.
The recent spike in cases throughout Europe, Fauci said, was due in part to a relaxation of safety measures and appears to have been caused by the new, more infectious variant of the virus that first emerged in the UK.
The rising infections come as Europe struggles with its vaccine rollout and has triggered a new round of lockdowns in several regions. Italy, Germany, Poland and Hungary have reported serious spikes and Slovakia and the Czech Republic have some of the highest death rates in the world, CNBC reported.
During an appearance on "Fox News Sunday," Fauci said, "[Europe] always seems to be a few weeks ahead of us in the dynamics of the outbreak. Then, they plateaued because they pulled back a bit. They thought they were home free and they weren't and now they are seeing an increase."
"If you wait just a bit longer to give the vaccine program a chance to increase the protection in the community, then it makes pulling back much less risky," he added.
Fauci also urged former President Donald Trump to encourage his supporters to get vaccinated, as recent polls show high levels of hesitancy among Republicans.
A newly-released NPR/PBS NewsHour/Marist poll found that 47% of those who voted for Trump in the 2020 election said they will not get vaccinated compared to just 10% who backed President Joe Biden.
Asked whether Trump should speak to his supporters directly, Fauci said on "Fox News Sunday" that he thinks "it would make all the difference in the world" if the former president used his "incredible influence" among Republicans to push them to accept COVID-19 shots.
"If he came out and said 'Go and get vaccinated. It's really important for your health, the health of your family and the health of the country,' it seems absolutely inevitable that the vast majority of people who are his close followers would listen to him," Fauci said.
The other living former presidents – Barack Obama, George W. Bush, Bill Clinton and Jimmy Carter – will appear in upcoming public service announcements for the vaccines alongside their wives and without Trump.
President Biden and other political leaders received their shots publicly to encourage Americans to get vaccinated, while Trump was vaccinated privately at the White House in January.
Last month, Trump, who deliberately downplayed the threat of the virus while in office, urged attendees at a conservative conference to get vaccinated, the first time he publicly encouraged people to do so.
_____
Source: Equities News