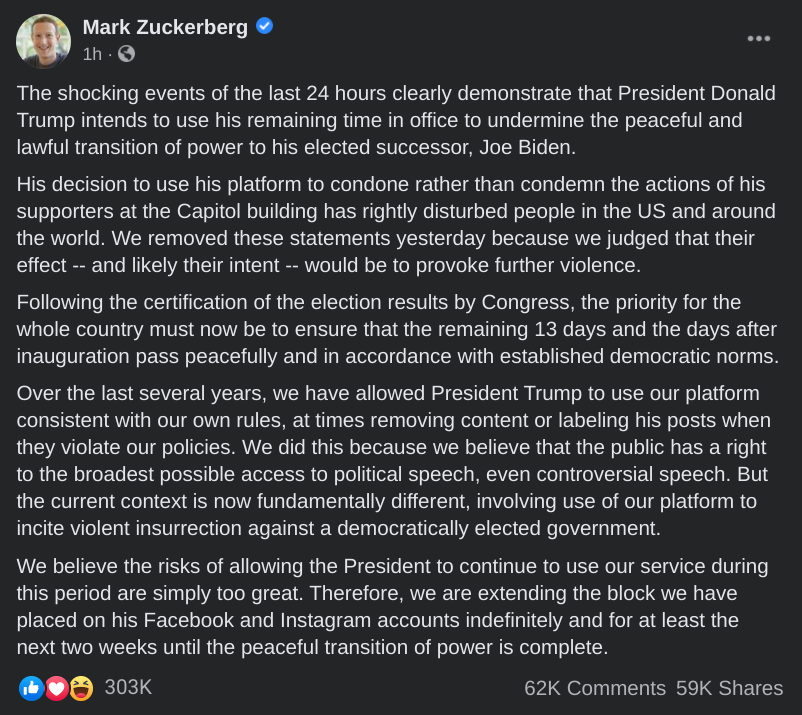 Image source: Facebook, Jan. 7, 2021
In a post on Thursday on his personal account, CEO Mark Zuckerberg announced that Facebook is banning Donald Trump from posting on its platform for the remainder of his term as president.
The shocking events of the last 24 hours clearly demonstrate that President Donald Trump intends to use his remaining time in office to undermine the peaceful and lawful transition of power to his elected successor, Joe Biden.
Facebook had initially suspended him on Wednesday for 24 hours after he incited his supporters to storm the Capitol.
His decision to use his platform to condone rather than condemn the actions of his supporters at the Capitol building has rightly disturbed people in the US and around the world.
Upon further consideration, Facebook determined that the risk of Trump using the platform to incite further insurrection outweighed the benefit of hosting his musings.
We believe the risks of allowing the President to continue to use our service during this period are simply too great.
Twitter also blocked Trump yesterday, for a 12-hour period, and warned that he faced potential permanent suspension if he didn't remove his tweets that violated that platform's civic integrity policy.
_____
Source: Equities News