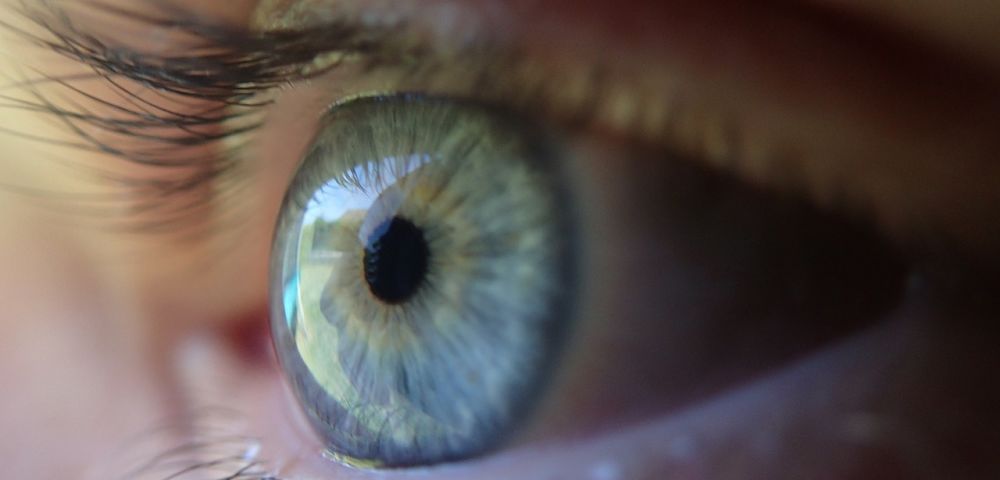 In 2018, Hyaluronic Acid exploded in popularity in cosmetics as a type of "fountain of youth," but the highest concentrations of the substance are present in the eye.
In ophthalmic surgeries this important substance has been approved by the FDA to increase eye fluidity post-surgery and heal wounds. EyeGate Pharmaceuticals's EYEG Ocular Bandage Gel (OBG), a modified hyaluronic eye drop technically called cross-linked thiolated carboxymethyl hyaluronic acid or CMHA-S, is moving rapidly through human test studies. The current timeline for OBG makes the platform a candidate that could see chances at commercialization for both Rx and non-RX.
A Safe Solution Made Even Better
This is a relatively low-risk
platform as hyaluronic acid is already approved by the FDA and EYEG's OBG has shown improved efficacy in photorefractive keratectomy or PRK—a type of corrective
laser eye surgery—demonstrating 55% more patients healed on the 3rd day after
the surgery. Additionally, the OBG technology has been available commercially,
in the same composition as EYEG's product, for the past 5 years as a veterinary
device, marketed as Remend Corneal Repair in the US by Bayer Animal Health for the
management of superficial corneal ulcers in dogs, cats and horses.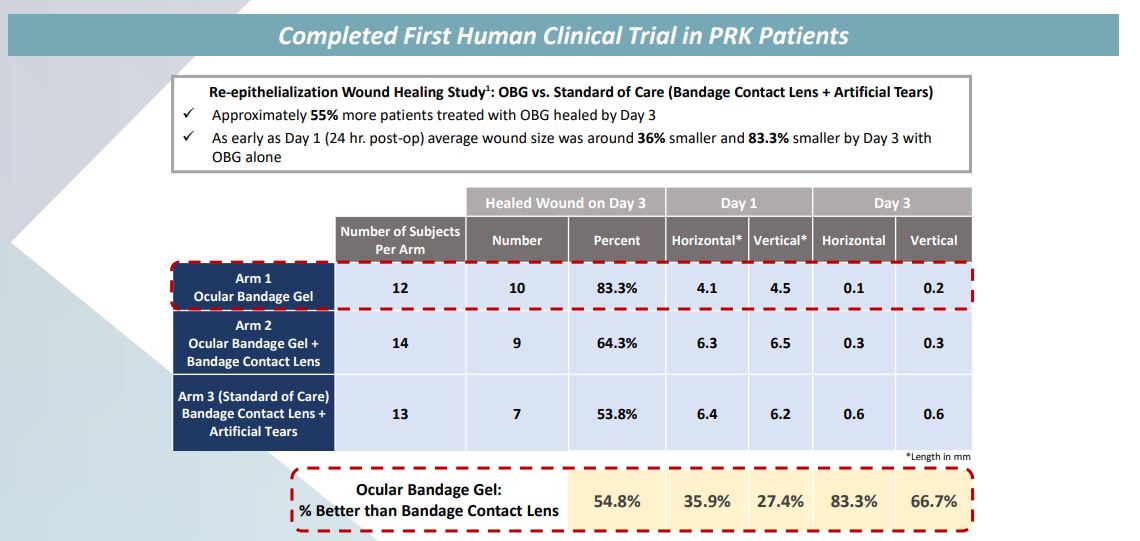 Image via EYEG's Investor Deck
In addition, OBG has shown it can function as a platform – as described above. The recent study demonstrated that a solution of moxifloxacin and OBG slowed release of the antibiotic as compared to a solution of moxifloxacin and saline. Within the first four hours, 100% of the antibiotics were released from the saline-based solution while only 60% had been released from the OBG solution.
However, the future success of the
platform is really about the evolution of an already proven solution. OBG takes
hyaluronic acid and improves it by binding it as a 3-D structure resistant to
degradation, while promoting persistent retention on the eye's surface in order
to promote healing and protect against repeat injury.
One of the biggest markets for OBG would by the dry eye disease market. The latter is a huge, global opportunity that could be worth $7.7 billion by 2025. Not to mention, a series of patents in the field are expiring, which would forge a much different landscape in the years to come. EYEG currently has 30 patients enrolled to assess OBG's ability to reduce corneal damage linked to dry eye. The company believes there is a significant opening for a high-quality treatment that would support dry eye patients who have shown resistance to Restatis and Xiidra.
"We have continued to hit operational milestones, which culminated with the FDA's approval of our two IDE submissions, allowing us to move forward with clinical trials for the EyeGate Ocular Bandage Gel in two indications." CEO Stephen From stated in the company press release in the summer. "Additionally, we added two new Board members, who each bring a wealth of biopharmaceutical experience to EyeGate. We are proud of our progress and will continue to work to maximize value for shareholders and improve the quality of life for patients with diseases and disorders of the eye."
EYEG has still many hills to climb, but the company is working with a substance that has a known safety-profile and this 3-D formulation could be a more modern, improvement for those in need.