I first looked at EyeGate (EYEG) back in July when it was trading $10 warning of continuing quarterly volatility and shares pick up in February 2016 where they left off in 2015 with a 125% spike today with 15x volume. Today shares are trading $3.70+ as I write with great volume, but know they are down from $10 back a few quarters ago.
Not much is different as volatility looks like it did during July trading and we continue our warnings about upcoming changes in valuation. This stock is driven by news and bankers, which makes it a retail whipsaw management needs to get their hands around. Hiring Rodman & Renshaw should help as they get funding inline and intend to smooth entry and exits by shareholders with (more) better information as they begin analyst coverage. I expect the stock will have more bankers join.
---
---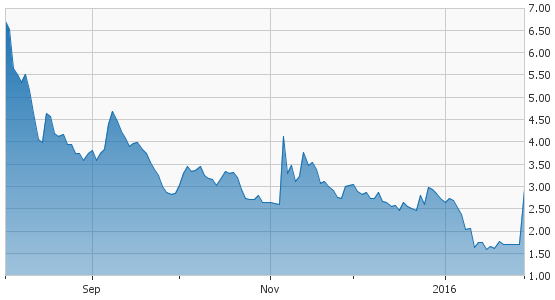 It's important to understand this is a Biotech and that word in itself should explain the binary nature of the sector., with this comes expected volatility and changes in valuation. EyeGate is a clinical-stage specialty pharmaceutical company, focused on developing and commercializing therapeutics and drug delivery systems for treating eye diseases. The company is developing EGP-437 that has completed Phase III clinical trials for the treatment of non-infectious anterior uveitis, a form of intraocular inflammation of the anterior portion of the uvea. It is also developing Eyegate II drug delivery system. Eyegate Pharmaceuticals, Inc. is based in Waltham, Massachusetts.
Managers of small companies spend so much time focusing on delivering they lose sight of the shareholder sitting in the front of the roller coaster with their hands up and their hair blowing in the volatile wind. By the time you step back on to the platform you are inclined to run away and watch from afar.
I like EyeGate, I like what they are doing, I think everyone does. But clearly 2016 public companies have so many bases to cover they need expertise, and bankers and analysts help with this by providing (useful) information. I'm not sure who the analyst will be for Rodman, but you can count on Equities participating in the Q&A's during upcoming calls asking hard questions. For now buckle in, we are in for another volatile quarter.
DISCLOSURE: The views and opinions expressed in this article are those of the authors, and do not represent the views of equities.com. Readers should not consider statements made by the author as formal recommendations and should consult their financial advisor before making any investment decisions. To read our full disclosure, please go to: http://www.equities.com/disclaimer