Nearly everyone can agree that healthcare can be improved on a global scale and that innovation is key to providing better, sustainable, patient-centric systems. In short, it's fragmented and incoherent systems that have been subject to data breaches exposing patient information. To that end, terms like "digital health," e-health" and "mobile health" have surfaced in recent years as companies develop next-generation technologies to meet the continued quest for more efficient healthcare.
Most recently, "blockchain" can be added to innovations that can truly transform the future of healthcare. That by no means implies that the decentralized ledger platform is applicable everywhere in the industry just because its hot topic today. Certain applications, however, are prime opportunities to employ the power of blockchain as a tamper-proof public ledger, such as with record keeping – whether medical records or clinical data – where integrity of data and security are imperative.
Furthermore, blockchain could be used as a means for pooling individual patient data to deliver a comprehensive view in a bid to maximize efficacy is designing a therapeutic program for an individual. This can mean amalgamating genetic information, patient and family history and more in order to minimize costs related to trial and error treatments.
The goal of improving the healthcare experience with blockchain dovetails with containing costs that are starting to make up large portions of countries' GDPs. For example, in 2015, healthcare expenditures in Germany, Sweden and France each came in at 11% of GDP, the highest among EU members, continuing an upward trend that needs desperately to start to flatten or reverse.
Where blockchain is a good fit in healthcare and how to implement it will be topics at today's Blockchain for Europe Summit being held at the European Commission Parliament in Brussels, Belgium. More specifically, a panel hosted by European Parliament Member Micha? Boni titled "Digital Health" will be held at 10:30-12:00 AM local time at the summit for the purpose of shedding light and vetting these subjects. Equities.com will be on location, providing a live stream of panels covering all the major discussions on the future of blockchain technology in various European sectors.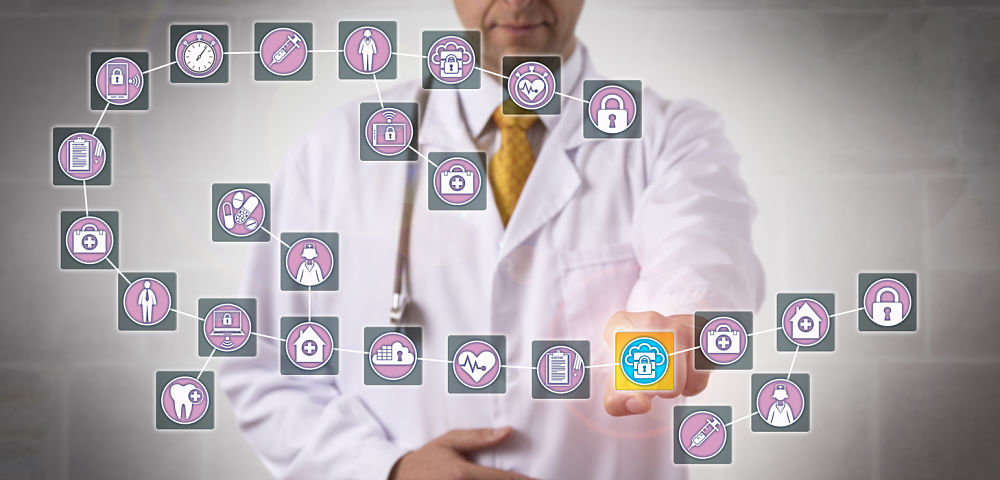 In addition to his role with the European Parliament for the Warsaw region, Boni, a Christian-Domocrat from Poland and advocate for the potential of blockchain in various industries, also serves on the Civil Liberties, Justice & Home Affairs & Technology Committees. Prior to that position, Boni was Minister of Administration and Digitization, a ministry focused on administration, Internet and telecommunications in Poland.
Boni will be joined on the panel by Andrzej Rys, a medical doctor specialized in radiology and public health. Rys is the Director overseeing health systems, medical products and innovation at the Directorate-General for Health and Food Safety in the European Commission (DG Sante). Rys is building a legacy in innovation and health, with a C.V. that includes accomplishments such as Founder and Director of the Center for Innovation and Technology Transfer at Jagiellonian University in Krakow, Poland.
Also on the panel is Mark Hennessy, Principal Architect at Philips. Hennessy is deep in the weeds with understanding the utility of blockchain as Philips is currently developing a blockchain-based "verifiable data exchange" for the purpose isolating, anonymizing and securing patient data until it is needed. While seeing the potential, particularly with how it pertains to security of the immutable ledger, Hennessy also see challenges that must be addressed with implementing the technology throughout healthcare systems, including overcoming skepticism by hospitals and associated parties.
Frank Ricotta, CEO and founder of BurstIQ will sit on the panel as well. BurstIQ is a provider of end-to-end enablement of blockchain-based health applications and services through a global, person-centric data exchange that connects these solutions to each other and to the people they serve. BurstIQ has developed a litany of blockchain applications in healthcare, spanning providers and health systems to digital health and business-to-business solutions to pharmas, insurers and the government sector.
BurstIQ was built on the mission of ushering in the next era of health under the pretense that healthcare is at a tipping point where new technology will break down silos and enable health data to be connected on a global scale.
Completing the panel is Alex Cahana, head of Med-Tech at CryptoOracle, a New York City-based community-first VC supporting the emerging global decentralized digital economy. The company has its finger on the pulse of ingenuity in the distributed economy, with initiatives including a fund focused on platforms, protocols and exchanges; strategic advisory services; and a crypto community meant to provide access to opportunities and promote learning.
The panel will be moderated by Daniel Benjamens, Associate Director, APCO Worldwide in Brussels.
Over the 90 minutes of the session, the discussion should be riveting amongst the different areas of specialty of the venerable experts on the panel. The possibilities for blockchain to revolutionize healthcare is certainly there, albeit in its infancy. However, by taking a methodical approach and keeping dialogue open through collaboration and summits like the one today in Europe, there is a very real chance to explore the cornerstones of better healthcare systems, cornerstones that can be secure, yet open through blockchain.