According to the National Psoriasis Foundation (NPF), as many as 7.5 million people in the US—about 2.2% of the population—are afflicted with psoriasis, making it the most common autoimmune disease in the US. Psoriasis causes red, scaly patches to appear on the skin, particularly around the elbows, knees and scalp. The NPF cites estimates from the World Psoriasis Day consortium that numbers global psoriasis patients at 125 million people, and studies show that 10% to 30% of people with psoriasis also develop psoriatic arthritis. Available treatments only manage symptoms, and there is no available cure.
Exicure
We've been following Skokie, Illinois, based Exicure XCUR, since it became public in May 2018 following its acquisition by a special purpose acquisition company (SPAC). Exicure is developing gene regulatory and immuno-oncology therapeutics based on its proprietary spherical nucleic acid (SNA) construct platform. The company announced the first clinical evidence of the benefits of this platform shortly before Christmas, with positive top-line results from a Phase 1 clinical trial evaluating one of its lead compounds, XCUR17, in a topical gel formulation to treat patients with mild-to-moderate chronic plaque psoriasis.
Of the 21 treated patients, 11 who were treated with the highest strength XCUR17 gel were observed to have a reduction in redness and improvement in healing as determined by blinded physician assessments. The highest strength gel also showed a statistically significant improvement in psoriasis symptoms. XCUR17 is an SNA drug that's designed to inhibit interleukin 17 receptor alpha (IL-17RA), a protein that is known to propagate inflammation in the body.
Exicure's SNA constructs consist of about 80 densely-packed nucleic acid sequences arranged radially around a nanoparticle. The company believes that these SNA constructs enable more optimal timing and delivery of immunostimulatory signals to innate immune cells, enabling a more powerful immune response and more effective long-term adaptive immunity.
Source: Exicure

We are pleased to announce the first clinical benefits of our SNA platform in patients. This is a milestone for our SNA platform and for our mission to create a new class of locally-applied, genetically-targeted drugs. Findings from this Phase 1 trial suggest that SNA-based drugs, such as XCUR17, may address clinical symptoms in patients with inflammatory diseases such as psoriasis. The clinical data for XCUR17 marks a major step as we seek to progress our platform in local gene regulation therapies, not just in dermatology, but also in neurology, ophthalmology, and gastroenterology.

– David A. Giljohann, PhD, CEO, Exicure.
Pipeline
Exicure has a broad developmental pipeline based on its SNA platform. In September 2018, the company announced positive phase 1 results for AST-009, its lead immuno-oncology candidate, which showed potent immune system activation with no serious adverse events or dose limiting toxicity. Exicure intends to begin a Phase 1b/2 trial of intra-tumorally dosed AST-008 in combination with a checkpoint inhibitor shortly. The company will enroll patients with superficial injectable tumors and will prioritize those with Merkel cell carcinoma, cutaneous squamous cell carcinoma, melanoma and squamous cell carcinoma of the head and neck.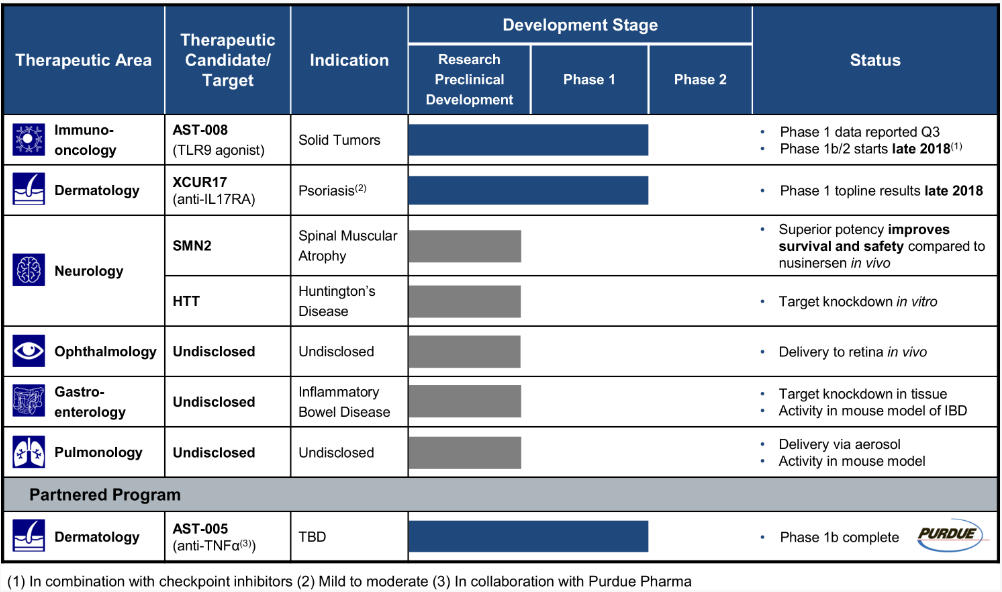 Source: Exicure
Investment issues to consider
Exicure has raised about $100 million in financing to date, most recently closing a $22 million private placement in August 2018, led by Sphera Global Healthcare, Knoll Capital Management and Sio Capital Management. The company closed on $31.5 million in two tranches in the fall of 2017. The initial $20 million closing included existing investors AbbVie Ventures, the investment arm of AbbVie ABBV, Bill Gates, Eric Lefkofsky, Chairman and co-founder of Groupon GRPN, Craig Mundie, former Chief Research and Strategy Officer at Microsoft MSFT, the Rathmann Family Foundation, Patrick G. Ryan, founder and retired CEO of Aon AON and Chairman and CEO of Ryan Specialty Group, and David Walt, co-founder of Illumina ILMN and a director of Exicure, alongside new investors Mark Tompkins and Katalyst Securities. The second $11 million tranche was led by Luye Pharma Group with participation by Eager Info Investments, Knoll Capital Management and Purple Arch Ventures. The company had $32.4 million in cash as of September 30, 2018, which it believes will take it into 2020.
The stock trades on the OTCQB Venture Market at $3.50 per share, for a market capitalization of about $155 million. Volume is light, averaging only 28,000 shares per day in Q4 2018, which does subject the stock to some sharp swings. We think the company occupies an attractive space on the risk-reward spectrum, and we're encouraged by the early data we've seen and by the roster of investors. We'll be watching for continued signs of operational progress, including more data readouts from the company's clinical trials.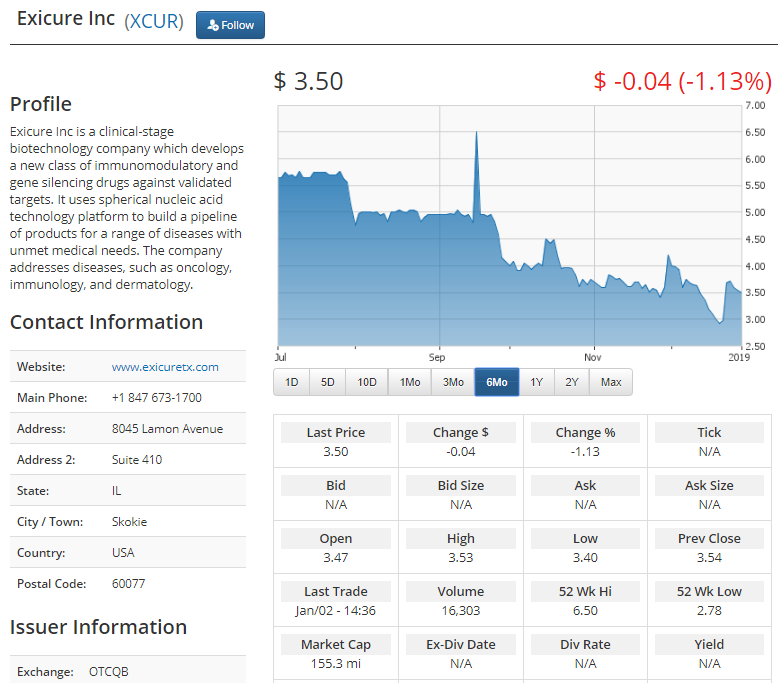 Please email us at [email protected] to see our Case Studies and Testimonials.
Please click here for information on our equity trading platform.
Please click here to receive our free daily newsletter.