Evotec (Frankfurt: EVT; OTC: EVTCY), the Hamburg, Germany, based drug discovery and development partnership company, and Celgene (Nasdaq: CELG) have entered into their second long-term strategic collaboration — this time to identify new cancer therapeutics. Evotec will receive $65 million upfront and will be eligible to receive "significant milestone payments as well as tiered royalties." The companies didn't elaborate on the specifics of the potential downstream payments, but as John Carroll writes in Endpoints News, "Given the size of the upfront, though, those back-ended milestones are likely to run into the hundreds of millions of dollars."
The new oncology deal is the second research and development collaboration for Evotec and Celgene, who have been working on a neurodegenerative disease partnership focused on Evotec's induced pluripotent stem cell screening platform that began in 2016 with a $45 million upfront payment to Evotec. Celgene has paid $5 million so far to Evotec under that deal, out of a potential $250 million in milestone payments.
The companies' new oncology deal will leverage Evotec's phenotypic screening capabilities, unique compound libraries and associated target deconvolution (identification of molecular targets of active hits from screening) capabilities, with an initial focus on solid tumors.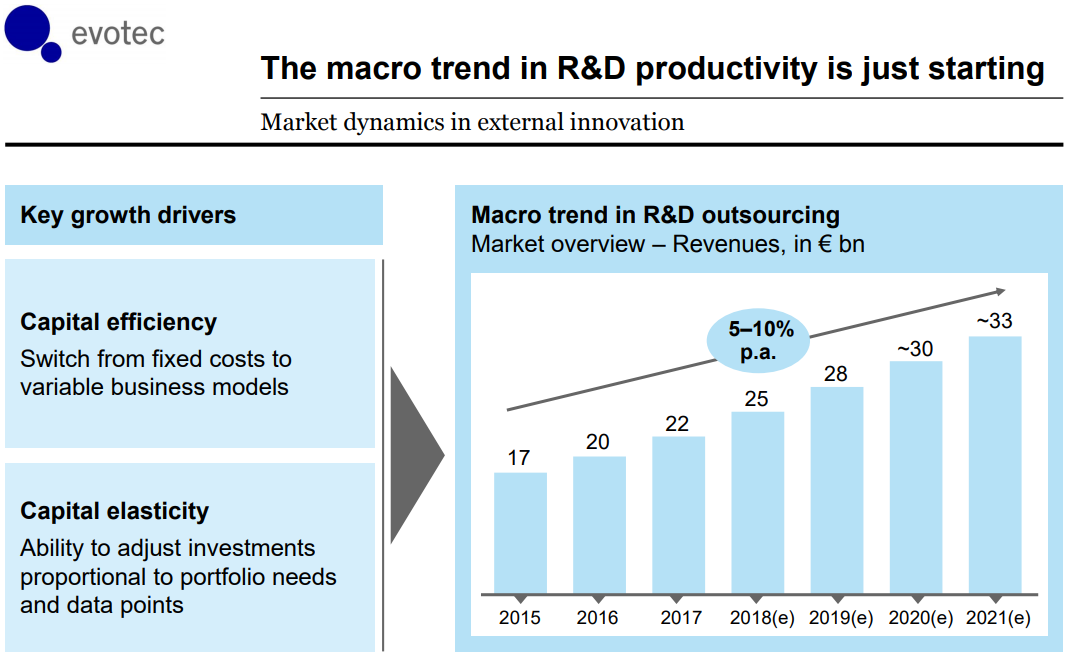 Source: Visongain Drug Discovery Outsourcing Market Forecast 2015-2025 and Evotec estimates. From Evotec corporate presentation, May 2018.
Evotec and its pharmaceutical, biotech, academic and foundation partners are progressing a pipeline of over 80 co-owned therapeutic candidates in major indications spanning diabetes, kidney disease, inflammatory diseases, neurology and oncology. Evotec's pharma partners include Sanofi, Bayer, AstraZeneca, Pfizer, Second Genome, CONBA, JingXin and Apeiron Biologics. The company has ongoing research and development agreements with Harvard, Haplogen, the NURTuRE consortium, the NEPLEX consortium, Exscientia and Yale.
Evotec also participates in strategic investments in companies whose work is based on its technology platforms. The company made about €22 million (US$26 million) in investments in 2017, all designed to be long term commitments with a payback horizon of greater than five years. Additionally, European Investment Bank has made a €75 million loan facility (US$88 million) available to support research and development equity financing. Evotec employs over 2,000 scientists in Germany, the UK, France, Switzerland and the US.
We are extremely pleased and encouraged about the opportunity to enter into a second major alliance with our colleagues at Celgene. Our first alliance in neurodegenerative diseases has already proven that both companies and teams are united by the same spirit and objectives bringing new and better treatment to patients.
– Cord Dohrmann, PhD, Chief Scientific Officer, Evotec.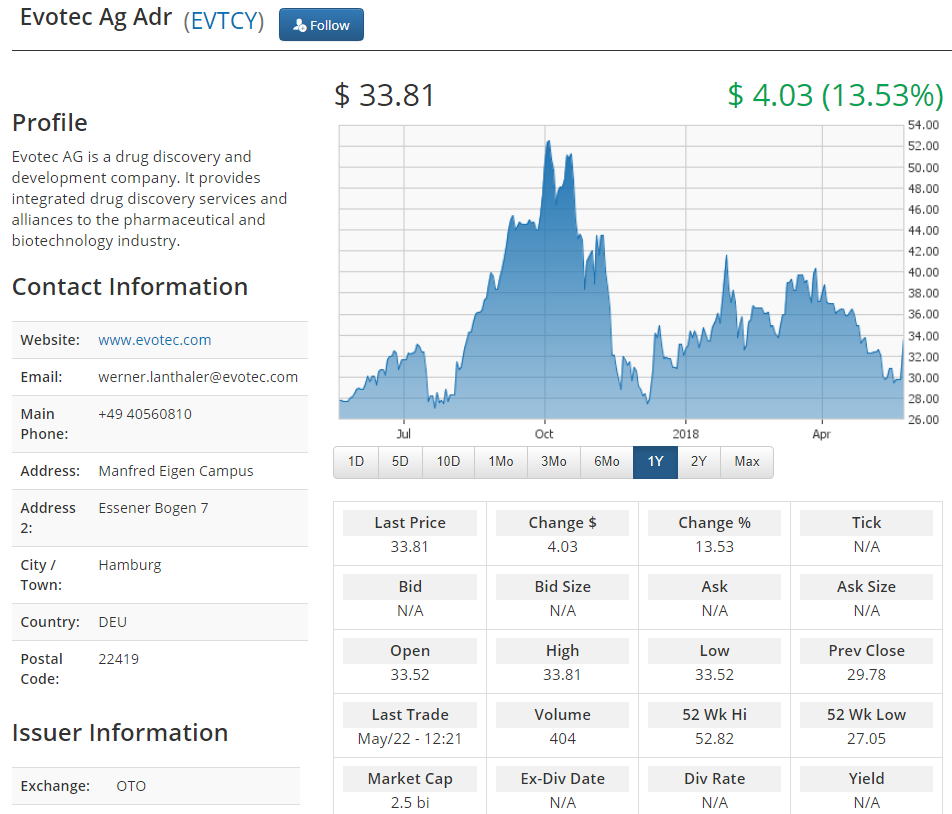 Please email us at [email protected] to see our Case Studies and Testimonials.
Please click here for information on our new trading platform.