The global hormonal contraceptives market is projected to grow from about $19.5 billion in 2017 to over $30 billion by 2026, according to a study by Transparency Market Research. If one considers the market for condoms as well, as estimated by Arizton Advisory Service, the global contraceptives market is about $27 billion today and growing at 6% to 7% per year in aggregate. This growth is expected in spite of the many side effects that many women may experience from hormonal contraceptives, including weight gain, headaches, sore breasts, irregular periods, acne and nausea.
The need for effective contraception, not only to prevent unintended pregnancies but also to protect against the transmission of disease, is a significant global urgency. According to a broadly cited study by Gilda Sedgh et al., entitled, "Intended and Unintended Pregnancies Worldwide in 2012 and Recent Trends," published in Studies in Family Planning in September 2014, 85 million pregnancies in 2012—40% of all worldwide pregnancies—were unintended. Out of this number, about half of these pregnancies ended in abortion, with 13% ending in miscarriage, and 38% resulting in an unplanned birth. The World Health Organization, in its 2016 fact sheet on sexually transmitted infections, estimated there are 357 million new infections each year globally involving chlamydia, gonorrhea, syphilis and trichomoniasis, while over 500 million people are estimated to have genital infection with herpes simplex virus.
San Diego-based Evofem Biosciences EVFM is developing products to address unmet needs in women's sexual and reproductive health. The company's proprietary Multipurpose Vaginal pH Regulator (MVP-R) technology is an acid-buffering, bioadhesive gel, designed to maintain an optimal vaginal pH of 3.5 to 4.5. This acidic range is inhospitable to sperm as well as certain viral and bacterial pathogens associated with sexually transmitted infections, while being integral to the survival of healthy bacteria in the vagina. This MVP-R technology forms the basis of its lead candidate, Amphora, for hormone-free birth control. Evofem announced positive top-line results today from its Phase 3 study of Amphora in the prevention of pregnancy, which showed 98.7% efficacy when used as directed (86.0% overall).
Top-line data analysis showed a cumulative pregnancy rate of 14.0% over seven cycles of use in the study, known as AMPOWER. While this 86.0% efficacy rate met the pre-determined endpoint of the trial, the cumulative pregnancy rate dropped to just 1.3% (98.7% efficacy rate) over seven cycles of use among women who correctly used Amphora per the study protocol. The company will undertake further data analysis and plans to submit a new FDA application that incorporates this data in Q2 2019.
We are excited by these compelling study results, which solidify Amphora's position as the most substantial birth control innovation in nearly 20 years and a significant advancement for women and their sexual and reproductive health. We look forward to further data analysis and to submitting the Amphora NDA to the FDA in the second quarter of 2019. If approved, we plan to commercialize this first- in-class MVP-R for birth control in January 2020 to meet the needs of the 16.5 million women who are not using a contraceptive method but do not want to get pregnant, including women who cannot or will not use hormonal birth control methods.

– Saundra Pelletier, CEO, Evofem Biosciences.
We listened to the company's conference call this morning, and CEO Saundra Pelletier said that she was "confident that we have an approvable asset." Ms. Pelletier stressed four points on the call:
Efficacy is comparable to that of oral contraception.
The AMPOWER study involved 24,000 acts of intercourse in which Amphora use was reported. Of these, Amphora was used as directed in 88.9% of acts.
Evofem is confident in its ability to drive women into physicians' offices to ask for Amphora.
It's time for a new innovation in this category.
In my experience, the most effective birth control method is one that women will consistently use. Given the efficacy rate of 98.7% when used as directed and the low rates of side effects, Amphora will be an important new birth control option for women. Health care providers will finally be able to offer patients an effective birth control method that is non-hormonal, on-demand, and woman-controlled. These benefits will encourage many women who do not use birth control to reconsider their approach to managing their reproductive health.

– Bassem Maximos, MD, MPH, FACOG, a principal investigator for the AMPOWER study and a board certified practicing obstetrician-gynecologist.
Investment issues to consider
Evofem became a public company in January 2018 via a reverse merger with Neoethics. Prior to today, the stock was only a modestly active trader on the Nasdaq Capital Market, with average daily volume of less than 41,000 shares over the past three months. That all changed today, however, with volume exceeding 5 million shares at 2:20pm ET. The stock, which closed last Friday at $3.50, traded as high as $4.90 this morning on the positive data news, before settling back to the $3.90 level in mid-afternoon trading. Current market cap is about $101 million.
The company is pursuing Amphora in other indications beyond contraception, including a Phase 2b study to prevent urogenital chlamydia and gonorrhea in women, and a Phase 1 study to prevent recurrent bacterial vaginosis (BV).
The company raised $20 million in a private placement with Invesco immediately prior to the reverse merger, and subsequently raised an additional $39.9 million in gross proceeds from a public offering of common stock and warrants in May 2018. Evofem showed $12.1 million in cash and equivalents on the balance sheet as of Sept. 30, 2018, and stated in its Q3 press release that, "with the treatment and follow-up phase of the AMPOWER study now complete, the Company expects its quarterly cash burn will decrease to approximately $7 to 9 million during the fourth quarter of 2018." That likely leaves Evofem with the need to raise additional capital sometime in Q1 2019.
Given the current and growing demand for effective contraception methods globally, we think Evofem is clearly a stock that merits close attention from investors at its current valuation. We don't anticipate that the company will have difficulty in raising the necessary capital in light of the latest Amphora data, and we'll be watching closely for additional data readouts as 2019 progresses.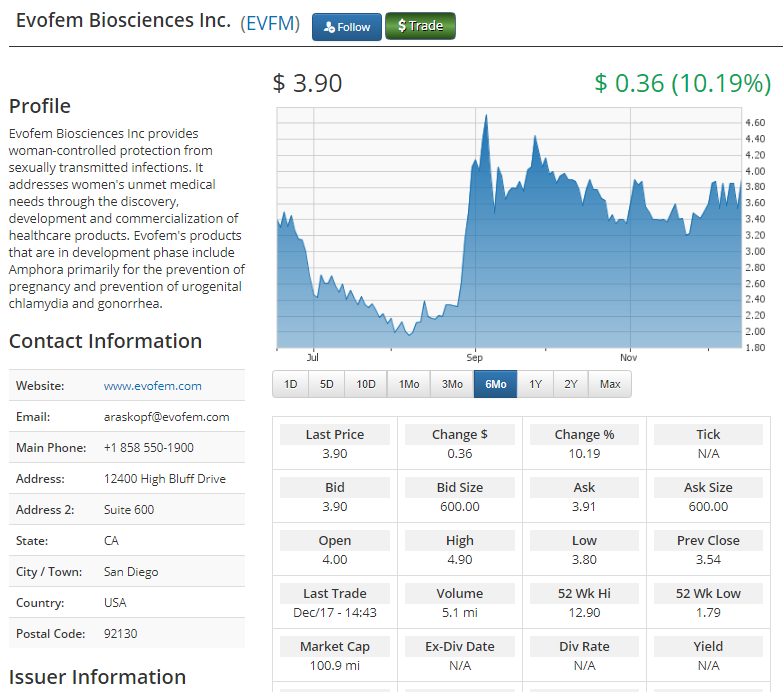 Please email us at [email protected] to see our Case Studies and Testimonials.
Please click here for information on our equity trading platform.
Please click here to receive our free daily newsletter.