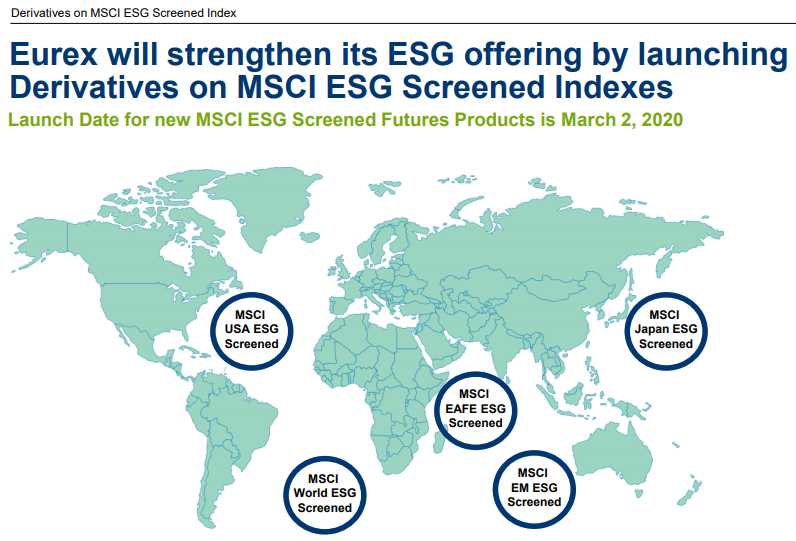 Source: Eurex Exchange presentation, March 2, 2020
New futures using MSCI ESG Screened Indexes launched covering USA, World, EM, EAFE and Japan
Growth in MSCI index-based derivatives driven by buy-side demand
Trading starts in time for the next roll in March
Amid the strong worldwide trend towards responsible investing, Eurex is supporting asset managers in switching to sustainable investments by broadening its ESG segment and expanding its range of ESG derivatives to markets beyond Europe. As of today, five new Eurex futures will cover the sustainable versions of key regional and global MSCI benchmarks.
Trading in MSCI index-based derivatives is one of the fastest growing segments at Eurex. The share of client business driven by institutional investors has nearly doubled within the last two years and now represents 27 percent of turnover. Eurex's MSCI index-based derivatives offering is the broadest worldwide to be tradable on a single platform. 120 MSCI index-based futures and 20 MSCI index-based options are currently listed at Eurex. Total open interest is approximately 2.5 million contracts, which is the world's highest MSCI index-based derivative-related open interest.
The new contracts complement Eurex's previous ESG offering which mainly focused on European markets. Launched in time for the next roll in March, the new contracts include ESG-screened versions of MSCI indexes covering the U.S., emerging markets (EM), developed markets outside the U.S. & Canada (EAFE), Japan and the world.
Michael Peters, Member of the Eurex Executive Board: "Our aim is to set the agenda in ESG and to offer investors the greatest possible flexibility in their global ESG investments."
Carolyn Weinberg, Global Head of Products for ETF and Index Investments at BlackRock: "The new Eurex ESG futures reflect the growing demand for sustainable benchmarks on a global scale. The transparency of sustainable indexing methodologies empowers financial markets participants to articulate their risk preferences. The extension into derivatives is significant as sustainable indices are used as financial instruments."
The underlying MSCI ESG Screened Indexes follow a negative ESG screening or exclusions methodology, which reflect investors' most common concerns. Exclusions aim to help avoid stocks that carry reputational risk and are considered controversial. This filters out components from a standard MSCI benchmark – such as controversial weapons companies, tobacco manufacturers or companies deriving revenues from thermal coal, as well as companies not complying with UN Global Compact Principles.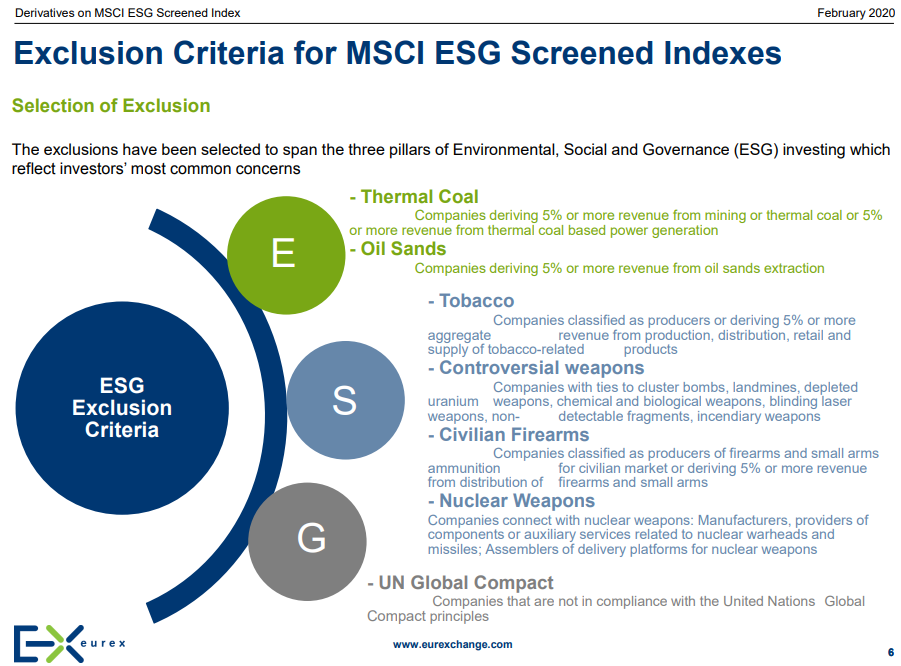 Source: Eurex Exchange presentation, March 2, 2020
George Harrington, Global Head of Futures and Options Licensing at MSCI, adds, "We are excited to continue building our strategic relationship with Eurex in relation to this diverse and innovative range of ESG indexes."
Alex Kieft, Head of Trading at Flow Traders: "Provision of market liquidity is paramount. With this in mind, we are delighted to be supporting from the outset the roll-out of Eurex ESG derivatives to additional global markets."
_____
Source: Eurex Exchange