Ethereum and Bitcoin
Bitcoin is firmly in correction mode, so the attention of mainstream media shifts to other cryptocurrencies which might not be done going up for the moment. In an article on Yahoo Finance, we read:
(…) bitcoin is actually on the lower end, as far as cryptocurrency volatility goes. Ethereum has increased more than 100-fold over the past year, while Ripple has more than doubled within the past week alone.
Here are the key takeaways. First, it's important to realize that some of these performance figures are simply not sustainable. For example, if Ethereum were to rise another 10,767% over the next year, the digital currency would have a $8.9 trillion market cap. In other words, don't buy any digital currencies and expect the same performance going forward.
Most importantly, any asset that can double, triple, or more in such short periods of time is a speculative asset, not an investment. Put another way, if it can double in a week, it could also get cut in half in a week just as easily. Given cryptocurrencies' current volatility, they are far closer to lottery tickets than to stocks and bonds on the risk spectrum.
It might well be the case that Bitcoin is the most popular digital currency by market cap and focuses the attention of speculators quicker than other digital currencies. We're seeing Bitcoin correct now but Ether continues to rise (at the moment of writing these words). This would support such a conjecture. Also, historically, periods of strong appreciation in cryptocurrencies tend to coincide. This might also mean that if Bitcoin is up for a correction, then Ether and other digital assets are facing a similar move in the near future. Ultimately, the very recent appreciation in cryptocurrencies has been nothing short of spectacular and this might be an indication that any serious correction might be actually quite severe.
Bitcoin Charts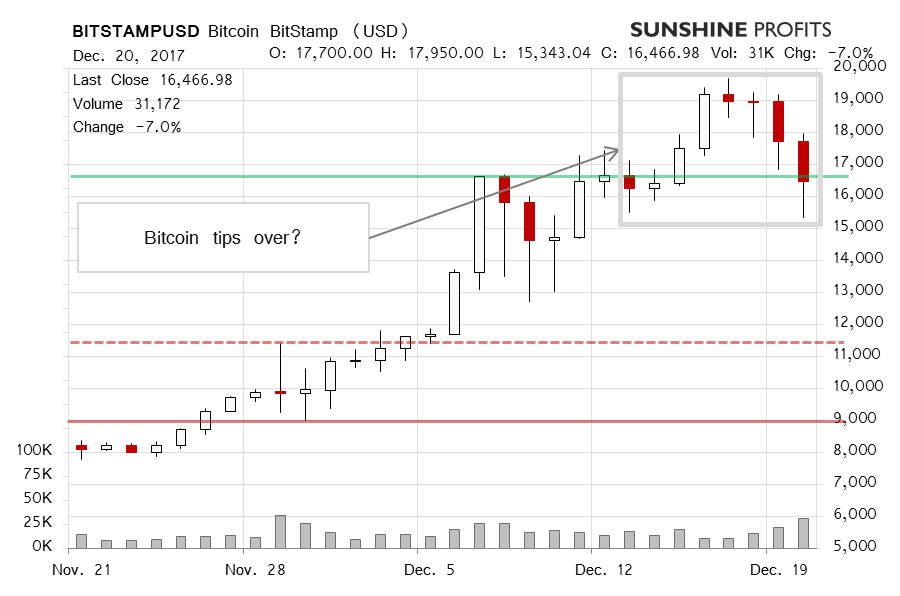 On BitStamp, we see a correction in Bitcoin which brought the currency below the level of the previous local top at $17,428. This might seem like an important move in the market. Is it? Recall our previous alert:
It seems as though the very recent move is a confirmation of the bullish outlook. We have seen a move up so far, and it's been strong enough to make us view the rebound as having potential to continue from here. At the same time, we are very conscious of the stretched nature of the market. Bitcoin hitting media outlets suggests that the speculative boom might be reaching its later stages. The momentum, however, is still with the currency and we haven't seen any decisive signs of a turnaround.
The price action we have seen since then has mostly turned the very short-term outlook around. This means that the perspective for the next couple days seem a lot more bearish than bullish now, mostly based on momentum and the action visibly below the previous all-time high. The volume on which this move has taken place has been relatively strong. This also contributes to the bearish very short-term outlook. But is the situation changed enough to consider hypothetical shorts at the moment?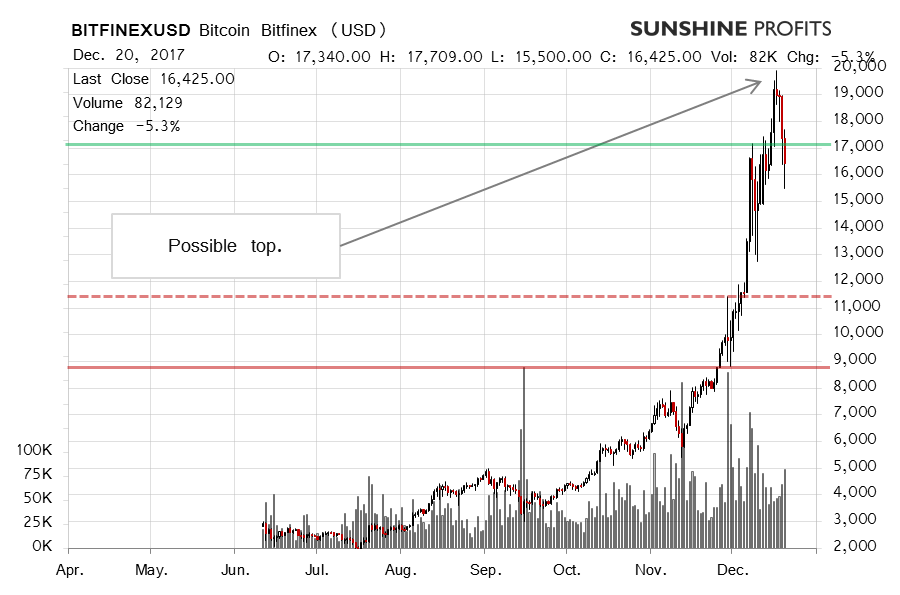 On the long-term Bitfinex chart, the correction is already very visible. Coupled with the exponential move up, this looks quite worrying. In our recent comments, we wrote:
The recent action confirmed the short-term bullish outlook. It seems that Bitcoin has room to go up further still. At the same time, because of the relatively extreme nature of the market, we absolutely have to be very cautious when approaching the market. If you are new to our analysis, mind that Bitcoin is extremely volatile and betting the ranch on the currency is a bad idea, in our opinion. Generally speaking, Bitcoin should be only a small part of one's portfolio (no more than, say, 5%) and only money one can absolutely afford to lose. None of this is investment advice, you absolutely have to do your own due diligence. At the current crossroads, our opinion is that Bitcoin still has room to move forward in a risky environment. (…)
Is this part of our analysis different now than it was only a couple days ago. Yes, in terms of the very short-term outlook (next couple of days) because of the reasons mentioned before. How about in terms of the medium-term outlook? Not necessarily. First of all, it is quite natural for the currency to correct after a period of very strong appreciation. The question is if we're seeing enough signs that the tide has turned for a longer period of time. At the moment of writing, this doesn't seem to be the case. If we measure the last rally from the November local bottom, Bitcoin hasn't even corrected 38.2% of it. This would correspond to Bitcoin at $14,357 – not a stretch from the current price but the currency is not there just yet. Because of the potentially very important nature of the current price action, we would actually prefer to see Bitcoin below this level for a couple of days before considering hypothetical shorts. At the same time, it seems that if the currency is able to rebound from this level, we might have yet another move up on our hands. Currently, our opinion is that a move down seems more probable but the situation is very risky.
If you have enjoyed the above analysis and would like to receive free follow-ups, we encourage you to sign up for our daily newsletter – it's free and if you don't like it, you can unsubscribe with just 2 clicks. If you sign up today, you'll also get 7 days of free access to our premium daily Gold & Silver Trading Alerts. Sign me up!.
Thank you.
Regards,
Mike McAra
Bitcoin Trading Strategist
Bitcoin Trading Alerts