​ETFs That Bet on Blockchain
MoneyShow Follow |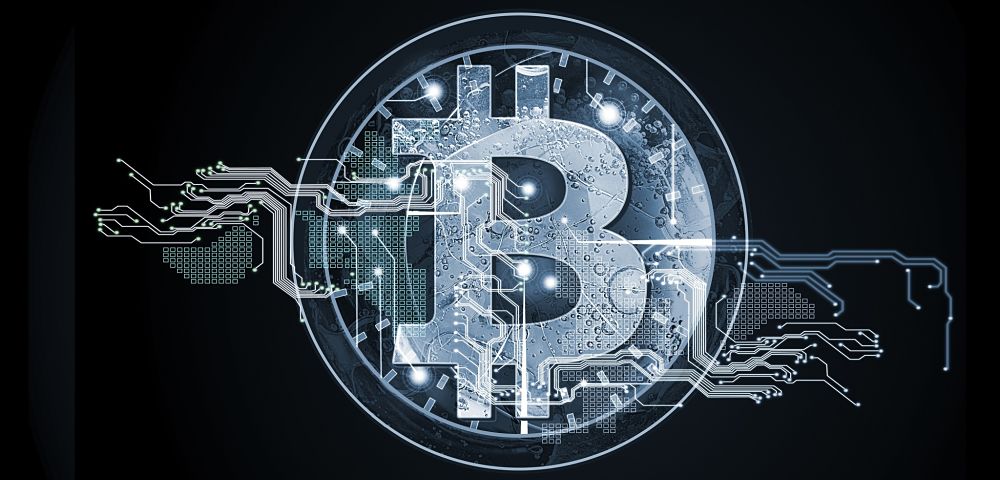 Bitcoin, cryptocurrencies and blockchain technologies have become all the rage over the past year, notes exchange-traded fund expert Jim Woods, editor of Successful Investing.
Some people think Bitcoin and other cryptocurrencies are going to liberate the planet from the clutches of fiat currencies and big-government-controlled central bank manipulation. Others think they represent the biggest bubble and the biggest boondoggle in recent market history. I suspect that the truth lies somewhere in between.
As the world is caught in a fervor over Bitcoin and other cryptocurrencies, as well as the new blockchain technology, new investment opportunities similarly have started to pop up.
So, what is blockchain? Simply put, it is a record of new transactions (such as the change in the location of cryptocurrency, research data, voting records, etc.). Once a block of information is completed, it is added to the chain to create a chain of blocks known as a blockchain.
Owning cryptocurrencies essentially means owning "private keys" to certain addresses on the blockchain. Since information stored in the blockchain is publicly available, it is comparable to a public ledger of sorts that does not rely on a single computerized server to function. The World Economic Forum predicts that 10% of global gross domestic product (GDP) will be stored on blockchain platforms by 2027.
Many recently launched funds were created to take advantage of this blockchain technology, which some observers view as revolutionary. ETFs with cryptocurrency and blockchain themes also have soared in popularity. Reality Shares Nasdaq NextGen Economy ETF (BLCN), is one such fund that is gaining attention.
Created on January 17, 2018, through a partnership between Reality Shares and Nasdaq, the fund seeks long-term growth by investing in blockchain-related companies. The ETF has been aggressively investing in companies around the world and across sectors that contribute to the underlying technologies behind blockchain.
The fund currently has 56 holdings and is 57% invested in the information technology (IT) sector. Roughly half of BLCN's holdings are in North American companies, while the rest are split between Asia and Europe.
Since the fund is still in its infancy, it will take a bit longer to see how it will perform compared to the broad market. BLCN currently manages $47.4 million in total assets and pays a quarterly distribution with a yield of 1.69%. Its expense ratio is 0.68%.
Top holdings for BLCN include Intel Corp. (INTC), 2.43%; Overstock.com Inc. (OSTK), 2.39%; IBM (IBM), 2.37%; Cisco Systems Inc. (CSCO), 2.26%; and Hitachi Ltd. (HTHIY), 2.21%.
Investors who are looking to "get their foot in the door" with blockchain may want to check out Amplify Transformational Data Sharing ETF (BLOK), an actively managed fund that invests in companies around the globe which are in the blockchain space.
BLOK is extremely new to the market, having been launched simultaneously in mid-January 2018 with another blockchain-oriented fund, BCLN.
Compared head to head with BCLN, BLOK is performing better so far and had more than twice BCLN's assets under management, with $174 million compared to $87 million for BCLN. BLOK's expense ratio sits at 0.70%.
The companies held in this fund are big names in their respective technology spaces and part of the general blockchain conversation.
For example, investors who are paying attention to the blockchain craze will not be surprised to find NVIDIA (NVDA) and Overstock.com among BLOK's holdings. Other top holdings are Taiwan Semiconductor (TSM), Digital Garage (DLGEF) and SBI Holdings Inc. (SBHGF).
ETFs come in all shapes and sizes, and for those on the hunt for blockchain companies, the new Amplify Transformational Data Sharing ETF could be a worthwhile starting point for consideration.
Jim Woods is editor of Successful Investing.
Subscribe to Jim Woods' Successful Investing here…
About MoneyShow.com: Founded in 1981, MoneyShow is a privately held financial media company headquartered in Sarasota, Florida. As a global network of investing and trading education, MoneyShow presents an extensive agenda of live and online events that attract over 75,000 investors, traders and financial advisors around the world.
DISCLOSURE: The views and opinions expressed in this article are those of the authors, and do not represent the views of equities.com. Readers should not consider statements made by the author as formal recommendations and should consult their financial advisor before making any investment decisions. To read our full disclosure, please go to: http://www.equities.com/disclaimer
Companies
| | Symbol | Name | Price | Change | % | Volume | |
| --- | --- | --- | --- | --- | --- | --- | --- |
| Follow | INTC | Intel Corporation | 47.21 | 0.97 | 2.10 | 23,337,566 | Trade |
| Follow | IBM | International Business Machines Corporation | 121.13 | 1.79 | 1.50 | 6,552,845 | Trade |
| Follow | OSTK | Overstock.com Inc. | 18.86 | 1.49 | 8.58 | 1,238,885 | Trade |
| Follow | NVDA | NVIDIA Corporation | 151.86 | 4.25 | 2.88 | 15,825,442 | Trade |
| Follow | CSCO | Cisco Systems Inc. | 46.86 | 0.42 | 0.90 | 28,701,589 | Trade |
| Follow | TSM | Taiwan Semiconductor Manufacturing Company Ltd. | 36.43 | -0.09 | -0.25 | 12,439,878 | Trade |
| Follow | blcn | Reality Shares Nasdaq NextGen Economy ETF | | | | | |
| Follow | blok | Amplify Transformational Data Sharing | | | | | |