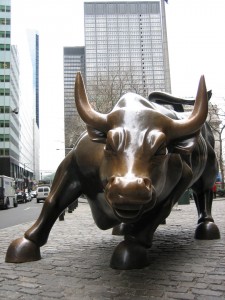 U.S. stocks got a much needed boost Friday with positive employment data surprised Wall Street. The U.S. economy added 244,000 jobs last month, with the private sector adding 268,000 jobs--the biggest increase in over five years. This shattered analysts expectations of just 185,000 jobs. Nonetheless, the U.S. unemployment rate still increased to 9.0 percent from 8.8 percent. The positive news stops the bleeding for investors, even if only temporary, since May started. Major U.S. indices have dropped roughly 1.5 percent to 2 percent over the course of the week until the jobs data was released. Commodities could be rebounding as well. Oil prices, which dipped below $100 a barrel yesterday, recovered a bit and it didn't hurt that Goldman Sachs (NYSE: GS) is reversing its bearish calls on energy prices to now seeing bullish record highs.
DJIA: 12,679.00 (+0.75 percent)
S&P 500: 1,345.02 (+0.74 percent)
Nasdaq: 2,841.44 (0.95 percent)
Russell 2000: 837.87 (+1.04 percent)
---
---
In other news:
Check back for more news.
DISCLOSURE: The views and opinions expressed in this article are those of the authors, and do not represent the views of equities.com. Readers should not consider statements made by the author as formal recommendations and should consult their financial advisor before making any investment decisions. To read our full disclosure, please go to: http://www.equities.com/disclaimer