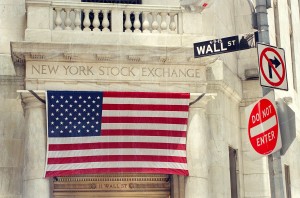 U.S. stocks continued to decline in mid-day trading today as an unexpected rise in jobless claims added fuel to the bearish fire. The Dow Jones Industrial Average and the S&P 500 are both down, while Nasdaq is trading up. Claims for unemployment rose 43,000 to 474,000 last week. Economic indicators seem to be pointing at a weakening U.S. recovery effort, even while some of the largest domestic and international corporations have posted better than expected first quarter earnings. Worse yet, commodities and the dollar are both experiencing significant pullbacks as well, raising concerns that deflationary forces could be mounting. Gold and silver prices have continued to slide, perhaps signaling a possible end to the hot streak the precious metals have been on the last few years. Oil prices also continue to fall on lowered demand, hitting as low as $101 a barrel. The dollar also dropped 5 percent against the Japanese yen. Could investors really be selling in May and completely going away?
---
---
Major U.S. Stock Indices
DJIA: 12,682.22 (-0.33 percent)
S&P 500: 1,345.56 (-0.13 percent)
Nasdaq: 2,837.42 (+0.32 percent)
Russell 2000: 838.09 (+0.62 percent)
In other news:
This time last year the market took a historic tumble. Today is the anniversary of the flash crash. [Reuters]
General Motors (NYSE: GM) is on a roll. The automaker has posted five consecutive quarters in the black, and tripled earnings in Q1. [Marketwatch]
Unemployment may be up but consumers are still spending, at least in April. Retail companies like Gap (NYSE: GPS), Limited Brands (NYSE: LTD), and Macy's (NYSE: M) all saw strong sales last month. [NY Times]
Is Twitter really changing the way Wall Street traders follow the stock market? [USA Today]
Margin increases seem to be the reason why gold and silver continue to see a sell-off. ETF investors in iShares Silver Trust (NYSE: SLV) and SPDR Gold Shares (NYSE: GLD) are feeling the pain, but physically backed ETFs like ETFS Physical Swiss Gold Shares (NYSE: SGOL) and ETFS Physical Silver Shares (NYSE: SIVR) have held up a little better. [The Street]
Check back as more news develops.
Jobless claims rose by 43,000 to 474,000 in the past week.
DISCLOSURE: The views and opinions expressed in this article are those of the authors, and do not represent the views of equities.com. Readers should not consider statements made by the author as formal recommendations and should consult their financial advisor before making any investment decisions. To read our full disclosure, please go to: http://www.equities.com/disclaimer