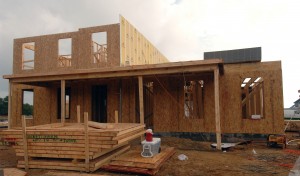 U.S. stocks continue to swing back and forth this week as positive housing and jobs data helped to boost Wall Street trading today, bringing the market back on track to break its six-week losing streak. Construction on new homes improved last month, recovering from a big decline in April. The U.S. Commerce Department said housing starts rose 3.5 percent last month, exceeding expectations from economists. The U.S. Department of Labor also announced today that the number of unemployment benefits claims fell 16,000 to 414,000, also exceeding economist expectations. Still weighing on the market, however, is the ongoing crisis in Greece and the European Union. The lack of progress could have a dire effect on Wall Street as a number of banks have also underwritten a "bucketload of Greek credit-default swaps," according to a report by Marketwatch. For its part, the International Monetary Fund has stated that it is prepared to continue to support Greece if the nation's government can agree on the bailout package with the European Union.
---
---
DJIA: 11,976.05 (+0.66 percent)
S&P 500: 1,272.02 (+0.52 percent)
NASDAQ: 2,637.33 (+0.22 percent)
Russell 2000: 787.23 (+1.00 percent)
In other news:
Check back for more news.
DISCLOSURE: The views and opinions expressed in this article are those of the authors, and do not represent the views of equities.com. Readers should not consider statements made by the author as formal recommendations and should consult their financial advisor before making any investment decisions. To read our full disclosure, please go to: http://www.equities.com/disclaimer