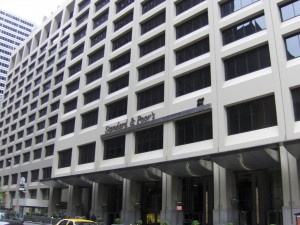 Stocks on Wall Street plunged to start the week today as attention shifts to the ongoing financial troubles of the European Union. Investors fear that the inability to reign in problematic economies like Greece, Portugal and Ireland could spread to larger problems around the world. It seem's that Greece's debt problems may also affect the perception of surrounding nation's as well. Italy's credit outlook was downgraded today by Standard & Poor's, but is still seen as stable by the other two major ratings agencies. Meanwhile, last week's major news was the success of LinkedIn's (NYSE: LNKD) IPO, which ended the first day trading over 109 percent from its initial offering price. Though shares of the social network were offered at $45, the stock closed the day at $94.25 and even traded as high as $122.70. The exuberance may be fading, however, as shares of LinkedIn are down nearly 9 percent on the day and trading around $85.
---
---
DJIA: 12,361.36
S&P 500: 1,315.93
NASDAQ: 2,756.96
Russell 2000: 815.65
In other news:
Check back for more news.
DISCLOSURE: The views and opinions expressed in this article are those of the authors, and do not represent the views of equities.com. Readers should not consider statements made by the author as formal recommendations and should consult their financial advisor before making any investment decisions. To read our full disclosure, please go to: http://www.equities.com/disclaimer