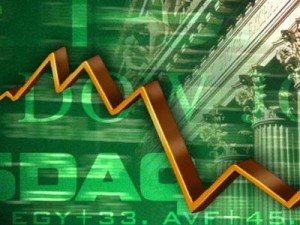 U.S. stocks made a comeback following a morning slide on Thursday as a rise in jobless claims and continued uneasiness over European debt unsettled investors.  The three major indexes ended mixed, with the Dow Jones Industrial Average up 14.16 point or 0.12 percent to 12,285. The Nasdaq declined minutely, falling -1.30 points or 0.05 percent. The Standard & Poor's 500 rose .11 or 0.1 percent to 1,316.
Financial stocks were the biggest burden to the market today, falling sharply after a Wall Street Journal report was released investigating whether big banks were responsible for manipulating Libo, a key interest rate amid the financial crisis. Shares slid for most major banks with Citigroup (NYSE: C) falling -1.56 percent, Bank of America Corp. (NYSE: BAC) down -1.06 percent, Goldman Sachs (NYSE: GS) lower by -2.73 percent and J.P Morgan Chase & Co (NYSE: JPM) losing -2.77 percent. The losses of Goldman seemed mild in light of Senate Committee accusations that the firm had bet against low quality mortgages they were endorsing.
Other sectors moved slowly as many investors continue to wait for more earnings reports before making any major bets. One exception was SuperValue Inc (NYSE: SVU) which was up 16.85 percent at close and helped the S&P 500 scrape higher for the day. Acorda Therapeutics Inc., ( NASDAQ:ACOR) the biotech company in late stage MS treatments was also up nearly 27 percent at close today.
DISCLOSURE: The views and opinions expressed in this article are those of the authors, and do not represent the views of equities.com. Readers should not consider statements made by the author as formal recommendations and should consult their financial advisor before making any investment decisions. To read our full disclosure, please go to: http://www.equities.com/disclaimer