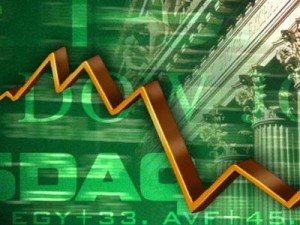 U.S. stocks fell broadly on Thursday in the aftermath of a second earthquake striking in Japan. The 7.1 quake shook the Northeastern shore of Japan as well as international markets. The latter regained some of the losses following the lifting of a tsunami warning for the nation. In the hours shortly after the news, the Dow Jones Industrial Average sunk close to 100 points. At close it was down only 17.26 points or 0.14 percent to 12,409 after positive job and retail reports pushed market higher. The S&P 500 Index fell 2.03 points or 0.15% while the Nasdaq slipped 3.68 points or 0.13% to 2,796.14.
Assisting an afternoon recovery, most U.S. retailers reported same-store sales that exceeded expectations for March, in spite of the sky-high gasoline prices and less than ideal weather for much of the country. The reports led shares of Bed Bath & Beyond, Inc. (NASDAQ: BBBY) to surge 9.76 percent. Fourth quarter earnings and revenue for the company surpassed analyst predictions. Costco Wholesale Corp. (NASDAQ: COST) shares also improved, climbing 3.27 percent while Limited Brands Inc. (NYSE: LTD) tacked on 1.48 percent on positive March sales. Pier One Imports Inc. (NYSE: PIR) was also a big beneficiary of the reports, adding 10.53% for the day.
Padding other sectors, a new report indicated that jobless benefits in the U.S. fell beyond expectation last week for the second consecutive week. Initial jobless claims slid by 10,000 to 382,000.
Seaspan (NYSE: SSW), Allscripts Healthcare Solutions (NASDAQ:MDRX) and semi-conductor component maker Cymer, Inc. (NASDAQ:  CYMI) all declined sharply today.
DISCLOSURE: The views and opinions expressed in this article are those of the authors, and do not represent the views of equities.com. Readers should not consider statements made by the author as formal recommendations and should consult their financial advisor before making any investment decisions. To read our full disclosure, please go to: http://www.equities.com/disclaimer