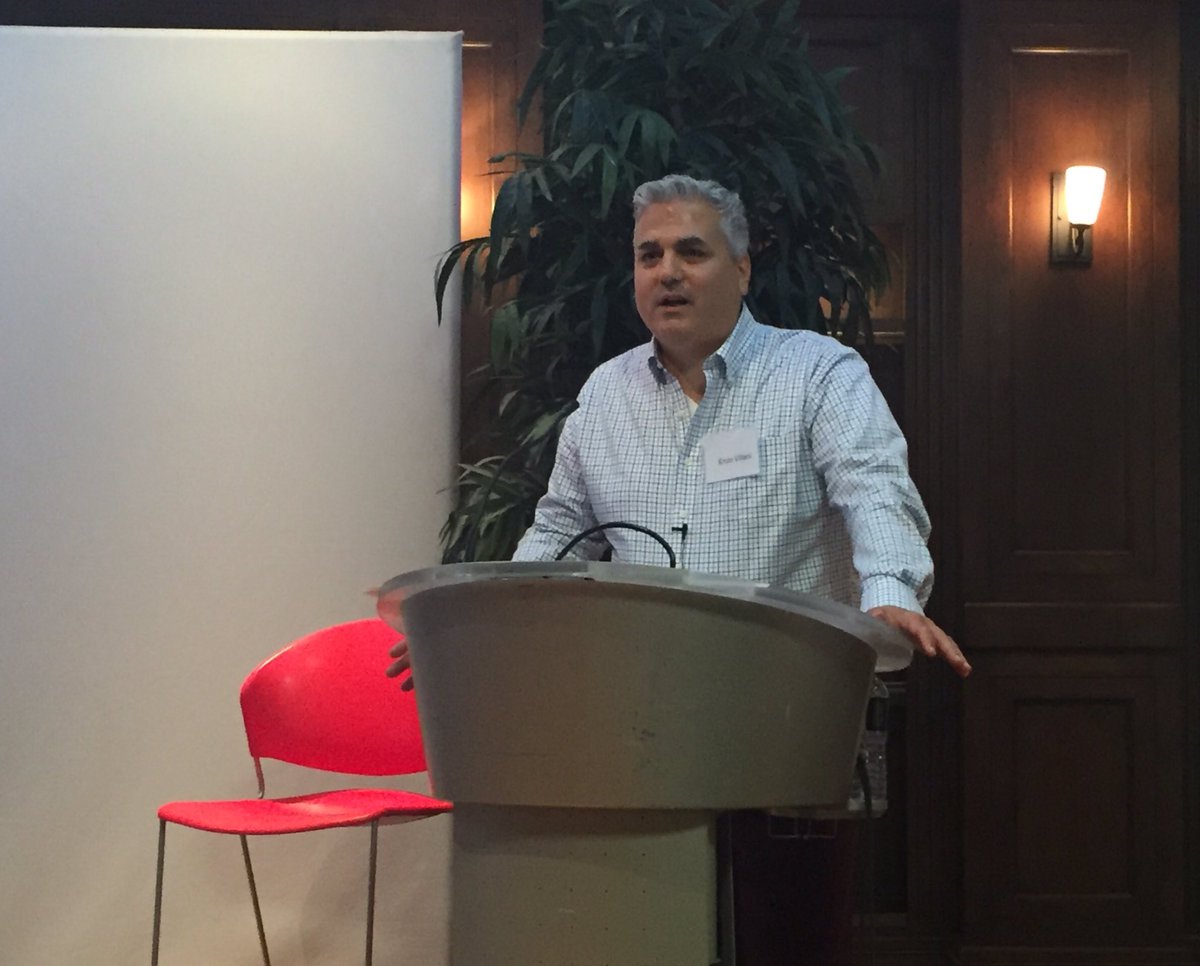 This year's Emerging Growth and Innovation Forum at Maker City LA brought a wide variety of thought leaders in tech, finance, and entrepreneurship together for a number of progressive ideas on how to push our economy forward in truly inspired ways. One of the most inspired concepts was revealed early on in the day, as Equities.com CEO Enzo Villani announced a new relationship and direction for the financial news source and investor community with Tradier, a leading Fintech brokerage service provider.
"Everybody here shares a common theme: We really want to see innovation grow in America and find people who want to fund these new innovations in new and exciting ways," said Villani.
Villani detailed a number of recent changes at Equities.com and expounded on the company's continuing evolution. "The main reason why we started to pivot Equities was to shine a light on emerging growth companies, and change people's ideas of what they are," Villani explained. "Just because your company is not trading at $250 a share, that doesn't mean it's a bad company. We really wanted to give all companies and opportunity and let the market decide."
He added that Equities.com "started doing some pretty innovative things. We started focusing on public companies first. Then we started focusing on the user base. We also started looking at new private sector opportunities with companies like CrowdfundX."
Flat-Fee Trading for the Average Investor
Villani then announced Equities.com's exciting new initiative with Tradier to offer unlimited flat-fee trading to empower active traders to maximize their profit potential by avoiding high commission costs. Equities.com is accepting pre-signups at http://trade-equities.online
"Today, we're actually watching a soft launch of the first flat-fee online trading platform at $29.95 a month," Villani said. "If you trade more than six times a month, you should be on this platform."
The concept was the result of a creative collaboration between the two companies, led by Villani and Dan Raju, Tradier's Co-founder and Chairman.
Over the course of their conversations, Villani said the idea born. They thought, "Why don't we really start to give a chance to level the playing field and change the way trading happens? We decided that through the Equities platform, we would bring flat-fee trading to the masses. That means unlimited trading, no commissions. The concept was, 'How much do you charge and how do we deal?' They're a registered broker deal and we're not, but we're good in marketing. We're good at online marketing and generating awareness, and we're all former NASDAQ people. We understand the securities laws."
Villani explained that Tradier has, "a trade API for anyone in tech. They have an API that plugs into a hundred different frontend brokerage type or asset allocation advisory platforms. They came to us, and we came up with this idea."
Building a Network of Investors That Goes Beyond New York
From Equities.com's perspective, Villani stated that he's excited about the program "for multiple reasons. One is, I'm bringing my users a product that they can value and that they can generate value from in a place that is pretty commoditized. Second, I'm mostly bringing my corporate customers, who are looking for investors, the opportunity to be in front of active investors."
But most importantly, it's an opportunity to partner with a quality company like Tradier that shares the same vision and corporate values when it comes to serving the investment community. As Villani said of the partnership and trading service, "It's being run by one of the most successful back-end brokerage houses in the world."
Overall, the partnership with Tradier, as well as the decision to host the most recent Emerging Growth and Innovation Forum in Los Angeles, is in line with Equities.com's primary goals to serve the broader investment community: The desire to build a trading network that goes beyond the same old stodgy ideas of Wall Street trading. "This is the first Forum in LA for us," says Villani. "Doing this in New York City would have been much easier, but the whole concept is to build a network in LA for people who are investors. They love innovation. They want to be around new companies, new ideas and they want to move the ball forward in a different fashion, and not be controlled by the same old stuff."
DISCLOSURE: The views and opinions expressed in this article are those of the authors, and do not represent the views of equities.com. Readers should not consider statements made by the author as formal recommendations and should consult their financial advisor before making any investment decisions. To read our full disclosure, please go to: http://www.equities.com/disclaimer