~ Lead candidate targeting graft-versus-host disease ~
Graft-versus-host disease (GvHD) is a serious complication of stem cell transplants in which the donated bone marrow or peripheral blood stem cells view the recipient's body as foreign and attack the recipient's healthy tissues and organs. Up to 70% of transplant recipients develop acute GvHD, which can manifest within the first few months of treatment, while 40% of recipients get chronic GvHD, the form that appears more than 100 days post-transplant, according to the Fred Hutchinson Cancer Research Center.
The standard of care for GvHD is steroid therapy, which, on top of the serious side effects, is ineffective for many patients. According to a broadly cited 2011 study led by Jason Westin, MD, leader of the diffuse large B-cell lymphoma research team at the University of Texas MD Anderson Cancer Center in the Department of Lymphoma and Myeloma, patients with steroid-resistant acute GvHD have a "dismal prognosis, with mortality rates in excess of 90%."
According to the Cleveland Clinic, symptoms of acute GvHD might include skin rash, yellowing or irritation of the skin or eyes and gastrointestinal distress. Chronic GvHD sufferers may experience skin rash, discoloration or thickening, abdominal swelling, abnormal blood test results (indicating GvHD of the liver damage), dry eyes or impaired vision, dry mouth, white patches inside the mouth, pain or sensitivity to spicy foods, shortness of breath, difficulty or pain with swallowing, weight loss, muscle fatigue or pain, urinary problems and sexual dysfunction.
La Jolla-based Equillium (proposed Nasdaq: EQ) is developing therapies for severe autoimmune and inflammatory (immuno-inflammatory) disorders. The company's lead candidate, EQ001 (itolizumab), is a monoclonal antibody designed to selectively target CD6, an immune system checkpoint receptor that plays a central role in the modulation of effector T (Teff) cells. Activated Teff cells affect the progression of many immuno-inflammatory diseases such as GvHD, asthma, uveitis, colitis, lupus and multiple sclerosis. According to the company, EQ001 is the first antibody that is targeting CD6.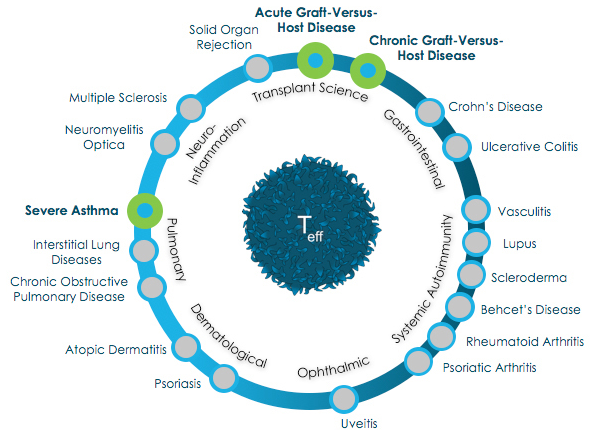 Source: Equillium
The company plans to initiate a Phase 1b/2 clinical trial of EQ001 for the treatment of acute GvHD in early 2019, and expects top-line data from the Phase 1b part of this trial within 12 months of initiation. In the first half of 2019, Equillium plans to commence a Phase 2 clinical trial of EQ001 in chronic GvHD and a Phase 1 trial in severe asthma, while selecting at least one additional indication for future development.
Equillium is offering 4,670,000 shares at $14 to $16 via Jefferies, Leerink and Stifel. The deal is expected to price this Thursday for trade date Friday, Oct. 12. At the midpoint of the filing range, the $70 million deal would give Equillium a post-IPO market capitalization of $250 million.
CEO Daniel Bradbury is a co-founder of Equillium. He is also the founder and managing member of BioBrit, a life sciences consulting and investment firm. Mr. Bradbury was formerly President and CEO of Amylin Pharmaceuticals until its acquisition by Bristol-Myers Squibb BMY in 2012. Prior to Amylin, he worked in marketing and sales for 10 years at SmithKline Beecham. Mr. Bradbury serves on the board of directors of Biocon Limited, Corcept Therapeutics CORT, Geron GERN and Intercept Pharmaceuticals ICPT.
President and Chief Business Officer Bruce Steel is also a co-founder of Equillium. He is the founder and Managing Director of BioMed Ventures, an investment firm owned by BioMed Realty BMR. Mr. Steel was formerly the Chief Business Officer of Anaphore, a privately-held pharmaceutical company, and co-founder and CEO of Rincon Pharmaceuticals, a genetic engineering biotechnology company.
Equillium acquired US and Canadian rights to itolizumab in May 2017, pursuant to a collaboration and license agreement with Biocon of India. Biocon is the largest outside shareholder, with an 18.8% stake that would decrease to 13.9% post-IPO. Mr. Bradbury and Mr. Steel each hold 33.3% of the company, or 22.1% after the IPO. The drug is approved in India for the treatment of moderate to severe plaque psoriasis and is marketed by Biocon as ALZUMAb. This is a key marker for investors to note, as itolizumabhas shown efficacy and safety in an autoimmune disease such as psoriasis.
Please email us at [email protected] to see our Case Studies and Testimonials.
Please click here for information on our new trading platform.
Please click here to see our daily newsletter.