~ Lead candidate, tazemetostat, in Phase 2 for non-Hodgkin lymphoma, solid tumors and mesothelioma ~
Epigenetics is the study of gene expression and control by factors other than the underlying DNA sequence. Epigenetics is naturally involved in normal human processes, as demonstrated by the significant variation in cell types in the body that that all contain the exact same DNA. Environmental effects can also cause genes to be activated or inhibited, and such changes can be passed down through multiple generations, affecting overall health and disease progression. As Dr. Ian Cowell of the Institute for Cell and Molecular Biosciences, University of Newcastle-Upon-Tyne, wrote in the British Society for Cell Biology:
While traditional genetics describes the way the DNA sequences in our genes are passed from one generation to the next, epigenetics describes passing on the way the genes are used.
Source: TED-Ed
Epizyme – epigenetic treatments for cancer
Cambridge, Massachusetts, based Epizyme EPZM is developing epigenetic treatments for cancer and other serious diseases. Its lead product candidate, tazemetostat, is being evaluated in Phase 2 trials in patients with relapsed or refractory non-Hodgkin lymphoma, in adult and pediatric patients with certain genetically defined solid tumors and in patients with mesothelioma. Tazemetostat is an inhibitor of EZH2, an enzyme which plays a critical role in cancer maintenance. Overexpression of EZH2 is associated with tumor aggressiveness, drug resistance and poor prognosis.
Epizyme raised $75 million in a follow-on equity offering priced yesterday pursuant to a shelf registration filed in April 2018. The company sold 8,333,334 shares at $9.00, a discount to the $9.71 closing price, via Jefferies for a post-money market capitalization of $626 million. Shares of Epizyme are trading at $9.50 in mid-afternoon today. The stock has been under pressure for much of the summer, but has stabilized since the FDA lifted its clinical hold in September 2018.
Clinical hold lifted

In April 2018, the FDA had placed a partial clinical hold affecting new enrollment of patients with genetically defined solid tumors and hematologic malignancies following a safety report from one patient in the dose-ranging portion of the company's Phase 1 pediatric solid tumor study who developed a secondary case of T-cell lymphoblastic lymphoma (T-LBL). This child had metastatic poorly differentiated chordoma and had entered Epizyme's study with a poor prognosis following several prior treatments. The FDA lifted its hold in September 2018 after Epizyme provided a thorough assessment of efficacy and safety data across all of its trials in hematological malignancies and solid tumors, in both adults and children, and convened a panel of external scientific and medical experts who reviewed and validated the findings. We're encouraged that the FDA concluded that the risk/benefit of tazemetostat warranted continuation of clinical studies.
Positive Phase 2 data in relapsed/refractory follicular lymphoma

In June 2018, Epizyme presented Phase 2 data at the 23rd Congress of the European Hematology Association (EHA) showing meaningful clinical activity from tazemetostat as a monotherapy for patients with relapsed or refractory follicular lymphoma, a B-cell lymphoma that makes up 20-30% of all non-Hodgkin lymphomas. The company showed durable clinical responses and progression-free survival with tazemetostat in patients with or without an EZH2 activating mutation.
Based on initial discussions with the FDA, Epizyme believes it has the opportunity to submit for accelerated approval for tazemetostat as a monotherapy in follicular lymphoma, subject to the full results of the of the Phase 2 global study and further dialogue with the FDA. In its prospectus supplement for the equity offering, Epizyme said that it plans to engage with the FDA to further refine its registration strategy for tazemetostat for patients with follicular lymphoma who have received at least two prior lines of treatment by early 2019. The company plans to commence a combination study in 2019 of tazemetostat in follicular lymphoma that may serve as a confirmatory study as part of this accelerated approval strategy.

Collaborations

Epizyme is also studying tazemetostat in combination with Genentech's RHHBY checkpoint inhibitor Tecentriq (atezolizumab) in relapsed or refractory diffuse large B-cell lymphoma. The company has collaboration agreements with Celgene CELG, GlaxoSmithKline GSK, Eisai ESALY and Roche. As of June 30, 2018, Epizyme has received $217.8 million in non-equity funding from these collaborations.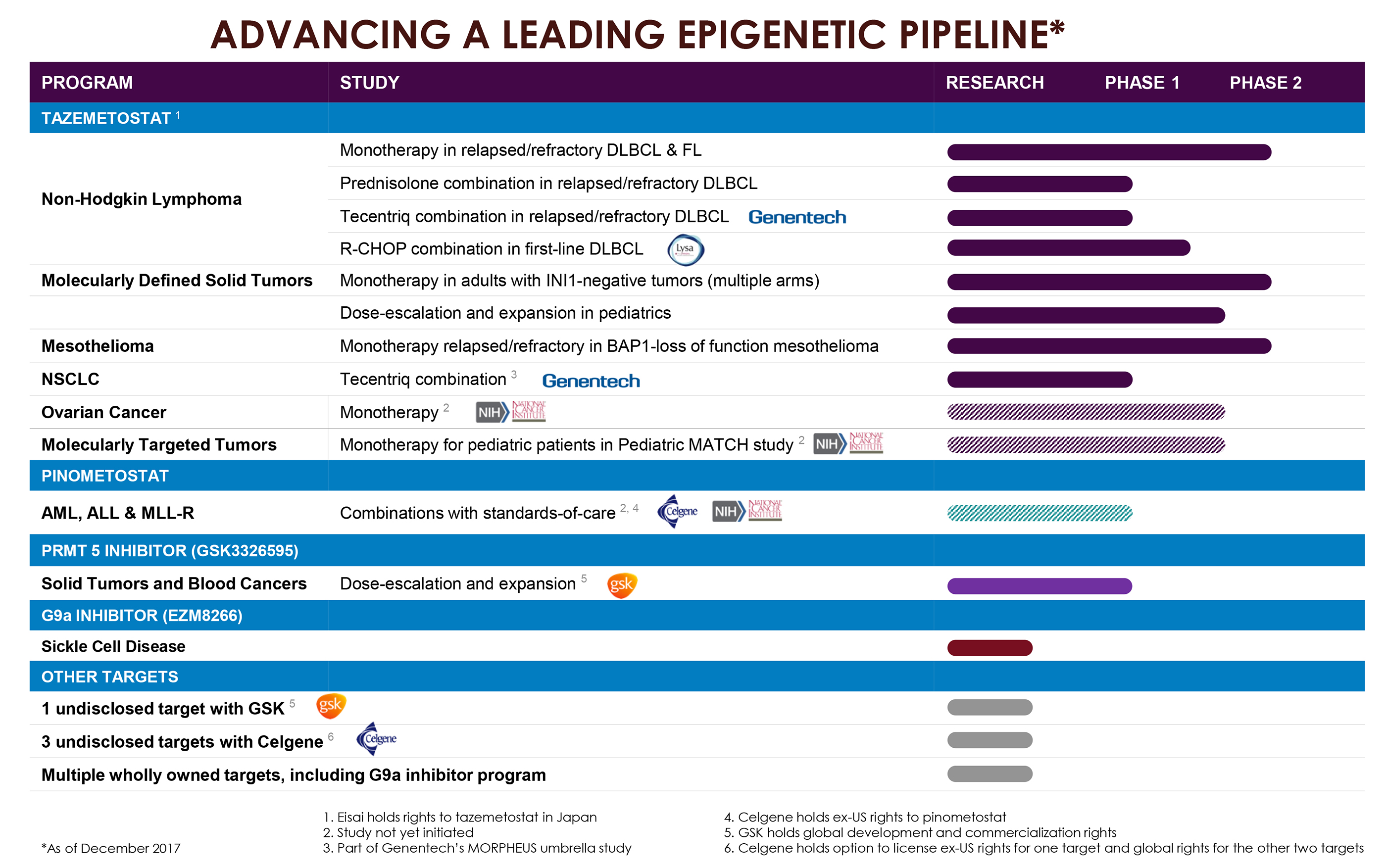 Source: Epizyme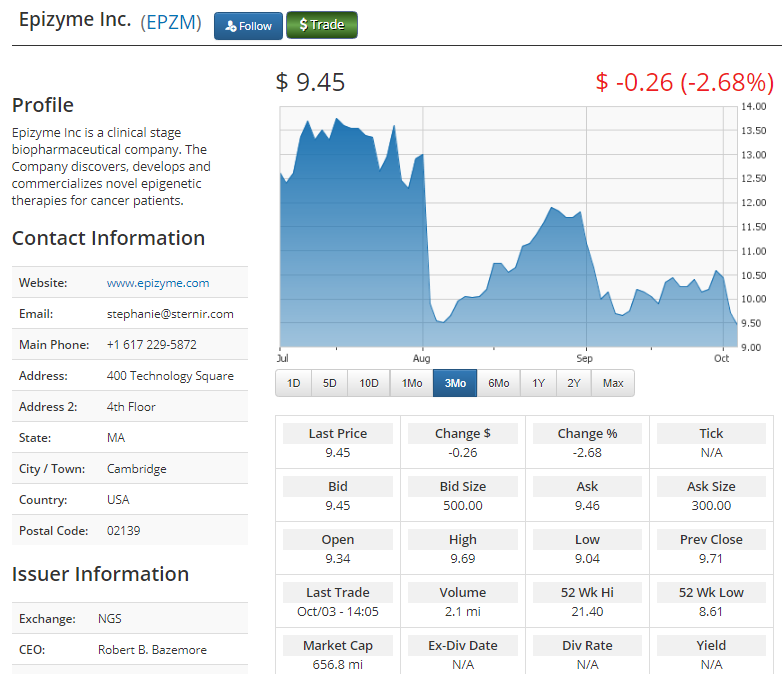 Please email us at [email protected] to see our Case Studies and Testimonials.
Please click here for information on our new trading platform.
Please click here to see our daily newsletter.
DISCLOSURE: