Epizyme Gets Accelerated FDA Approval of Epithelioid Sarcoma Drug
Edward Kim Follow |


Soft Tissue Sarcoma
Sarcoma is the general term for a broad group of 70 different types of cancers that begin in the bones and in the soft, or connective, tissues of the body, including in muscle, fat, blood vessels, nerves, tendons and the lining of joints.
For 2020, the American Cancer Society estimates that 13,130 new soft tissue sarcomas will be diagnosed in the US (7,470 in males and 5,660 in females) and that about 5,350 deaths (2,870 males and 2,480 females) are expected.
Epithelioid Sarcoma
Epithelioid sarcoma is a rare, aggressive, life-threatening type of soft tissue sarcoma, forming as a hard lump such as under the skin or in the abdomen or groin. It accounts for less than 1% of all soft tissue sarcomas. About 150 to 200 people, generally young adults, in the US are newly diagnosed with epithelioid sarcoma each year, according to the National Cancer Institute.
Epithelioid sarcoma tends to have a high rate of recurrence and can spread to other areas. It's associated with the loss of INI1, a protein whose loss of expression occurs in a range of malignant tumors.

Epizyme—Accelerated FDA Approval of TAZVERIK (Tazemetostat)
Epizyme

announced after the close yesterday that the FDA granted accelerated approval of TAZVERIK (tazemetostat) for the treatment of people aged 16 years and older with metastatic or locally advanced epithelioid sarcoma not eligible for complete resection. The accelerated approval was based on overall response rate (ORR) and duration of response in a Phase 2 trial.
Today's accelerated approval of TAZVERIK is a landmark event for people with ES and represents our dedication to our mission of rewriting treatment for people with cancer and other serious diseases. TAZVERIK is now the first and only FDA-approved EZH2 inhibitor, and the first and only FDA-approved treatment specifically indicated for ES patients. Our commercial launch plans are underway, and we expect to make TAZVERIK available to ES patients and treating physicians across the U.S. within 10 business days.

- Robert Bazemore, President and CEO, Epizyme.
TAZVERIK is an EZH2 inhibitor. EZH2 (enhancer of zeste homolog 2) is a type of enzyme known as methyltransferase. EZH2 is associated with various types of cancers, and TAZVERIK is the first ever approved EZH2 inhibitor.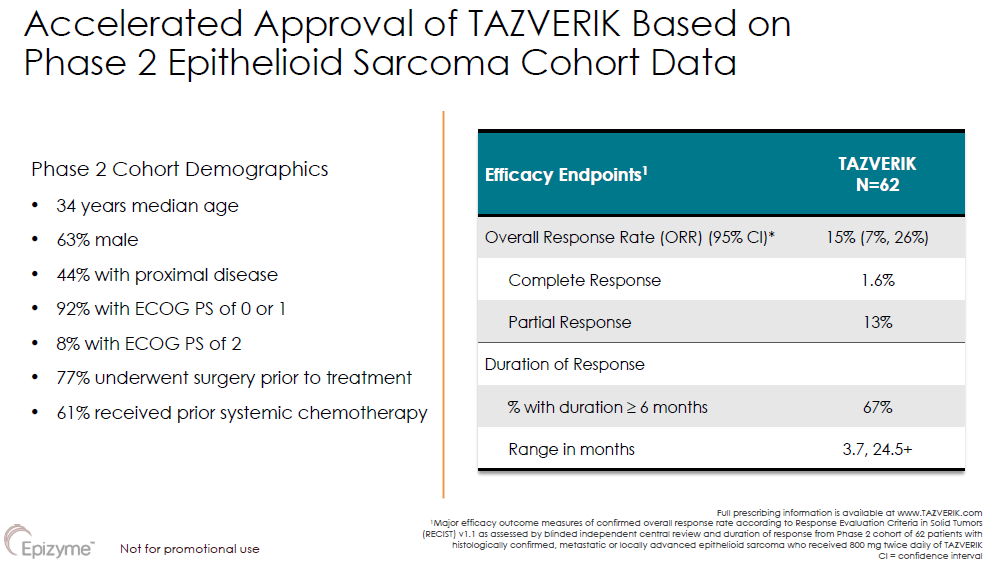 Source: Epizyme presentation, Jan. 23, 2019
FDA Accelerated Approval Program
The Accelerated Approval Program enables earlier approval of drugs that treat serious conditions, and that fill an unmet medical need based on a surrogate endpoint—in Epizyme's case, the ORR and duration of response—that is thought to predict clinical benefit, but is not itself a measure of clinical benefit. The use of a surrogate endpoint can considerably shorten the time required prior to receiving FDA approval.
Continued approval is contingent upon verification and description of clinical benefit in a confirmatory trial. Epizyme has an ongoing, global, randomized, controlled confirmatory trial assessing the combination of TAZVERIK plus doxorubicin compared with doxorubicin plus placebo as a front-line treatment for epithelioid sarcoma.
Epizyme in 2020
Epizyme has been a prolific raiser of capital since its inception in 2008, including its IPO in 2013. We first wrote on Epizyme in this space in October 2018, after the company had raised $75 million in gross proceeds ($86.25 million including overallotment option) in a follow-on offering. The company subsequently raised $172.5 million in gross proceeds in a concurrent common stock plus Series A convertible preferred stock offering in March 2019.
From inception through September 30, 2019, Epizyme has raised, including amounts received under collaboration agreements, nearly $1.16 billion:
$241 million in non-equity funding through its collaboration agreements
$840 million through the sale of common stock and series A convertible preferred stock in public offerings
$76 million through the sale of redeemable convertible preferred stock in private financings prior to the IPO.
As of September 30, 2019, Epizyme had $293 million in cash, cash equivalents and marketable securities.
Epizyme stock fell below $10 per share in October 2019 but has since more than doubled to close Friday at $22.40 after some profit taking in the wake of TAZVERIK's approval announcement. The FDA's approval decision was foretold in December 2019, when its Oncologic Drugs Advisory Committee voted 11-0 in favor of the benefit-risk profile of the drug to treat epithelioid sarcoma.
While the company needs to demonstrate that it can successfully transition into a commercial organization, we're encouraged by the clinical results we've seen in TAZVERIK and we applaud the executive team and scientists for shepherding this first approval, a watershed event for any biopharmaceutical company. We look forward to seeing expanded indications for the drug and continued development across the balance of Epizyme's cancer-focused pipeline.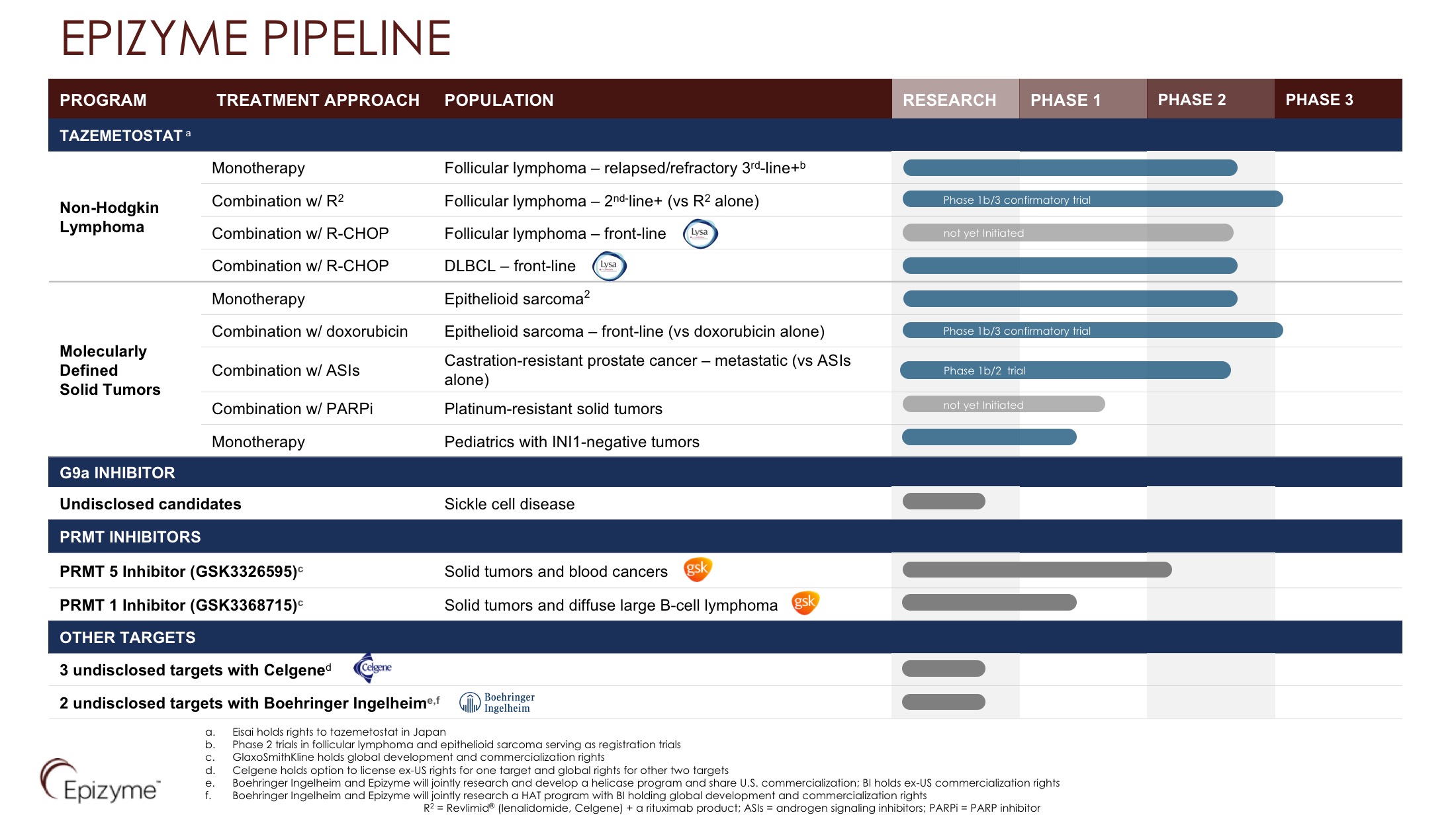 Edward Kim is Managing Editor of Equities.com.
_____
Source: Equities News
Stock price data is provided by IEX Cloud on a 15-minute delayed basis. Chart price data is provided by TradingView on a 15-minute delayed basis.
DISCLOSURE: The views and opinions expressed in this article are those of the authors, and do not necessarily represent the views of equities.com. Readers should not consider statements made by the author as formal recommendations and should consult their financial advisor before making any investment decisions. To read our full disclosure, please go to: http://www.equities.com/disclaimer.
Trending Articles
Market Movers
Sponsored Financial Content