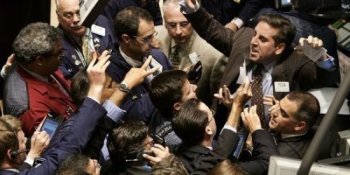 The method to make trades before yesterday was done by a broker putting up his hands and opening his/her mouth to execute a trade with another broker. You can no longer use your hands and mouth in the commodity markets of the world, as the open outcry system was totally replaced by electronic trading today, ending an era that has been around since the prices were written on chalk boards at the Chicago Board of Trade in the 1800's. This system of open outcry, where the broker used his hands and mouth to complete a trade, is gone – you can wave goodbye to this stalwart, as electronic trading totally replaces open outcry.
I arrived on the trading floor in the late 1970's and learned a new language using hand signals and gestures to relay orders to a watching pit clerk who would turn around from the top step of the trading pit and whisper the order in the brokers ear. He would put his hands up in the air execute the order, write it on a trading card, and the pit clerk would flip the card back to me where I would catch it out of the air and drop it in the basket for our back office data processing girl who would input the trades into the central system at the Chicago Mercantile Exchange. This beautiful ballet of chaos was the way orders were processed quickly for the customer before electronic trading.
A Long and Challenging Transition is Finally Complete
I'm not sure what this means to the world of investing. Electronic trading started to supplant open outcry in the early 90's and the Chicago exchanges fully embraced electronic trading with the introduction of Globex and the installation of electronic terminals outside the pits to replace the banks of phones. It was a slow adoption, as veteran traders realized they would be replaced as market makers and their livelihood would disappear.
It also eliminated thousands of pit clerk jobs in Chicago, New York, London and San Francisco, the people who worked these jobs had few other skills other than the ability to hand signal quickly and flip a trading card into a basket from 30 yards. It was a sad displacement of workforce, because, though they were in the center of the action, these thousands had little idea how or why markets moved. So, when open outcry started to wind down in the 90's, so did the jobs, and last week, those jobs were totally eliminated for those who didn't learn a new skill.
It was a special era, started with the chalk boards and clerks whose job it was to write quickly and erase even faster, but the day has come where all of those hard working people were replaced by a machine. Everyone knew it was coming, and it took 25 years to stubbornly transition – but today is the day.
DISCLOSURE: The views and opinions expressed in this article are those of the authors, and do not represent the views of equities.com. Readers should not consider statements made by the author as formal recommendations and should consult their financial advisor before making any investment decisions. To read our full disclosure, please go to: http://www.equities.com/disclaimer