Emperor Investments – DIFY (do it for you) Stock Market Investing – For a Fair Price
Interview with Brenna Casserly, CEO of Emperor Investments, an all-stock robo-advisory investment portfolio.
Founded by Brenna Casserly, former investment analyst and Francis Tapon, PhD and economics professor at the University of Guelph, Emperor Investments implemented this unique stock-only portfolio ten years ago, with their own money. Emperor Investments robo-advisor was born in 2017 from this collaboration. Learn about how an actively-passively managed equity portfolio might beat the returns of an index fund investment portfolio in this interview with Emperor co-founder Brenna Casserly.
Q: What is Emperor Investments and how does it work?
Emperor is a pure equity robo-advisor that builds dividend paying portfolios for people who don't have the time or expertise to do their own in-depth financial analysis.
To do this, we get to know you and your investing preferences during our sign-up process. Unlike other robos, our technology uses this data to build a portfolio for you that best suits your needs; but we don't let our technology do all the work. Our CIO and our financial analysts further analyze the companies that are selected by our algorithms to make sure that you are getting the best possible Emperor portfolio. It's important to note that we go through this process for each goal you set up, meaning that each goal gets its own unique portfolio. From here, you just have to fund a minimum of $500 and let us help you achieve your goals!
Q: Who runs the company and why should I trust them
Brenna Casserly, our CEO and Francis Tapon, with over 40 years of investment experience founded the company. Together, we have been testing and improving our investing methodology since 2011 and finally launched Emperor this summer. We took so long because we wanted to make sure that our clients get the best we can give them and continue to practice this philosophy in our operations. In addition to our expertise, we are backed by a team of highly-experienced board members and top talent across a variety of functions.
Q: What motivated you to create Emperor?
We believe that tailored portfolios comprised of pure-equities (not ETFs or Mutual Funds) should not only be available to high net worth individuals. We started Emperor because we believe that everyone deserves to have access to these types of portfolios. With our technology we can deliver custom dividend paying pure equity portfolios online.
For the last 10 years we (Francis and me) invested our own money that way and considered that our performance was something we wanted to share. We then raised seed money and launched Emperor Investments as a new kind of robo advisor that invests solely in dividend paying equities, the same way that we were and still are doing for ourselves. We are able to build custom stock portfolios that were previously available only to people with considerably more money than our minimum of $500.
Q: Your offering is all stocks. What is the value of investing in a stock only portfolio?
The best method for building wealth is to invest in great businesses (Warren Buffett and Charlie Munger call them "wonderful businesses") and stay with them through thick and thin for the long-term with little or no trading. Recent data from the Credit Suisse Investment Returns Yearbook 2018 confirms that between 1899 and 2017 a world equities portfolio earned an average real inflation-adjusted return of 5.2% yearly, beating every other asset class by a long shot. For U.S. stocks the return figure is even higher with a real return of 6.5%.
We are able to do all this and still make sure that our clients' portfolios achieve the right level of diversification. Too little and you are open to unexpected company risk; too much and you have spread yourself too thin into companies that you do not understand as well as your best stock pick ideas. Our algorithm computes the right number of stocks to include in your portfolio depending on your comfort level with the inevitable variability in the value of our clients' portfolios. We do not consider that this variability is "risky" but rather it offers us an opportunity of buying the stocks of great companies at a discount. For us, "risk" is the probability of losing our money. This definition of risk is not original to Emperor Investments. Warren Buffett and Charlie Munger have been preaching this view for decades.
They even have two famous rules of successful long term investing:
Rule Number 1: don't lose your money
Rule Number 2: don't forget about Rule Number 1.
Q: Why don't you invest in any mutual or exchange traded funds?
Exchange traded funds (ETFs) are like boxes filled with ALL the stocks in a particular category, for example, a biotech ETF will include all the stocks listed in this sector whether the firms are well run or not. ETFs are cheap because no one selects their components. Also the level of diversification in an ETF is determined by the size of a sector NOT by an optimization process such as the one Emperor carries out.
Actively managed mutual funds are different in that portfolio manager and security analysts have done the hard work of studying the companies and deciding whether they are good enough to be included in a fund. This process is expensive and thus mutual funds charge much more than index-fund ETFs. The portfolios that Emperor Investments builds are similar to actively managed mutual funds with one crucial difference, which is that we use our algorithms rather than human security analysts to pick the stocks that we invest in. Thus our expenses are lower than if we used human labor, and this in turn enables us to charge less than traditional money managers.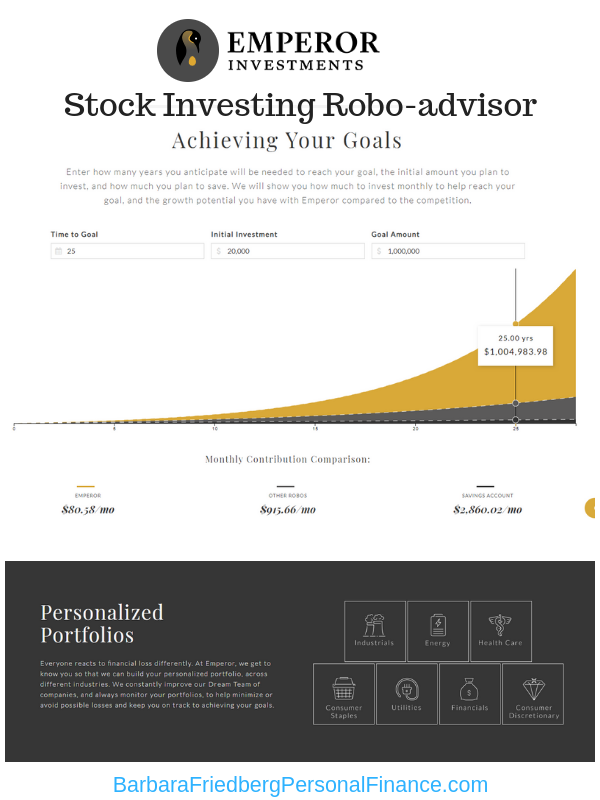 We call these stocks our Dream Team.
Portfolios are built from stocks in the Dream Team. We update our Dream Team on a regular schedule. We call our approach "active-passive" because our algorithms do pick stocks but once we have invested in them we rarely trade. This keeps expenses to a minimum.
Q: Are you a robo-advisor?
Yes, although we consider ourselves a robo-advisor+.
Traditional robo-advisors purchase ETFs for their clients' portfolios, we buy companies directly. That's why our fee of 0.60% seems slightly higher than the competition. You have to remember that even though other robo-advisors may be charging between 0.25%-0.50%, you are still responsible for paying additional fees for each ETF you own (this is charged by the ETF provider-Blackrock, Vanguard, Statestreet-)
Q: Why should I use Emperor for my stock market investing instead of DIY?
Investing in the stock market requires a huge investment of your free time. To invest well you need not just the knowledge but also the temperament to face good and bad times with equanimity. Warren Buffett argues that temperament is the main reason most people lose money in the stock market. We employ a staff of talented and well-trained financial analysts so we have the knowledge. But in addition, our use of algorithms removes emotion from the construction of our portfolios. We do not invest in a particular stock because we have flown on the corporate jet with the CEO. Our emotionless algorithm simply tells us "this stock meets your criteria for quality" and another algorithm buys the stock. So we blend knowledge and absence of emotion. Our results speak for themselves and you can check them out on our website home page.
In sum, even if you can beat the market consistently on your own, you have to ask yourself if doing the work is worth sacrificing the time that you could be spending elsewhere, or if it is not easier and cheaper to outsource the management of your wealth to Emperor Investments for a 0.6% annual fee.
Q: Give me the nitty gritty – how do you pick your stocks?
Portfolios are built from stocks in the Dream Team. First we assemble the Dream Team from stocks listed on an organized exchange (NYSE, NASDAQ). Our technology for constructing portfolios reflect our own view of what makes a great company and whether we want to own this or that kind of companies (for example, consistently paid dividends).
There are industries that we avoid because they have been repeat offenders with unethical or risky behavior. In general we avoid industries where there is a high probability of losing our own and our clients' money. Our Dream Team contains companies that are cheap and companies that are expensive. We build client portfolios only from stocks that are cheap by running one final filter on "cheapness". Finally, we use another algorithm to build portfolios for clients that meet their reaction to the variability of the value of their portfolio. We do not think of this variability as risk. We see it rather as an opportunity for buying a great company at a discount (Warren Buffett viewed the stock market crash in 2008-2009 as similar to being a mosquito in a nudist camp!).
Q: The markets have been going up for 10 years. How will your portfolios perform during the next market correction?
We have FORWARD tested our methodology with a $1 million portfolio of fictitious money (all dividends reinvested) year by year over the period 2007 to 2018 that includes the worst financial crisis since the Great Depression (NOTE that we did not back test our portfolio). While our portfolio dropped somewhat in value, it quickly recovered in the spring of 2009 and you can view our performance on our website where we compare ourselves to the S&P 500.
Q: Who should use your platform and who shouldn't?
Our platform is helpful for any investor that has at least $500 to invest. Whether you are a novice or a seasoned investor, our easy-to-use platform can help you grow your wealth and achieve your goals. Since our platform is based on achieving goals, it is especially useful for people who are looking to save for more than just retirement.
Still, if you are looking for quick money, our platform (and probably the stock market) is not for you. We recommend that our clients stay invested for at least 5 years to ride out inevitable market dips and reap at least the benefits of compound interest.
Q: There's a lot written about diversification, why would I invest in a stock-only portfolio?
Diversification is the simple idea of not putting all you eggs in one basket. If one company fails in a portfolio of 20 stocks you will hardly notice it. Our portfolios are built from companies that are unlikely to fail altogether. Our stock selection engine gives you just enough diversification but not too much. If you don't have enough, you risk losses because of company events. If you have too many stocks in your portfolio, you are unlikely to be invested in your best ideas. Rather, you are using your second, third, fourth, etc. best ideas.
We invest in different sectors within the stock market. These sectors do not all move together. This enables diversification to work. Portfolios (but not Emperor Investments portfolios) may also include fixed income securities such as government bonds. We are not against this approach on principle but would like to point out that when stability was most needed (in 2007-2009) bond prices were dropping and state and municipal governments were teetering in the edge. Stock portfolios recovered faster. Over time stock portfolios are the best way of creating wealth. The Credit Suisse Global Investment Returns Yearbook 2018 shows that U.S. stocks earned an average real return of 6.5% between 1899 and 2017, global bonds earned 2.0% over the same period, and U.S. Treasury bills earned 0.8%.
Q: If I wanted to get my feet wet, what's the minimum investment amount, and what are your fees?
The minimum investment amount is $500 per goal (which is actually its own portfolio) and we charge a 0.6% annual fee. Unlike other robos, there are absolutely no other fees – including ETF fees.
Q: How safe are my investments with Emperor?
Your investments with Emperor are as safe as the money in any large investment broker. Your money is held by our custodian, Folio Institutional, and is FINRA and SEC compliant, and is SPIC insured for up to $500,000. On our end, we employ the highest level of SQL encryption to keep the limited data that we store safe and our systems have been designed and tested to protect against outside threats.
It's important to note that the value of your investments will go up and down and the insurance doesn't protect against normal losses from investment volatility.
Q: Where can I get more information and sign up for Emperor?
You can get more information about Emperor and sign up on our website at emperorinvests.com. You can also email any questions you might have to [email protected].
Q: Do you have any promotions?
Right now, we're giving new users who sign up and fund a goal $100 towards that goal! You can get more details about this promotion here.
(function(d, s, id) {
var js, fjs = d.getElementsByTagName(s)[0];
if (d.getElementById(id)) return;
js = d.createElement(s); js.id = id;
js.src = "//forms.aweber.com/form/40/1016071640.js";
fjs.parentNode.insertBefore(js, fjs);
}(document, "script", "aweber-wjs-tmfcp92lb"));