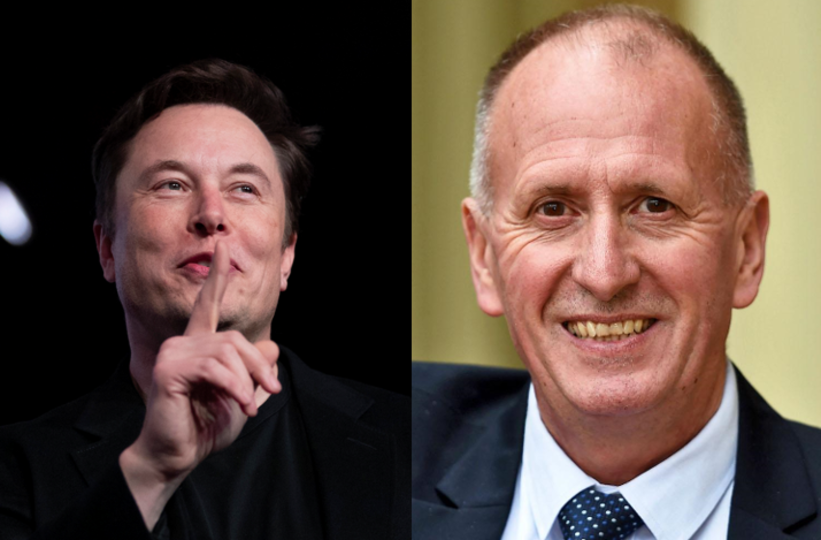 Elon Musk and Vernon Unsworth
In 2018, 12 members of a Thai boys soccer team and their coach became trapped by floodwaters in an underground cave. Thankfully, they had air to breathe, and the outside world knew where they were trapped. Escape would require swimming through flooded caverns so vast no human could survive without diving equipment.
The world watched breathlessly as the Thai police and military, plus a contingent of foreign volunteers, formulated a plan to extract the victims. Their survival was far from certain, and one Thai diver drowned in the rescue attempt. As the boys and their coach languished, Elon Musk, Tesla's CEO, felt the need to help. He offered to lend rescuers a mini submarine built by Tesla.
Rescuers rejected Musk's offer. They felt it would not help their efforts. A British diver participating in the rescue, Vernon Unsworth, thought Musk's offer disingenuous. It angered him because he felt Musk was using the tragic situation for a PR stunt.
A bitter argument ensued between Unsworth and Musk, with Unsworth suggesting where Musk could stick his submarine. Enraged, Musk then sent an infamous tweet, seen by his 22 million followers, stating, "Sorry, pedo guy. You really did ask for it."
Incensed and embarrassed at having been accused of pedophilia on Twitter in front of millions, Unsworth filed a defamation lawsuit against Musk.
Although a Los Angeles jury recently ruled for Musk in the defamation suit, the case shines light on the responsibility of public figures to uphold an ethical responsibility to be conscious of the content they put out to their followers. They should refrain from making comments or attacks that name and disparage private citizens. Such attacks have consequences.
Social media attacks by public figures cause real damage
Words have consequences, regardless if they're made on TV, in a newspaper, in a blog post or in a tweet. When public figures send out tweets, those tweets serve as 280-character-or-less press releases. They carry the same legal significance as any formal public statement or announcement.
In Musk's case, despite the dismissal of the defamation suit, irresponsible tweets have cost him dearly. The Unsworth incident damaged his reputation and the prestige of the organization he leads.
Such an angry public outburst makes him look unprofessional and causes investors, business partners and the technology community to question his judgment. In fact, Musk's Twitter behavior was part of the reason he was forced out as chairman of Tesla's board.
The Securities and Exchange Commission recently won a $40 million settlement against Musk and Tesla, because Musk tweeted misleading information to investors. He claimed to have secured financing to buy out Tesla, though no such deal was ever a real prospect.
Fast on the heels of that Twitter debacle, Musk tweeted a misleading projection of how many cars Tesla would manufacture. False claims of this kind, whether in an annual report or a tweet, are tantamount to securities fraud.
The SEC sought to have Musk held in contempt. Ultimately, Musk and Tesla were forced to agree to tight restrictions on what Musk could tweet about the company.
Rosanne Barr, President Trump face Twitter backlash
Elon Musk is far from the only public figure to get in trouble because of Twitter. Roseanne Barr, while enjoying a revival of her namesake television show, sent out a tweet about former President Obama's senior advisor Valerie Jarrett.
Barr likened Jarret to what would result "if the Muslim brotherhood & planet of the apes had a baby." The attack resulted in instant backlash, and ABC and Hulu quickly cancelled Roseanne.
President Donald Trump also has taken criticism for attacking individuals on Twitter. Most recently, he sent a disparaging tweet about 16-year-old climate activist Greta Thunberg, a move many considered below the belt, especially because of her age and her Asperger's syndrome.
Regardless of what you think of Trump's policies, it's objectively against decorum and civility for a powerful person to launch personal attacks against adolescents or private citizens on Twitter.
In discourse, public figures bear additional responsibility for their conduct. Different laws and ethical standards exist between public figures and private citizens when it comes to slander, defamation and libel.
For example, if a relatively unknown person wrote that Mr. Unsworth was a pedophile, few would pay attention and it's unlikely substantive damage would result. However, when Elon Musk makes such a tweet, it becomes international news that can do severe damage to the target of the attack.
Public figures should be, and often are, held to a higher standard when it comes to public discourse and the ways they interact with fans and critics alike. Punching down on private citizens online, regardless of who started the conflict, is at best unfair and at worst dangerous, inciteful and potentially unlawful.
It's time the public demands business leaders, politicians and celebrities to refrain from using social media in irresponsible, uncivil and toxic ways.
Brian Hart is the founder and president of Flackable, a national, full-service public relations agency headquartered in Philadelphia. Follow Brian on Twitter at @BrianHartPR.
_____
Equities Contributor: Brian Hart
Source: Equities News