Elastos's Smart Web Economy Gets Investors' Support
David Jackson, MBA Follow |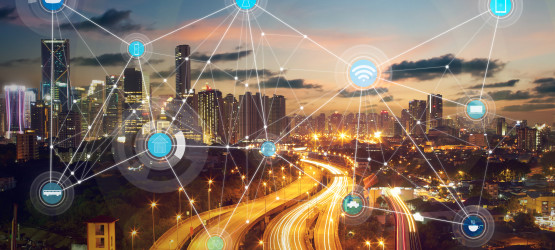 Since the internet was introduced in the mid-1990s, the web has gone through several transformations including Google and Amazon establishing their businesses as dominant forces on the web. And social media becoming a digital obsession for most. Today, blockchain technology is poised to make disruptions of its own. And investors are opening up their checkbooks.
China-based Elastos Foundation recently launched a successful token crowdsale with an initial price of 800 ELA tokens per 1 bitcoin (BTC). That's an unusually high price for a crypto token which comes to $15 per ELA coin (at $12,000 per bitcoin). A presale took place in China last August, raising nearly 4,000 bitcoins and releasing 6 million ELA tokens. Elastos's most recent crowdsale ended in January 2018.
There's investor enthusiasm for Chen Rong's startup. Rong is a former Microsoft programmer, and his team is developing an operating system for the web that's designed to work on any device and enable access to applications without installing files or putting the user at risk of a data breach. Gartner estimates there will be more than 20 billion devices connected to the internet by 2020.
Does that sound like a disruptive game plan? You bet.
The Elastos Smart Web is comprised of four areas. The blockchain aspect involves a decentralized smart web where each device, individual, website and digital asset is assigned an identification. Secondly, Elastos Runtime is a lightweight operating system that, for security purposes, prevents applications and services from directly accessing the internet.
There's also a decentralized peer-to-peer platform that manages network traffic between virtual machines and conveys information on the applicant's behalf. And a software developer kit enables applications to access their IDs and services on the Smart Web.
Decentralization is a key philosophy, as with most other blockchain ventures.
In this case, Elastos will serve as a platform for decentralized applications (DApps) that can run on a P2P network with no central control. Whereas with the old web users visit an URL to get data, Elastos will offer a system where clicking on the URL offers a code. Users will be able to access DApps on their phones and devices without having to change their operating system or download and install anything.
Smart contracts can automatically execute transactions once contractual obligations are met. While ethereum-based smart contracts already have applications in financial projects and in online voting, Elastos says they come with limitations on storage, speed and cost, and aren't practical for digital media.
And while DApps are enabled by the blockchain technology, they do not have to run on the blockchain itself. DApps will operate on Elastos runtime which runs on top of Android, iOS or PCs and allows users to access those DApps via their current operating systems. Designers say that by separating network communications from application computing, it will prohibit applications from gaining network access.
Elastos says it will offer content creators the opportunity to securely publish digital assets and generate income by making them scarce, identifiable and tradable. The Smart Web will respect digital property rights and transact directly between content creators and users. "The goal is to create an internet that allows users to access articles, movies and games directly, without going through a media player or another platform intermediary," according to a spokesman.
The firm will issue IDs for all digital content to identify who owns the assets, how many times they were viewed and by whom. Content creators can determine the number of digital assets to produce. Setting a finite amount produces scarcity which can raise prices for creators and for consumers hoping to profit off of digital assets. Authors, musicians, or publishers may limit copies of their book in circulation on the Smart Web to raise the price, and filmmakers could raise money by issuing tokens and then distributing a small fee every time the movie is viewed.
DISCLOSURE: The author was given a free trial of Elastos.

---
The views and opinions expressed in this article are those of the authors, and do not represent the views of equities.com. Readers should not consider statements made by the author as formal recommendations and should consult their financial advisor before making any investment decisions. To read our full disclosure, please go to: http://www.equities.com/disclaimer