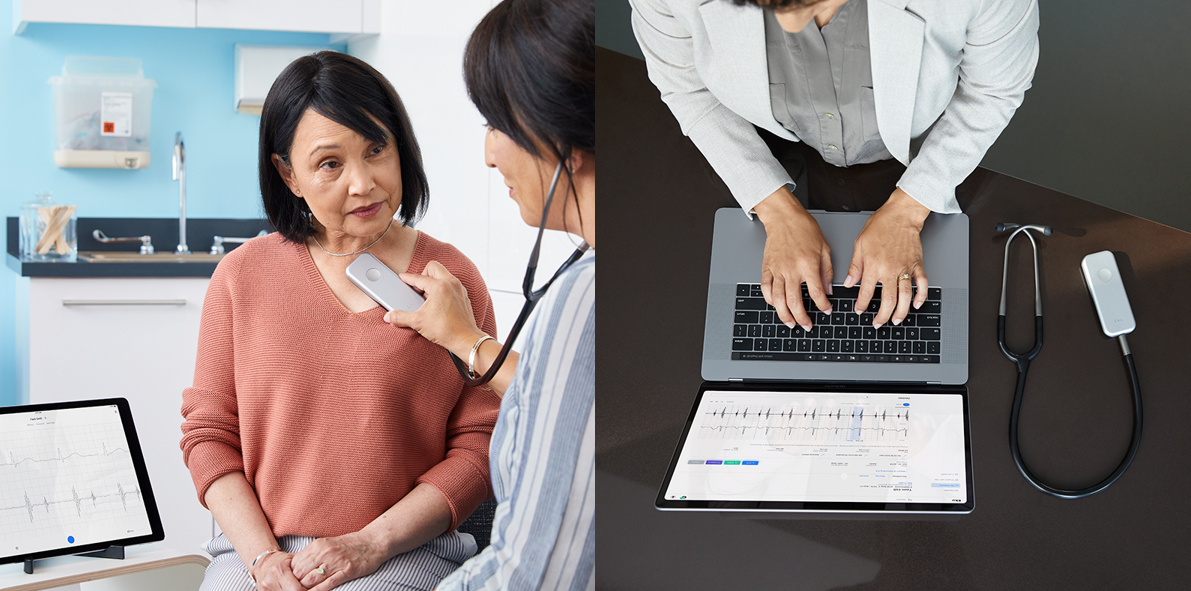 Image: Eko Devices
Valvular Heart Disease
The CDC estimates that 2.5% of the US population—over 8 million people—suffer from valvular heart disease, in which one or more of the heart's four valves is damaged or diseased.
Such valves can become leaky and not completely close. This regurgitation results in blood leaking in the wrong direction back into the chamber that it came from, and not enough blood gets pushed forward through the heart. The other common type of heart valve condition is stenosis, when the opening of the valve becomes narrowed and stiff, rendering it unable to open fully to pass blood through effectively.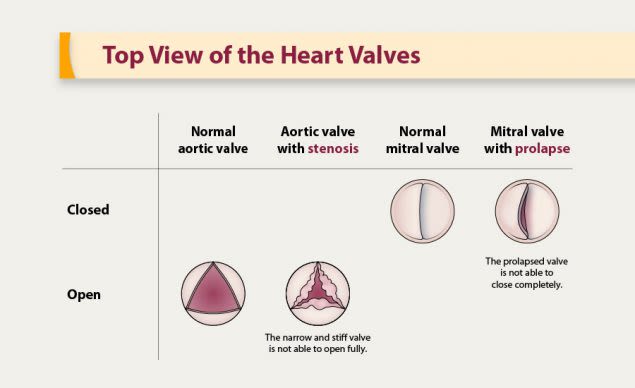 Atrial Fibrillation (AFib)
According to the American Heart Association, at least 2.7 million Americans live with atrial fibrillation (AFib), a quivering or irregular heartbeat (arrhythmia) that can lead to blood clots, stroke, heart failure and other serious complications. About 15–20 percent of people who have strokes have heart arrhythmia.
Patients with valvular heart disease and AFib often go undiagnosed during the physical exam. Murmurs that indicate a valvular or structural issue can be extremely difficult for clinicians to hear, and AFib may not be detected at all during the physical exam.

Eko Devices — First AI-Powered Stethoscope To Screen for Serious Heart Conditions
Eko Devices, based in Berkeley, California, is a digital health company applying artificial intelligence (AI) in the fight against heart disease. The company announced that the FDA has cleared a suite of algorithms that, when combined with Eko's digital stethoscopes, will enable healthcare providers in the US to more accurately screen for heart conditions during routine physical exams.
The company says its AI algorithms are able to:
Identify heart murmurs with 87% sensitivity and 87% specificity. A 2017 study published in the European Heart Journal revealed that primary care physicians had a sensitivity of only 43% and a specificity of only 69% for detecting significant valvular heart disease using traditional stethoscopes.
Detect AFib with 99% sensitivity and 97% specificity when used with the Eko DUO stethoscope, which was FDA-approved in 2017, combining a stethoscope with a smart heart monitor that records an electrocardiogram (ECG).
Report heart rate and QRS duration (the Q, R and S waves of an ECG are typically the main spike on the chart) and identify tachycardia (abnormally fast) and bradycardia (abnormally slow) rates
Our vision since day one has been to build seamless technology that helps providers more accurately detect heart disease, the leading killer in the world, by putting the ears of a cardiologist in any clinician's stethoscope. Eko's new ability to alert a provider to the presence of a heart murmur or atrial fibrillation during the standard physical exam brings that vision to life.

– Connor Landgraf, Co-Founder and CEO, Eko Devices.
Two centuries after its invention, the stethoscope is still the front line tool to detect cardiovascular disease. Eko's development of artificial intelligence algorithms to help clinicians better interpret sounds, identify arrhythmias and detect heart murmurs during a physical exam is going to make a huge difference in our ability to care for patients.- Patrick McCarthy, MD, Executive Director, Bluhm Cardiovascular Institute, Northwestern Medicine and member, Scientific Advisory Board, Eko Devices.
Partnerships with Leading Healthcare Clinics
The company has partnerships with several highly regarded healthcare clinics:
Mayo Clinic — to develop and commercialize a machine learning-based algorithm that screens patients for the presence of a low ejection fraction, or a weak heart pump.
Northwestern Medicine — to improve valvular heart disease screening using machine learning.
Sutter Health — currently using Eko's enterprise software in Northern California to connect cardiologists in Sacramento with patients who visit rural clinics.
$20 Million in Series B Financing, September 2019
The funding round was led by ARTIS Ventures. Additional new and returning investors included DigiTx Partners, NTT Venture Capital, 3M Ventures, Mayo Clinic, Seraph Group and XTX Ventures.
Eko is transforming cardiac care as we know it. They are the perfect example of how machine learning using quality data sets can positively influence patient outcomes and improve quality of care. This demonstrates the potential for an immense pipeline of life-saving applications where sound can aid in the screening of many other diseases.

– Vasudev Bailey, PhD, Partner, ARTIS Ventures, and Board Director, Eko Devices.
Edward Kim is Managing Editor of Equities.com.
_____
Source: Equities News