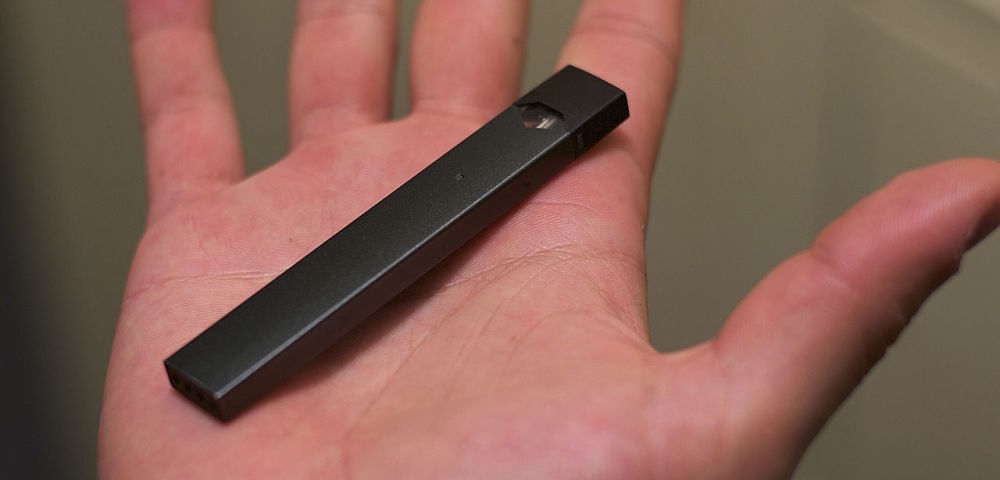 Image via Mylesclark96/Wikimedia
E-cigarette sales are on the rise, primarily due to the rise in the number of Juul units sold over the last 12-month period. The industry sold $2.31 billion in the 12-month period ended August 11, but Juul sold $1.29 billion in products, more than 50% of the industry's sales through the period.
Industry sales during the same period last year were $1.3 billion.
Full-year sales in the industry, according to Bonnie Herzog, Wells Fargo analyst, will be $6.6 billion, up from her previous estimate of $5.5 billion in sales. Sales in the industry are rising on the back of Juul, but other brands are also helping the industry grow, including MarkTen. Additional flavors entering the market, such as mango, are also being attributed to the industry's growth in 2018.
Nielsen claims that Juul sales rose 728% in the most recent 12-month period, with the company's market share rising to 72%, up 1.5% since last month. The company's sales are rising, as nicotine pods are preferred among the company's demographic.
British American Tobacco BTI has 9.6% market share, Altria Group MO has 7.5% and Imperial Tobacco has 5.4% market share. The remaining percentage includes other unnamed companies.
Juul's small size, the size and look of a USB stick, has faced a lot of backlash since the company was valued at $15 billion. State and federal agencies are targeting the company, investigating its marketing practices to see if they have marketed their products to teens.
Reports continue to surface of students using the Juul in the middle of the classroom without their teachers noticing. The small size of the Juul and its use of high content nicotine has led to some cities banning the sale of tobacco flavored products.
San Francisco recently banned flavored tobacco products.
The health effects and popularity of Juul among teens has caused the startup to face concerns among investors. Massachusetts' Attorney General is investigating the company due to the company failing to not sell its products to minors. The Food and Drug Administration is also cracking down on the company's sale to minors. The company's product, which contains very high amounts of nicotine, is also highly addictive.
Juul's staff has tripled in the past six months, with the company also planning to open an additional 19 locations across the United States. The startup will also be opening up offices internationally, with three countries mentioned in the company's expansion plan. The company most recently launched an office in London earlier in the month.