~ Presenting at the Biotech Showcase conference at the Hilton Union Square in San Francisco, Wednesday, Jan. 9, at 9am PT ~
According to the FDA, as outlined in its Biosimilars Action Plan of July 2018, biologic medicines represent almost 40% of all prescription drug spending and accounted for 70% of growth in drug spending from 2010 to 2015. Biologic medicines are made from living cells and are, in many cases, the only available treatments for serious diseases including cancer, chronic kidney disease, autoimmune disorders and infectious diseases. The FDA made significant progress last year in improving the pathway for biosimilars—medicines that are highly similar and have no clinically meaningful difference in efficacy or safety to an approved biologic—approving a record number of seven biosimilar products for a total of 15 approved products. As of Dec. 11, 2018, the FDA had over 60 ongoing biosimilar development programs.
We're at a crucial stage in the development of a competitive market for biological products and the FDA is committed to efforts that advance the science and policies to make the development of biosimilars and interchangeable products more efficient. These changes and opportunities are long overdue.
A July 2018 report from McKinsey & Company estimates sales of biosimilars will grow to $15 billion by 2020 or closely thereafter, "with some of the world's best-known biologics continuing to face patent expiration in the coming years." McKinsey stated that one of the key themes to shape the pharmaceutical industry is that "lowering development costs via innovation is an essential discussion to accelerate to ensure a sustainable future." A separate July 2018 report from Grand View Research projects the biosimilars market to grow to over $61 billion by 2025.
Dyadic International
Jupiter, Florida, based Dyadic International DYAI is developing a technology—already proven at industrial scale—to make biologic vaccines and drugs more accessible and affordable to patients. The company has a gene expression platform for producing commercial quantities of industrial enzymes and other proteins, and has previously licensed this technology to companies including Abengoa Bioenergy, BASF BASFY, Codexis CDXS and others, for use in industrial, non-pharmaceutical, applications. This technology is based on the Myceliophthora thermophila fungus, which Dyadic calls C1. The C1 technology is a robust and versatile fungal expression system for the development and production of enzymes and other proteins.
When Dyadic sold its industrial technology business to DuPont Danisco, the industrial biosciences business of DuPont DD, in 2015, for $75 million, Dyadic retained co-exclusive rights to the C1 technology for use in all human and animal pharmaceutical applications, and currently has the exclusive ability to enter into sub-license agreements. DuPont does have certain rights to utilize the C1 technology in pharmaceutical applications, for which it will be required to make royalty payments to Dyadic upon any commercialization.
Since the DuPont deal, Dyadic has been focused on further improving and applying the C1 technology into a safe and efficient gene expression platform to help speed up the development, lower production costs and improve the performance of biologic vaccines and drugs at flexible commercial scales. The company is focused on developing C1 for the development and manufacturing of vaccines, antibodies, proteins and biosimilars, as well as other therapeutic enzymes and proteins.
The company believes that its C1 cell line is unique in its growth and production capabilities compared to traditional filamentous fungal cells, and has the potential to become an alternative gene expression platform to Chinese hamster ovary (CHO), E.coli, yeast, insect cells and other organisms currently in use for developing and manufacturing protein-based biologics because of C1's potential speed of development and low production costs.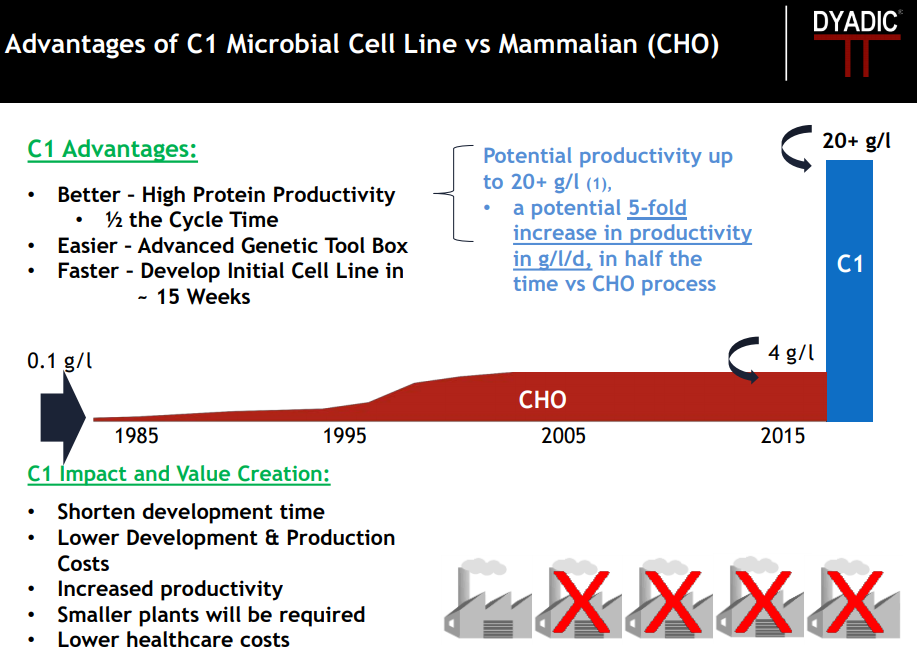 (1) Estimated future C1 yield for a 6-7 day fermentation run. Source: Dyadic International corporate presentation, Jan. 6, 2019.
Dyadic believes that its C1 technology will yield the most proficient cell expression platform, and that this will:
Reduce time to market for new biologics
Increase pricing flexibility
Provide the widest patient access
Ultimately prove to be the best reimbursement model for healthcare.
We see the biosimilars market as Dyadic's best opportunity, but the company certainly has the potential to be a valuable utility for the greater biologics market as a whole, which is projected to be worth $400 billion by 2025, according to Grand View Research.
Research programs and collaborations
Dyadic has signed over 100 confidentiality agreements and materials transfer agreements. Among its disclosed research collaborations are:
Sanofi – Aventis SNY. Evaluating C1 technology to produce multiple types of biologic vaccines and drugs of interest for human health indications.
Mitsubishi Tanabe Pharma. Evaluating C1 technology to produce two difficult-to-express vital therapeutic proteins for human health indications.
Biotechnology Development for Industry (BDI). Evaluating a range of therapeutic proteins and a virus-like particle that are used in the animal and human health markets, including monoclonal antibodies, bispecific antibodies and antibody fragments, to determine which, if any, of these proteins might be potential candidates for future commercialization.
ZAPI Vaccination Program (Zoonoses Anticipation and Preparedness Initiative). Results suggest the C1 expressed antigen tested in a small mice study generated the desired immune response and no negative effects on the health of the mice observed.
Israel Institute for Biological Research (IIBR). Evaluating C1 for the development of recombinant vaccines and neutralizing agents comprising targeted antigens and monoclonal antibodies.
Investment issues to consider
Dyadic has stated that an uplist to Nasdaq is among its goals for 2019, and to this end, it filed its initial Form 10 registration statement for its common stock in November 2018. Under normal circumstances, it would have been declared effective by now based on the 60-day automatic effectiveness under Section 12(g)(1) of the Securities Exchange Act of 1934, as amended. The ongoing federal government shutdown, however, has tied the SEC's hands and the Commission has been unable to complete its review of the filing in a timely manner. Dyadic notified the SEC last week of its desire to prevent the registration statement from becoming effective prior to completion of the SEC's review, and the company intends to file a replacement Form 10 as soon as possible.
Dyadic earns nominal revenue from its research collaborations, with about $609,000 recorded in the first nine months of 2018. It posted a net loss of $5.2 million for those nine months and has an accumulated deficit of $32.6 million. The company has six employees in the US with two consultants based in The Netherlands.
The stock trades at $1.93 on the OTCQX Best Market, which gives it a market capitalization of about $52 million. Volume is thin, with only about 30,000 shares traded daily over the past three months. The company had about $42.5 million in cash, equivalents and short-term investments as of Sept. 30, 2018, and has spent about $4.1 million through the first nine months of last year. At current valuation, that means the stock is trading for perhaps only $10 million to $15 million above its cash value, which makes Dyadic interesting to us on a risk-reward basis. We note that the company's shareholders approved an "up to 1-for-4" reverse stock split in June 2018 at the annual meeting; the Board has not yet made this split effective.
Dyadic just presented this past Sunday, Jan. 6, at BFC Group's Global Healthcare Conference at the St. Regis in San Francisco (BFC Group is a Chinese investment bank focused on healthcare) and is scheduled to present tomorrow morning, Wednesday, Jan. 9, at 9am PT, at the Biotech Showcase conference at the Hilton Union Square.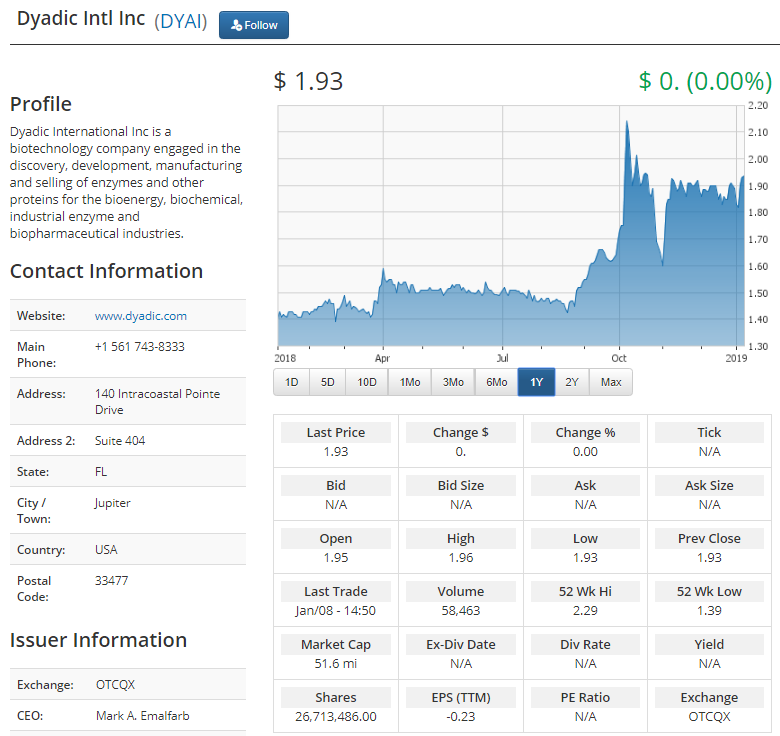 Please email us at [email protected] to see our Case Studies and Testimonials.
Please click here for information on our equity trading platform.
Please click here to receive our free daily newsletter.