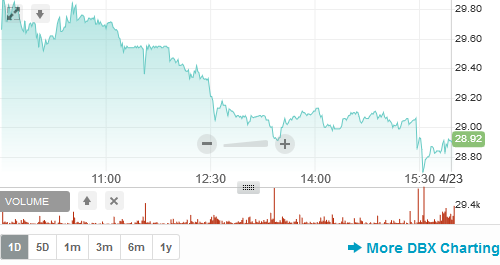 Dropbox (DBX) is now a publicly traded stock with an estimated market capitalization of $11.522 billion and a trading range of $27.75 on the low end and $34.83 on the high-end. The company's CEO, Drew Houston and the 1,858 people under his employ are now part of a multi-billion-dollar listed company. The company went public in March 2018 and the IPO (Initial Purchase Offering) had Dropbox valued at $8 billion. Barely a few weeks later, that valuation has increased by almost 50%, and experts readily agree that it could easily go higher.
The Dropbox IPO was one of the most anticipated tech listings of 2018, and it comes at an interesting time in the industry. Facebook (FB) is still facing major pushback from lawmakers after data management concerns recently surfaced. Dropbox is not alone in its field – it faces stiff competition from other tech juggernauts in the form of Google (GOOG), and Amazon (AMZN) both of which offer cloud-based storage systems for users.
Dropbox Dives into the Deep End with the Big Boys of Tech
Dropbox decided to dip its proverbial feet into the water, given that it is an established company with an active paying user base. It is ideally suited to tech stock investors with an eye to the long-term. Since this company's revenue streams have steadily been increasing over time – long before its IPO in March, there are many inherent benefits to going long on DBX stock.
It's a viable stock to add to one's portfolio, given the performance of competing tech stocks like Facebook which are floundering somewhat. As a tech investor, Dropbox looks particularly attractive. It's a multibillion-dollar company, and already warrants consideration from savvy investors. As a cloud computing aficionado, Dropbox is leaps and bounds ahead of the competition. For day traders, there is enough volatility in the stock to turn a profit over the short-term.
MIT Students Launch Incredible New Filesharing Service
Dropbox's price is fueled by multiple elements, including the performance of tech stocks in general. Among the many elements driving it are earnings reports, competition from Google and Amazon, cash flow and revenue (although it is not quite as profitable nowadays), and public interest in the stock.
Perhaps the main reason for Dropbox's popularity is its ease of use. Filesharing has always been available on the Internet, but Dropbox made it easy to simply click and drop files for invitees to share and view them. Dropbox is the brainchild of two brilliant MIT students by the names of Arash Ferdowsi and Drew Houston. After the students received funding from Silicon Valley startup Y Combinator, the first version of Dropbox was launched in 2008.
Within years, the company blossomed and attracted millions of users. In 2014, it had an estimated price value of $10 billion. That's more than the IPO amount of 2018. Over the years, Dropbox made several notable acquisitions including Mailbox. What makes Dropbox particularly promising is that it has adopted a user-first approach to its operations. Customers are always prioritized in terms of offerings, functionality, and innovation.
Future Prospects for DBX?
The current recommendation rating for DBX is a buy (rating of 1) on a scale where 1 represents a strong buy and 5 represents a sell. Dropbox started trading at $28.48 per share and has remained in a tight trading range (except for April 9 – April 12). This stock has the appearance of a low risk, stable strong growth prospect.